What's New
BNSF is undertaking several specific actions to expedite fertilizer delivery to ensure our customers have the fertilizer where and when they need it. More...
BNSF customers continue to make significant reductions in carbon dioxide emissions by shipping their freight by rail. More...
Cars to exceed rail industry standards. More...
BNSF plans a new single-year record capital commitment of $5 billion for 2014, approximately a $1 billion increase over its 2013 capital spend. More...
President and Chief Operating Officer Carl Ice will become President and Chief Executive Officer on Jan. 1, 2014. More...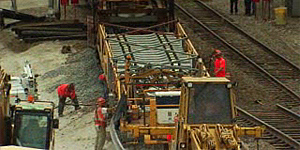 Capital investments to increase rail capacity in response to growing demand. Video
Compliance, Audit departments merging into one under Carter's leadership. More...
$28 million facility to support regional growth in energy, agriculture. More...
Facility designed to support growing freight transportation needs in Kansas City region. More...