A Message from Carl Ice
BNSF continued to see strong volumes in 2014 as many of our customers relied on us to move increasing freight from where their shipments are to where they need to be. BNSF plays a vital role in building and sustaining the nation's economy – a role we take very seriously. In fact, BNSF exceeded 200,000 weekly units 21 times in 2014, the highest since 2007 and more than any other railroad.
This past year, BNSF also continued to reinforce its commitment to safety with a best-ever year in employee safety and the lowest derailment rate in our history. These continued safety improvements move us closer to achieving our vision of an injury- and incident-free workplace.
After safety, serving our customers is the most important thing we do. Last year, we faced service challenges on capacity-constrained parts of our network, and we did not meet our customers' or our own high expectations.
To improve our service levels and ensure that we are able to grow with our customers, BNSF continued its commitment to invest in the expansion and reliability of our network with a record capital investment of $5.5 billion. In 2014, we added significant capacity with more than 80 miles of new double track, more than 600 new locomotives and more than 7,000 new employees. More than $1 billion alone was devoted to maintenance and expansion projects on our fast-growing Northern Corridor, where we serve agricultural, energy, intermodal and coal customers.
We began to see the benefits of that investment in late 2014, and our service has greatly improved in 2015. BNSF's focus in 2015 is on restoring service and returning to growth. To continue our momentum, we have announced a $6 billion capital investment program this year to further expand and maintain the BNSF network. With that investment, we will have reinvested more than $50 billion into the railroad since 2000.
As the U.S. economy continues to grow, we have many reasons to be optimistic about the opportunities that lay ahead for BNSF. I have always said that BNSF is a great company made up of great people and our employees' hard work and perseverance through the challenges of 2014 has proven this to be true yet again. Our focus on safety and service, along with our continued investment in our network, provide a strong foundation for improved performance and our ability to grow with our customers in the years ahead.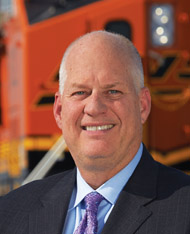 Carl Ice
President and Chief Executive Officer