News Release
BNSF Adopts New Corporate and Subsidiary Logos and Changes Name of Railway Subsidiary as Part of Tenth Anniversary Celebration
FORT WORTH, Texas, January 24, 2005:

New corporate and railway subsidiary logos and a new name for its railway subsidiary – BNSF Railway Company -- were unveiled today as Burlington Northern Santa Fe Corporation (NYSE: BNI) Chairman, President and Chief Executive Officer Matt Rose rang the closing bell at the New York Stock Exchange. The corporation will retain both its name and ticker symbol.

"During the 10 years since the merger that created BNSF, much has changed in the railroad landscape," Rose said. "BNSF has identified itself as progressive, vital, approachable and resourceful -- a strong part of the global transportation network. As we look to the future, we believe that our identity should reflect those core attributes."
The new BNSF identity will be phased in over a period of time. It will appear on locomotives and other rolling stock, stationery, signage, the BNSF Web site, logo merchandise and other promotional items.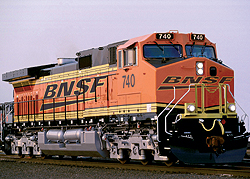 "We are excited about this new identity as we believe it reflects our future as a leader in transportation service and innovation, as well as the growth of BNSF Railway and its contributions to the global transportation network," says Rose.

BNSF Railway Company operates one of the largest railroad networks in North America, with about 32,000 route miles covering 28 states and two Canadian provinces. The railway is among the world's top transporters of intermodal traffic, moves more grain than any other American railroad, transports the components of many of the products we depend on daily, and hauls enough low-sulphur coal to generate about ten percent of the electricity produced in the United States. BNSF is an industry leader in Web-enabling a variety of customer transactions at www.bnsf.com.

For more information on the company and its transportation solutions, visit the BNSF Web site at www.bnsf.com



BNSF Headquarters
BNSF Railway Company
2650 Lou Menk Dr. 2nd Floor
P.O. Box 961057
Fort Worth, TX 76161-0057
Phone: (817) 352-1000