Agricultural Products Network Update for Friday, March 2, 2018
Operational Performance
BNSF is dedicating all available resources from across the network into ongoing service recovery efforts involving train operations through northern Montana. As we have reported, record-breaking snow and cold in February, including frequent blizzard conditions, have caused main line and siding outages, which has limited our ability to restore normal traffic flows along this primary route between the Pacific Northwest and Midwest. We have deployed additional personnel and vehicles to the area to ensure train crews are in position to move trains as quickly as possible once snow-covered areas have been cleared.

In this short video below, BNSF Montana Division General Manager Jon Gabriel discusses what our crews have confronted during the past several weeks and our response to the challenging environment in the region.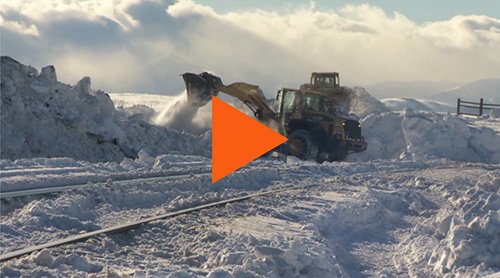 The disruptions on the Northern Transcon have been the primary factor in the elevated number of trains holding on the network. Overall car and train velocity is holding relatively steady while total volume moved by the railroad remains robust as we exceeded 200,000 units for second consecutive week and the fifth time this year.

In our South Region, we continue to work with other rail carriers in Houston regarding efforts to improve fluidity into/through that area. Some trains have experienced delays due to heavy volume and congestion on various rail lines, including those with BNSF trackage rights, within the terminal complex.

Get the Latest Agricultural News in Sam Sexhus' Podcast
In this week's audio podcast, BNSF Group Vice President of Agricultural Products, Sam Sexhus, gives a network and shuttle turn update.

Service Expectations for the Week Ahead
Another significant winter storm is poised to move through parts of the Northern Corridor this weekend through Tuesday, with several inches of snow and high winds expected across Montana and western portions of the Dakotas. Some locations across the North will also experience single digit temperatures periodically into next week, but other areas of the network should experience mild temperatures and favorable operating conditions.

Some trains may experience delays as a result of ongoing maintenance activity in several areas of the network. On the Ft. Worth Subdivision, which runs between the Oklahoma/Texas border to Temple, Texas, crews will begin the final week of a major rail tie project that began in mid-January.

BNSF crews will also begin the second of a three-phase rail replacement project on the Thayer South Subdivision, which runs between Thayer, Missouri on the Missouri/Arkansas border and Memphis. As always, our teams are constantly evaluating all available options to mitigate any service interruptions during scheduled work windows.

Below is a look at the key operational performance categories for the week ending March 1:

Total trains held for the week decreased by nearly 14 percent with an average of 132.7 trains held versus 154.0 trains held during the prior week.
Versus the February 2017 average: up by 2.2%

Total trains on the system was up by nearly four percent versus the prior week with an average of 1,570 trains on the system.
Versus the February 2017 average: up by 7.6%

Car velocity was up by nearly two percent at 210.9 MPD versus 207.2 MPD recorded the prior week.
Versus the February 2017 average: up by 3.1%

Train velocity, measured in miles per hour (MPH), was down by nearly one percent versus the prior week at 17.4 MPH.
Versus the February 2017 average: down by 0.4%

Total volume was down by nearly two percent from the prior week with 201,010 units moved in Week 8 (ending February 24) versus 204,440 units in Week 7 (ending February 17).

Terminal dwell was essentially unchanged versus the prior week at 26.4 hours.
Versus the February 2017 average: down by 6.4%

As always, we thank you for your business and appreciate the opportunity to serve as your transportation service provider. We welcome your feedback and questions.