Agricultural Products Network Update for Friday, May 10, 2019
Operational Performance
BNSF teams have been responding to flood-related track outages in Oklahoma and Kansas following heavy rainfall from a mid-week storm. Several inches of rain in a 24-hour period caused track washouts, or high water locations, on multiple BNSF subdivisions. The Walnut River at Winfield, Kan., where our Douglass and Arkansas City subdivisions intersect in southeastern Kansas, rose by nearly 30 feet in less than 36 hours and peaked at eight feet above flood stage Wednesday evening.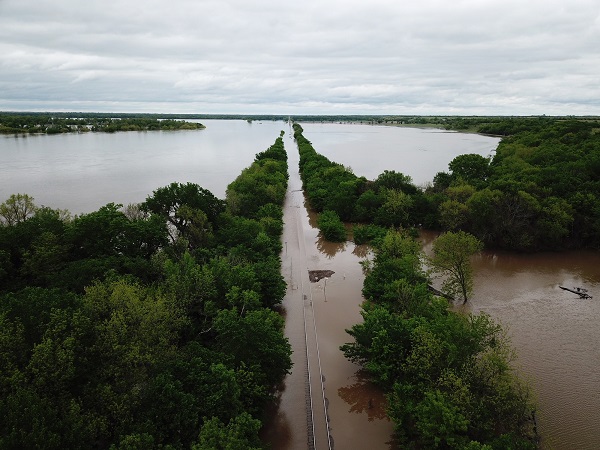 Flooding near Winfield, KS on Douglass Subdivision - May 8, 2019


Portions of both subdivisions, which serve as key route links for traffic moving between the Midwest and Texas, are out of service. The La Junta Subdivision, which runs between southeastern Colorado and eastern Kansas, is also out of service at Halstead, Kan., just west of Newton, due to flood gate closures. BNSF is re-routing some traffic to minimize these disruptions as much as possible.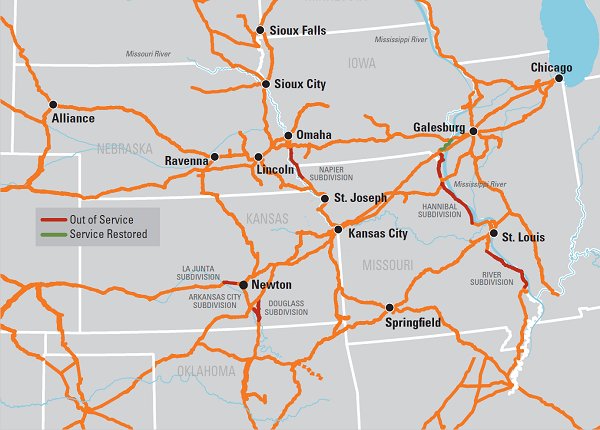 In the Midwest, service was restored this week on a portion of the Hannibal Subdivision running between Burlington and Fort Madison, Iowa. Approximately 120 miles of the Hannibal Subdivision north of St. Louis remains out of service due to current Mississippi River water levels and flood gate closures. Nearly 100 miles of the River Subdivision, running adjacent to the Mississippi River south of St. Louis, also remains out of service.

As the river recedes, we currently estimate 90 miles of the Hannibal Subdivision to reopen next week, with the remaining 30 miles between Keokuk, IA and La Grange, Mo. reopening the following week. Any significant rainfall or storm events, however, may affect service restoration estimates.

In Nebraska, restoration work on the Napier Subdivision between Pacific Junction, IA and Napier, Mo. continues to progress on schedule. Another 20-mile zone is expected to reopen next week and the full subdivision by the end of the month.

The average number of trains holding increased significantly versus the previous week due to the additional flooding-related outages as well as track work taking place on our Galveston Subdivision, which has caused delays to traffic moving through central Texas. BNSF crews have been conducting ballast replenishment and surfacing work on our main line in two locations southeast of Temple. We expect to generate improved velocity and train flows through this area during the next few days once restoration work is completed.

Service Expectations for the Week Ahead
Excessive rainfall is likely through the weekend across southeastern Texas, including in the Houston complex, Louisiana and other areas of the lower Mississippi River Valley. Much of this region could receive more than one month's worth of rainfall by the end of the weekend. BNSF operations teams are monitoring water levels in flood-prone areas and are ready to quickly respond to any service disruptions.

Drier weather is expected across much of the central Plains and upper Midwest during the upcoming week. With improving conditions, Mississippi River water levels in Iowa and Missouri are forecast to recede by a few feet by the end of next week.

BNSF teams across multiple departments remain engaged in a coordinated, around-the-clock effort to restore service in affected locations as quickly as possible. We appreciate your patience as we address this challenging environment.

Below is a look at the key operational performance categories for the week ending May 9:

Total trains held for the week increased by nearly 48 percent with an average of 153.7 trains held versus 104.1 trains held during the prior week.
Versus the April 2019 average: up by 11.1%
Versus the May 2018 average: up by 37.0%

Total trains on the system decreased by nearly three percent versus the prior week with an average of 1,570 trains on the system.
Versus the April 2019 average: down by 1.7%
Versus the May 2018 average: up by 0.9%

Car velocity, measured in miles per day (MPD), was down by nearly three percent at 192.6 MPD versus 197.6 MPD recorded the prior week.
Versus the April 2019 average: up by 0.8%
Versus the May 2018 average: down by 8.9%

Train velocity, measured in miles per hour (MPH), was down by nearly three percent versus the prior week at 15.7 MPH.
Versus the April 2019 average: down by 0.7%
Versus the May 2018 average: down by 10.9%

Total volume increased by nearly one percent from the prior week with 203,449 units moved in Week 18 (ending May 4) versus 201,931 units in Week 17 (ending April 27).

Terminal dwell increased by nearly two percent versus the prior week at 27.0 hours.
Versus the April 2019 average: down by 1.4%
Versus the May 2018 average: up by 7.2%

As always, we thank you for your business and appreciate the opportunity to serve as your transportation service provider. We welcome your feedback and questions.