Agricultural Products Network Update for Friday, September 1, 2017
Operational Performance
BNSF is making progress in restoring train service and facility operations in southeastern Texas caused by Tropical Storm Harvey. As we reported, conditions have improved in most areas of the Gulf Coast and the number of trains holding has declined in the past 24 hours. Terminal dwell has also been reduced as rail yards have re-opened.

Rail access into the Houston complex from the north and west is largely clear and nearly all BNSF facilities in the region are open. Flooding-related outages, however, remain in some locations, primarily north and east of Houston. BNSF rail yards at Beaumont and Silsbee remain closed and access to serve locations east of Houston into Louisiana is currently blocked.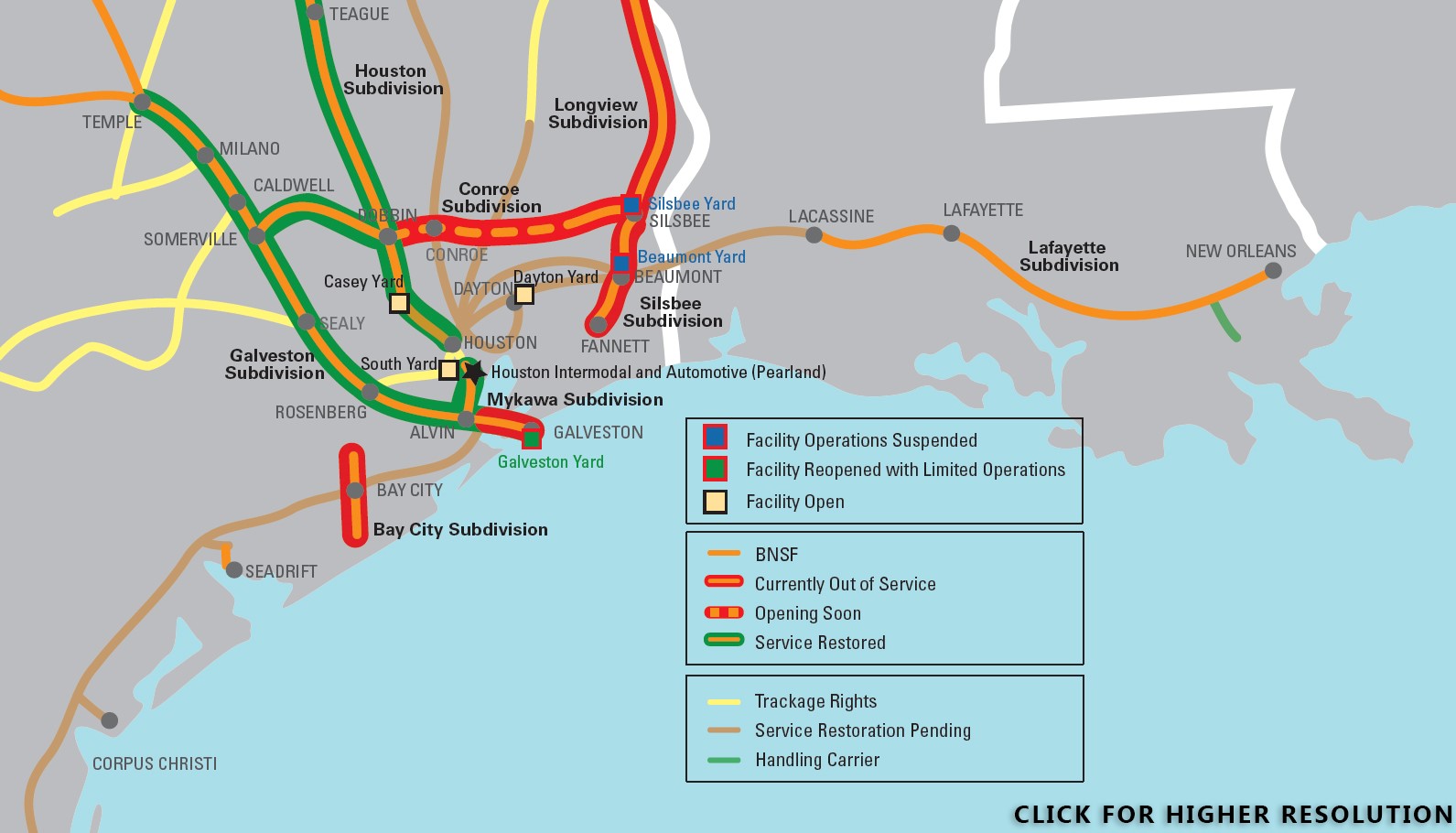 Our Command Center is still operating around-the-clock to coordinate our recovery efforts in the region. With multiple track washouts and damaged infrastructure, BNSF crews have continued to address affected locations as safely and quickly as possible.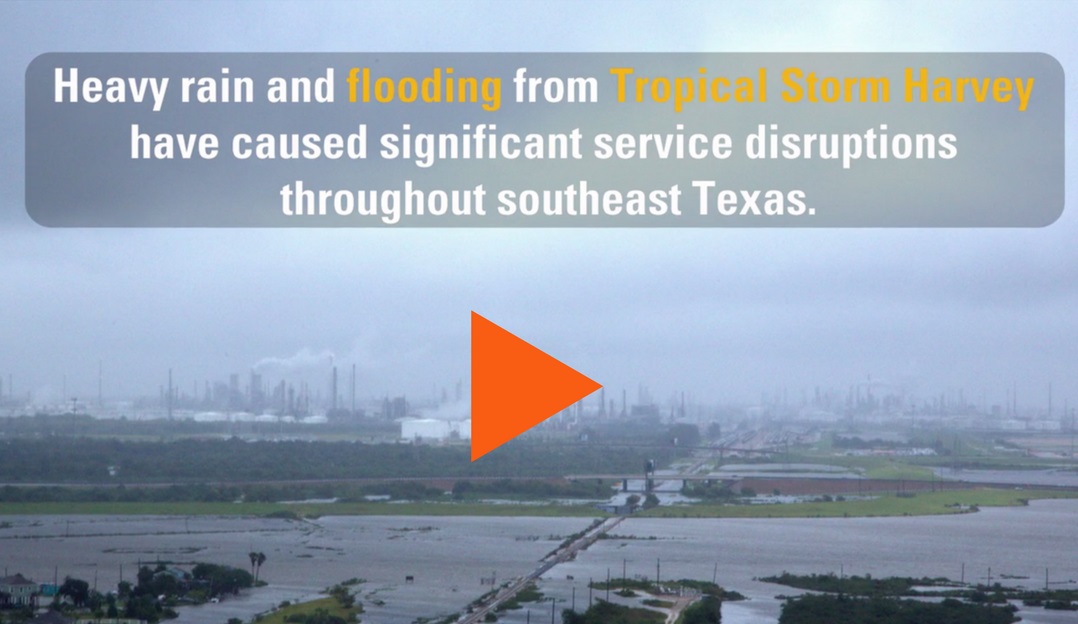 As the effort to fully restore BNSF operations continues, it's important that we work together to quickly recover the southeastern Texas supply chain. In support of this effort, we request that customers - both shippers and receivers - advise us of impacts to their operations and facilities. If you have not already contacted your BNSF representative or Customer Support, we have set up three alternatives for reporting facility damage, out-of-service track or other barriers to your normal shipping and receiving capabilities:

Facility Impact Form: click here
Facility Impact Hotline: 1-800-929-4117
Facility Impact Email: csharvey@bnsf.com

Elsewhere around the network, we completed the final phase of rehabilitation work involving the Mississippi River Bridge at Memphis earlier this week. The approximately 55-hour window caused some train delays as well as the re-routing of some traffic into Wednesday afternoon. Train flows through Memphis have since normalized, however, interchange traffic destined for locations in eastern Tennessee today may experience delays due to heavy rain and flooding. Expansion work on our Spokane Subdivision in northern Idaho caused some train delays as a project to install additional double track and realign existing tracks at our Hauser Yard facility to improve fluidity nears completion.

Agricultural Update
BNSF has begun movement into the Houston complex for export grain facilities. We are also now current on all Eagle Pass grain that has been holding since the previous weekend. We are currently assessing damage and determining crew availability in the communities impacted by Harvey. We expect that more facilities will be brought online by this weekend, with the majority of facilities operating by next week. This information also applies to non-unit train flows for whole grains. For corn syrup to Eagle Pass or Hondo, Texas, both routes are back in service. For fertilizer imports on the Texas Gulf Coast, please check with the import terminal operators in Houston, Corpus Christi and Galveston.

Demurrage fees at embargoed Agricultural facilities are not currently being assessed due to the impacts of the storm. We will provide 72-hour notice before re-instating demurrage fees.

If you would like to divert your shipment, you can do so using our Shipping Instructions Modifications (SIMs) tool on the BNSF.com customer portal. Fees for diversions are currently being waived. We will continue to assess the situation on the ground in the impacted area and provide 72-hour notice before re-instating diversion fees. For more information, contact BNSF Customer Support at 1-888-428-2673 option 4, option 3.

Service Expectations for the Week Ahead
The Gulf Coast region will experience favorable conditions through the weekend to support the ongoing recovery efforts. BNSF will continue to operate normal train service during the upcoming Labor Day holiday, however, connecting carriers who have reduced operations for the holiday may cause delays on interline traffic.

Below is a look at the key operational performance categories for the week ending August 31:

Total trains held for the week increased by more than 57 percent with an average 87.1 trains held versus 55.4 trains held during the prior week.
Versus the August 2016 average: up by 45.0%

Total trains on the system was down by nearly three percent versus the prior week with an average of 1,416 trains on the system.

Locomotive velocity, measured in miles per day (MPD), was 273.8, which is down by more than three percent from the 282.6 MPD recorded the prior week.
Versus the August 2016 average: down by 6.8%

Car velocity decreased by nearly three percent at 216.3 MPD versus 222.0 MPD recorded the prior week.
Versus the August 2016 average: down by 3.0%

Train velocity, measured in miles per hour (MPH), was down by nearly two percent versus the prior week at 18.7 MPH.
Versus the August 2016 average: down by 1.3%

Total volume was down by more than one percent from the prior week with 203,043 units moved in Week 34 (ending August 26) versus 206,017 units in Week 33 (ending August 19).

Terminal dwell was up by nearly three percent from the prior week at 25.2 hours.
Versus the August 2016 average: up by 2.3%

As always, we thank you for your business and appreciate the opportunity to serve as your transportation service provider. We welcome your feedback and questions.