Automotive Network Update for Friday, March 16, 2018
Operational Performance
The operation is generating improved performance across our Northern Corridor as the harsh conditions in northern Montana during the past month have eased. Many locations in the region continue to receive moderate amounts of snow and experience frigid temperatures well below normal, however, BNSF crews have made great progress in restoring fluidity and normalizing train flows across this busy portion of the network.

Overall car and train velocity increased slightly versus the prior week and exceed the averages from the previous March. Total volume moved by the railroad remains at a historically high level for this time of year as we exceeded 200,000 units for the fourth consecutive week, and seven out of the past eight weeks.

We also generated a significant reduction in the number of total trains held compared to the previous week. Most of the trains held were due to maintenance work taking place in a variety of locations around the network. Daily work windows on multiple BNSF subdivisions in eastern Washington as well as those scheduled on main lines with BNSF trackage rights in central California and in the Houston area were major contributors to the overall total.

Network expansion work is also ongoing, including a major project on the Southern Transcon in the Texas Panhandle. As we reported last month, a nearly five-mile stretch of fourth main track is being added on our Hereford Subdivision through Amarillo, TX.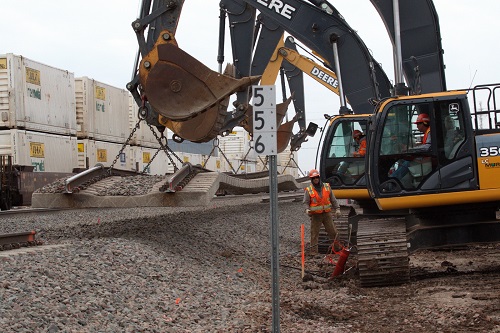 The work is progressing as scheduled with the project expected to be completed in September.

Reminder: Maintenance Project to Affect Some Southern Transcon Traffic in Chicago Area Tonight Through Early Tomorrow
As we reported, beginning tonight (Friday, March 16) at 7:00 p.m. CT until as late as Saturday, March 17 at 9:00 a.m. CT, track replacement work will be taking place at Streator, Illinois, which is located on our Southern Transcon between Galesburg, Illinois and Chicago. Some trains will be rerouted or held during this time as BNSF crews remove existing track and then replace with new rail, ballast, drainage pipes and expansion joints. Domestic Intermodal customers with shipments designated to move through this area may experience delays of up to 12 hours while some international traffic may be delayed up to 18 hours.

Service Expectations for the Week Ahead
Favorable operating conditions are expected across much of the BNSF network during the upcoming week while another winter storm is likely to impact the mid-Atlantic region and the Northeast.

This map highlights the ongoing maintenance activity taking place on the BNSF network. Some trains may experience delays during the upcoming week associated with multi-week projects, specifically on our Lakeside Subdivision near Spokane, Washington as well as on the Red Rock Subdivision through central Oklahoma. We appreciate your patience as this work remains critical to ensuring our network operates as safely and efficiently as possible. We will continue to inform impacted customers of any major service interruptions due to scheduled work windows.

Below is a look at the key operational performance categories for the week ending March 15:

Total trains held for the week decreased by nearly 10 percent with an average of 99.6 trains held versus 110.0 trains held during the prior week.
Versus the March 2017 average: up by 2.4%

Total trains on the system was essentially unchanged versus the prior week with an average of 1,564 trains on the system.
Versus the March 2017 average: up by 6.5%

Car velocity was up by nearly one percent at 214.3 MPD versus 212.4 MPD recorded the prior week.
Versus the March 2017 average: up by 3.1%

Train velocity, measured in miles per hour (MPH), was up by nearly two percent versus the prior week at 18.2 MPH.
Versus the March 2017 average: up by 2.2%

Total volume was essentially unchanged from the prior week with 207,518 units moved in Week 10 (ending March 10) versus 207,229 units in Week 9 (ending March 3).

Terminal dwell increased by nearly one percent versus the prior week at 26.0 hours.
Versus the March 2017 average: down by 4.6%

As always, we thank you for your business and appreciate the opportunity to serve as your transportation service provider. We welcome your feedback and questions.