Automotive Network Update for Friday, November 12, 2021
Operational Performance
The operation confronted a range of service-related challenges this week which negatively impacted overall performance. Strong storms caused several service interruptions on Wednesday and Thursday, with tornado warnings in Oklahoma and Texas as well as high winds in Montana and Wyoming that resulted in reduced velocity through some areas. Some traffic experienced interchange delays, particularly trains designated to move to/from Atlanta due to a derailment Wednesday night in Birmingham, as well as resource availability issues in various locations, including the Houston area.
Temporary speed restrictions were also implemented Thursday in multiple locations on our Southern Transcon route. BNSF engineering teams were deployed to conduct additional inspections and, in some cases, make repairs to track and signal infrastructure. Work was completed and normal operations have resumed through the affected areas.
Overall car velocity was essentially unchanged versus the prior week and the average level for October. Terminal dwell increased by about 4%, and our local service compliance measure was down slightly. Total volume exceeded the robust 200,000-unit level for the third straight week.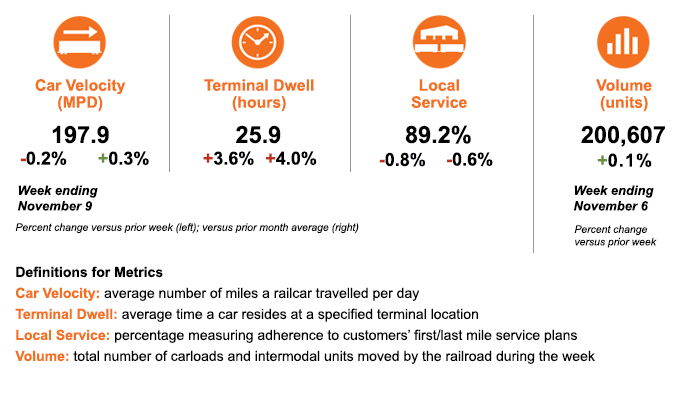 COVID-19 Vaccine Mandate
In September, President Biden announced the COVID-19 Action Plan, which included a vaccine mandate for certain types of businesses. After thoroughly reviewing the federal guidance related to this plan, it is clear that BNSF is covered by the mandate.
The Administration heard our concerns, and those of many other companies like ours with a 24/7/365 operation, and agreed to extend the original December 8 deadline for compliance to January 4, 2022 and will also allow some flexibility in the enforcement of the January 4 target.
Thanks to the hard work and dedication of BNSF team members, train operations have remained normal throughout the pandemic, and freight shipments are reaching their destinations as quickly as possible. We remain confident that we will manage this latest development while continuing to safely move our customers' freight.
Service Expectations for the Week Ahead
Flood watches and some warnings are currently in effect in portions of the Pacific Northwest, including the Seattle area. With heavy rainfall in the region this month, BNSF teams are monitoring flood-prone locations and are prepared to quickly respond to any service interruptions. Elsewhere across the BNSF network, favorable operating conditions are expected with no extreme winter weather anticipated during the upcoming week.
As always, we thank you for your business and appreciate the opportunity to serve as your transportation service provider. We welcome your feedback and questions.