Intermodal Network Update for Thursday, March 29, 2018
With BNSF's holiday observance of Good Friday, this Network Update is being delivered one day earlier than scheduled.

Operational Performance
The operation is generating steady overall performance this week while continuing to manage heavy volume flows and ongoing network maintenance activity through some key areas. Car and train velocity were each slightly higher and remain several percentage points above the average from the previous March. For the sixth consecutive week, total volume moved by the railroad exceeded the strong 200,000-unit level.

With our "capital gangs" active on multiple subdivisions across the network, as well as continuing activity on other main lines with BNSF trackage rights in Texas and California, the number of total trains held remains elevated. Multiple trains experienced delays due to rail/tie replacement and track surfacing this week, particularly involving multi-week projects taking place on our Red Rock Subdivision that runs through central Oklahoma as well as our Galveston Subdivision between Temple and Galveston, Texas.

While it can cause some occasional service disruptions, maintenance work is critical to ensuring the safety and fluidity of our 32,500-route mile network. This year, BNSF will replace more than 500 miles of rail, replace nearly three million rail ties and conduct track surfacing and/or undercutting work on approximately 13,000 miles of track. As always, BNSF teams will implement procedures, such as the re-routing of some traffic where possible, to minimize any train delays.

Intermodal Update
In 2018, BNSF is continuing our multi-year capacity expansion plans at our intermodal facilities in Southern California. Earlier this month, track construction work started at our Hobart-Los Angeles Intermodal Facility.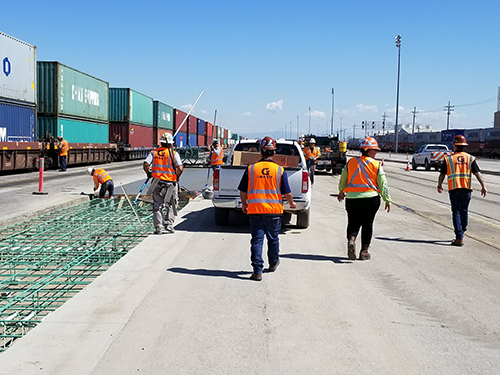 The project will reconfigure small storage tracks to create a new paired production track and includes the addition of Rubber Tire Gantry (RTG) cranes. Construction will occur in three phases to minimize disruption to operations and is scheduled to be completed by mid to late September. We will continue to provide updates as the construction work progresses.

Service Expectations for the Week Ahead
An active wintry weather pattern will influence areas of our Northern Corridor east of the Rockies during the next several days. BNSF operating teams are monitoring expected blizzard conditions and frigid temperatures into this weekend as multiple winter storms move through North Dakota and Minnesota. Some traffic may experience delays due to train length restrictions as well as distributed power for trains that may be needed. In other areas of the network, favorable operating conditions will hold for the first week of April.

This map highlights the ongoing maintenance activity taking place on the BNSF network. April also marks the start of BNSF's peak network maintenance season, including some notable work scheduled to begin soon in our North Region. BNSF crews will start a nearly month-long project on April 9 involving rail and tie replacement as well as undercutting work on approximately 50 miles of our Milk River Subdivision, which runs between Havre and Glasgow, Montana and represents a key portion of our primary Northern Transcon route. Work windows on this segment are currently scheduled during overnight hours from Monday to Friday. We will continue to update customers of any significant service interruptions associated with this project as well as others across the network.

Below is a look at the key operational performance categories for the week ending March 28:

Total trains held for the week decreased by more than 24 percent with an average of 94.7 trains held versus 125.0 trains held during the prior week.
Versus the March 2017 average: down by 2.6%

Total trains on the system was up by nearly one percent versus the prior week with an average of 1,557 trains on the system.
Versus the March 2017 average: up by 6.0%

Car velocity was up by nearly two percent at 214.9 MPD versus 210.8 MPD recorded the prior week.
Versus the March 2017 average: up by 3.4%

Train velocity, measured in miles per hour (MPH), was up by more than two percent versus the prior week at 18.4 MPH.
Versus the March 2017 average: up by 3.4%

Total volume was down by more than two percent from the prior week with 202,607 units moved in Week 12 (ending March 24) versus 207,194 units in Week 11 (ending March 17).

Terminal dwell decreased by more than one percent versus the prior week at 25.6 hours.
Versus the March 2017 average: down by 6.3%

As always, we thank you for your business and appreciate the opportunity to serve as your transportation service provider. We welcome your feedback and questions.