UPDATE: BNSF Service and Operations in Southeastern Texas
BNSF has restored service on all of our subdivisions impacted by Tropical Storm Harvey in southeastern Texas. Trains were moving again on our entire Longview Subdivision yesterday morning and our Silsbee Subdivision, between Beaumont and Silsbee, Texas, returned to service last night. The primary rail line connecting Beaumont and locations in Louisiana has also re-opened to traffic.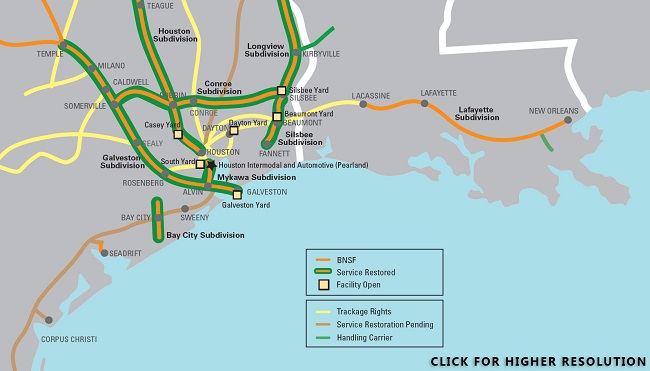 While service has been restored on nearly all affected rail lines, track and signal work continues in some locations. Trains may experience delays during scheduled maintenance windows, and customers should expect extended transit times in the region until operations by BNSF and other rail carriers have fully normalized. We also continue to re-route some traffic around areas where service restoration efforts are ongoing, specifically locations along the Gulf Coast southwest of Houston.

Most embargoes put in place by BNSF and connecting railroads have been lifted, however, some remain active for shipments destined to/originating from, or passing through, locations in the region. (You can view all active embargoes at the AAR Embargo Railinc website here.) BNSF is issuing permits allowing shipments on a case-by-case basis. To request a permit, contact BNSF Customer Support at 1-888-428-2673 option 4, option 3.

We also ask that shippers communicate with receivers in the Gulf Coast region to ensure they are operational before sending shipments.

Inspecting Private Track & Equipment Impacted by Tropical Storm Harvey
We are focused on maintaining the highest possible safety in our operations during this recovery effort, which requires effective collaboration between BNSF and our customers to assess railcars and infrastructure that may have been damaged.

In areas where flooding occurred, BNSF Mechanical will inspect any cars that were in our possession at the time, while customers are responsible for inspecting private tracks and private railcars that were under their control. If flooding occurred at your facility, the following action(s) must occur prior to resumption of service:

Inspection of Private Tracks for Damage

Track inspectors need to look for possible washout or scouring locations and track surface deviations. These are very serious defects that need to be addressed before operations can resume on the tracks.

Inspection of System Cars on Private Track

- The BNSF Mechanical team will need to inspect any system cars (including foreign & TTX railcars) that were flooded up to the roller bearings or air valve. Please contact

MECHDLHoustonSupervisors@BNSF.com

to arrange for the inspection of system railcars. BNSF will process these requests as promptly as possible. (Please note: repairs may take up to several weeks due to limited material.)

Inspection of Private Cars

- All cars that were flooded up to the roller bearings or air valve need to be inspected. Please refer to your agreement with the railcar lessor to determine who will coordinate the inspection and repair.

If the water line reaches roller bearing on rail car,

wheel set will need to be changed

.

Water would need to reach 1.5 ft. to impact roller bearings and 2.5 ft. to impact air valve (4 ft. for Hopper)

Do not release railcars that were flooded up to the roller bearings (middle of wheel), or cars that had flood waters rise over the air valve.

As always, if you have questions about your shipment(s), please contact BNSF Customer Support.

Your business is important to us. Thank you for choosing BNSF as your transportation service provider.