UPDATE: Restoring BNSF Service and Operations in Southeastern Texas
With improving conditions and aggressive efforts by our BNSF crews, rail service on most BNSF subdivisions in the Houston area and throughout southeastern Texas has been restored. All BNSF rail yards and facilities in the region are also open.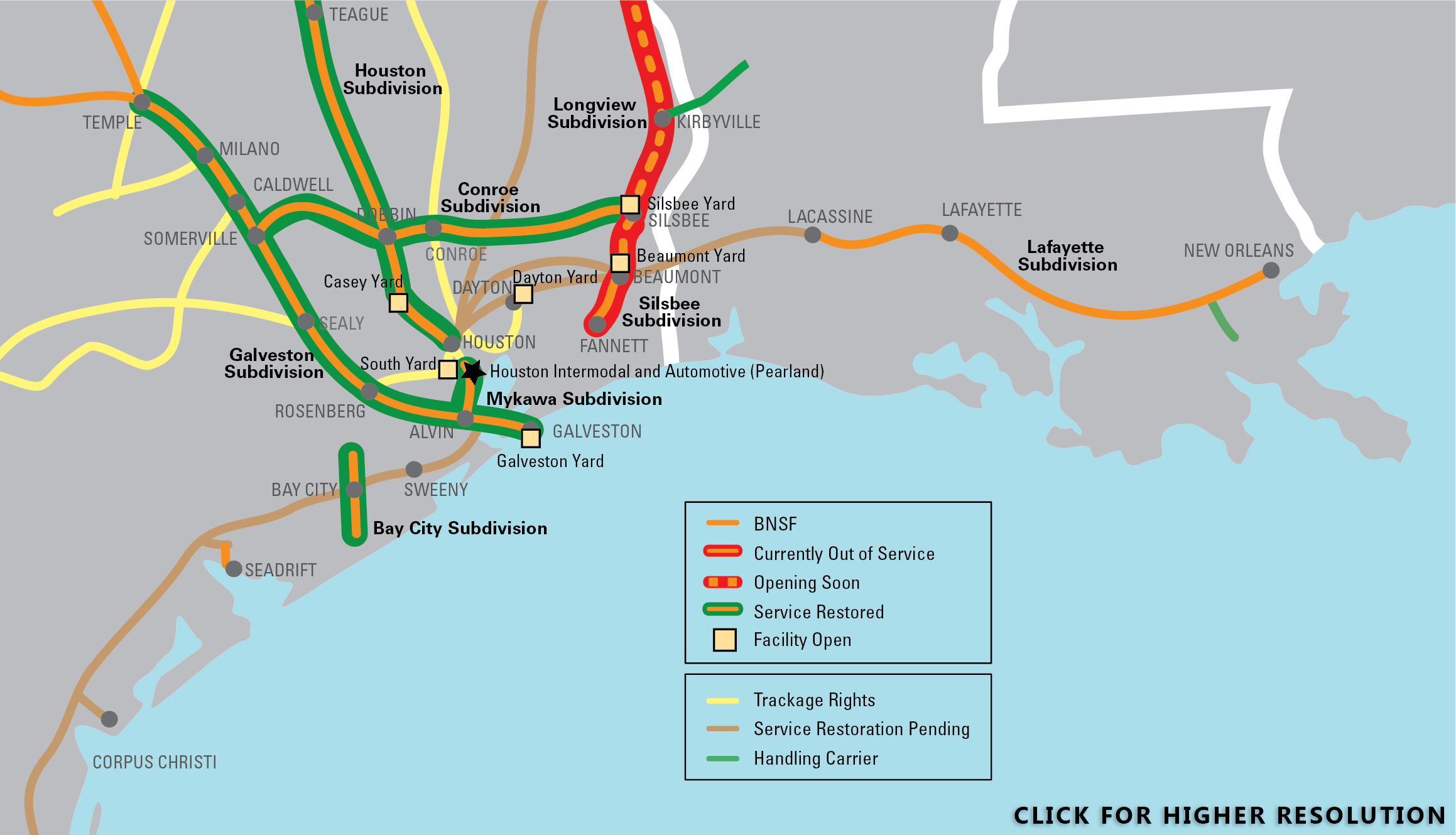 Both our Longview and Silsbee Subdivisions near the Louisiana border are out of service at the present time. In addition, direct rail service between Houston and locations in Louisiana, which includes access through Dayton and Beaumont utilizing our trackage rights, remains blocked as restoration efforts are ongoing. Based on current estimates, however, our Longview and Silsbee subdivisions as well as the impacted main lines east of Houston are expected to return to service within the next 24 hours.

We are also experiencing ongoing challenges involving the primary rail line that provides access, via our trackage rights, to locations southwest of Houston, including Corpus Christi and Brownsville. Major bridge repair work that is needed near Sweeny, Texas will require an extended track outage. We are re-routing or diverting as much traffic as possible around this affected location as well as other areas that are currently blocked.

Our Command Center continues to coordinate our recovery efforts throughout the region. As operating conditions have improved and we continue to restore service, BNSF has lifted embargoes previously put in place for most shipments destined to/originating from, or passing through, locations in the Gulf Coast region. (You can view all active embargoes at the AAR Embargo Railinc website here.) While a station or interchange may no longer be under embargo, operations at some customer facilities have not resumed.

To avoid additional supply chain disruptions, we are not servicing customer facilities that have yet to restore operations. If you have not already done so, we request that customers - both shippers and receivers - advise BNSF of any impacts to their operations and facilities. In addition to contacting either your BNSF representative or Customer Support, we have set up three alternatives for reporting facility damage, out-of-service track or other barriers to your normal shipping and receiving capabilities:

Facility Impact Form: click here
Facility Impact Hotline: 1-800-929-4117
Facility Impact Email: csharvey@bnsf.com

We also ask that shippers communicate with receivers in the Gulf Coast region to ensure they are operational before sending shipments.

As always, if you have questions about your shipment(s), please contact BNSF Customer Support at 1-888-428-2673 option 4, option 3.

We will continue to provide customers with further updates.