UPDATE: Service Restored on Southern Transcon in Iowa; Ongoing Northern Corridor Challenges
Train operations have resumed on a portion of the Southern Transcon in southeastern Iowa as one main track returned to service at approximately 10:00 a.m. CT. The second main track is expected to re-open this afternoon. As we reported, a derailment occurred yesterday morning on our Marceline Subdivision, approximately four miles west of Ft. Madison, Iowa. The train involved in the incident was utilizing trackage rights to operate on this portion of the subdivision.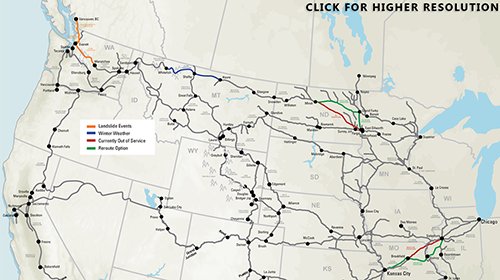 Given the high volumes on the Southern Transcon, traffic to/from Chicago as well as train flows on adjacent subdivisions, intermodal facilities and at various BNSF terminals continues to be significantly impacted. While we have re-routed some traffic, customers should expect extended transit times and delays until service is fully restored through the area.

Along our Northern Corridor connecting Seattle and Chicago, BNSF crews working in below zero temperatures are completing track repairs at the scene of grain train derailment that occurred yesterday on our KO Subdivision in North Dakota, approximately 30 miles east of Minot. Trains have been re-routed around this location and service on the subdivision is expected to be restored this afternoon.

In Montana, efforts continue to restore fluidity on our Hi Line Subdivision, which runs between Whitefish and Havre, Montana. BNSF operations teams addressed service interruptions overnight impacted by the extreme cold and lingering snowfall. Customers should expect delays for shipments moving along this portion of the primary Northern Transcon route as efforts continue to restore normal train flows through the area.

BNSF teams in the Pacific Northwest continue to respond to landslides occurring on several of our subdivisions in Washington. Another event occurred overnight on our Scenic Subdivision north of Seattle, which briefly suspended service on both main tracks. Service on our Bellingham Subdivision was restored last night, and train flows on this route connecting British Columbia with the Seattle/Tacoma area are normalizing.

If you have any questions regarding your shipment(s), please contact BNSF Customer Support at 1-888-428-2673 (select option 4, then option 3). We appreciate your patience and will continue to provide you with further updates.