Working to Restore BNSF Service and Operations in Southeastern Texas
As conditions improve along the Gulf Coast, BNSF crews are making significant progress in restoring rail service and facility operations in the Houston area and other areas of southeastern Texas. Service was restored on the Houston Subdivision last night as well as to a greater portion of our Galveston Subdivision, from Temple to just south of Alvin, Texas. We also expect to have service restored on our Conroe Subdivision between Somerville and Dobbin this afternoon.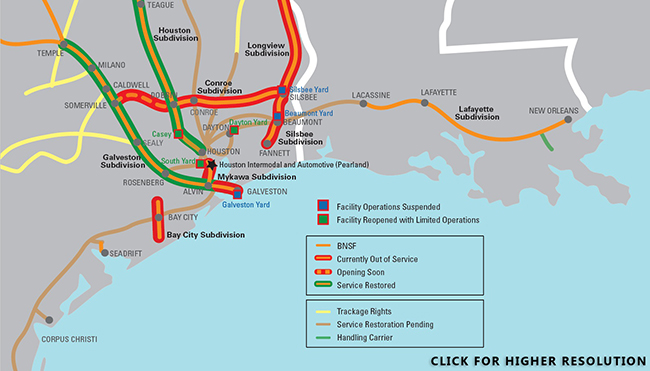 BNSF rail yards at Silsbee, Galveston and Beaumont remain closed due to flooding. Our South Yard, Dayton Yard and Casey Yard have reopened with limited operations. The Houston (Pearland) Intermodal Facility is accessible through our automated gate system (AGS) and train loading and unloading operations have resumed. The Houston (Pearland) Automotive Facility is also now open with unloading operations starting back up today. Customers should be advised that road closures in the area may continue to impact access to facilities that have re-opened. Day shift operations at the Port Terminal Railroad Association (PTRA) yards are expected to resume tomorrow.

Trains that are currently staged will be ready to move as blocked routes are cleared and destinations are able to receive. We continue to re-route or divert as much traffic as possible around the area until flood waters recede and storm damaged lines can be repaired. Routes are open into central Texas and traffic is moving through San Antonio, including trains destined for Mexico through our Eagle Pass gateway.

BNSF engineering teams continue to inspect and evaluate affected areas of our network. Our Command Center is operating around-the-clock to coordinate our efforts throughout the region.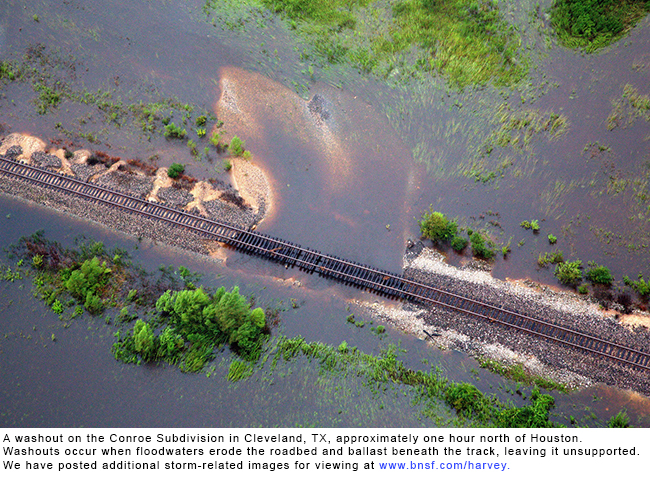 With this unprecedented, large-scale flooding, we understand that many of our customers have been significantly impacted. We encourage customers to contact their BNSF representative, or BNSF Customer Support at 1-888-428-2673 (option 4, option 3), about the status of your shipment(s). We are also working to implement an additional reporting tool to assist customers in submitting information to BNSF on the status of their shipping and receiving facilities that will help further enable the recovery.

We will continue to provide customers with further updates.