BNSF announces retirement of Executive Chairman Matthew K. Rose in 2019
FORT WORTH, Texas, October 3, 2018 – Matthew Rose will step down as Executive Chairman and retire from BNSF Railway Company (BNSF) in April of 2019. At the end of his tenure, Rose will have been Executive Chairman for six years, and BNSF Chief Executive Officer for the prior 13 years. He also served in senior leadership for marketing and operations before assuming the CEO role in 2000. During his tenure as CEO, he helped guide the acquisition of BNSF by Berkshire Hathaway (BRK) in 2009.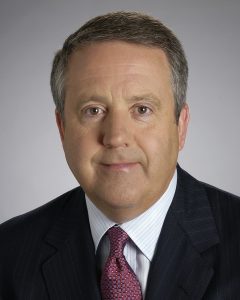 "It was a very lucky day for me and for Berkshire Hathaway when I met Matt Rose," said Warren Buffett, chairman of Berkshire Hathaway. "Under Matt's management, BNSF has become a major source of profit and pride for Berkshire. And, as a citizen, Matt has been an exemplar for corporate leadership."
Rose's tenure is characterized by his commitment to growth with customers, achieving productivity especially through technological advancement, and developing BNSF's employees. As a key part of employee development, Rose oversaw the design of the BNSF Leadership Model in 2000 and successfully institutionalized it to forge a cohesive BNSF corporate culture. Through the Leadership Model, BNSF has developed the leadership of teams and individuals across the company throughout the years, making BNSF more successful and resilient.
Rose's commitment to safety and productivity is best demonstrated through his focus on technology. BNSF's leadership in train control implementation, and other technologies, will change the industry for decades to come.
Rose has advocated at every point in his career that customer service is what drives profitability, the virtuous cycle of reinvestment, and provides the public license to operate. Rose understood the importance of and navigated public policy for the benefit of BNSF and the industry throughout his career.
"I have been incredibly fortunate to work alongside some of the most talented people in the transportation industry," said Rose. "Through my 26 years at BNSF – 19 in leadership – I have seen enormous change in our economy. Our company has navigated those changes well and now is extremely well positioned for the next several decades. It has been an honor to lead this organization, as a publicly traded company and also as part of BRK."
About BNSF
BNSF Railway is one of North America's leading freight transportation companies. BNSF operates approximately 32,500 route miles of track in 28 states and also operates in three Canadian provinces. BNSF is one of the top transporters of consumer goods, grain and agricultural products, low-sulfur coal, and industrial goods such as petroleum, chemicals, housing materials, food and beverages. BNSF's shipments help feed, clothe, supply, and power American homes and businesses every day. BNSF and its employees have developed one of the most technologically advanced, and efficient railroads in the industry. We work continuously to improve the value of the safety, service, energy, and environmental benefits we provide to our customers and the communities we serve. You can learn more about BNSF at www.BNSF.com.