Coal Network Update for Friday, July 9, 2021
Operational Performance
BNSF operating teams have been addressing several service interruptions across the network this week. We experienced a derailment last night on the Southern Transcon, our primary route between Southern California and the Midwest, at Marceline, Missouri. Both main line tracks in this location are currently out of service.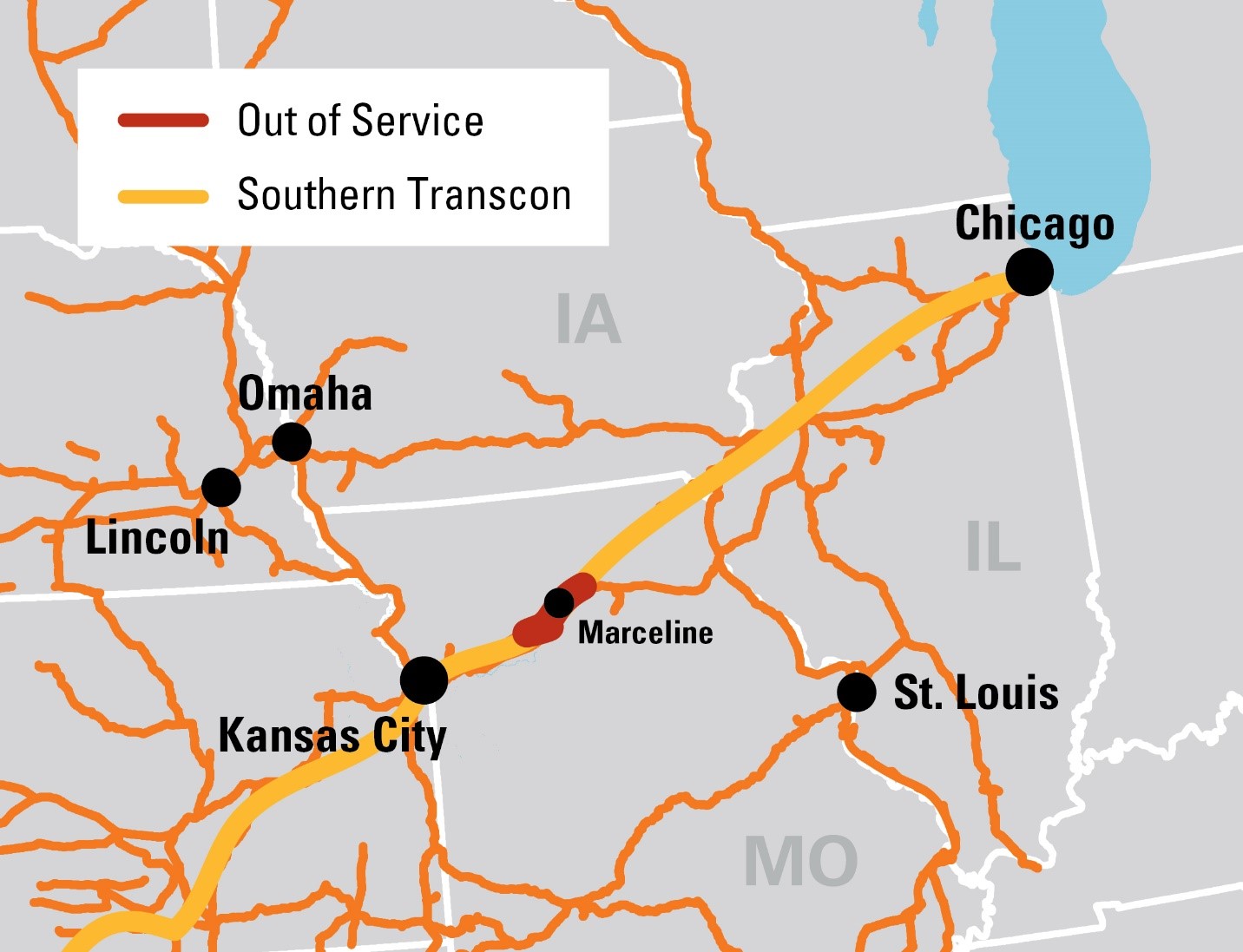 Engineering teams and equipment are at the scene; however, service is not expected to be restored until tomorrow. With the high volume of traffic on the Transcon, customers with shipments designated to move through this area should expect ongoing delays into next week. Trains are being re-routed as much as possible to minimize the impact of this disruption. Customers tracing their freight may notice nonstandard routings, locations and interchanges.
We also experienced some train delays earlier this week due to an incident Tuesday night at Springfield, Missouri. Both main tracks were out of service for approximately 12 hours. Train flows through the affected location have since normalized. In central New Mexico, service was restored last night on our entire north-south route between Belen and El Paso, TX after heavy rains caused track washouts in multiple locations early Wednesday morning.
These disruptions negatively impacted operational performance following the Independence Day holiday. Average car velocity was down about two percent versus both the prior week and the level for June. Terminal dwell was unchanged from last week, but the average is running two percent higher than the level from last month. Our local service compliance measure, which declined from the prior week, reflects primarily holiday-related impacts on carload freight.

Our teams continue to focus on maximizing productivity through the most effective management of resources, including power and train crew personnel. As always, we remain committed to working with our customers on various initiatives to enhance network efficiency.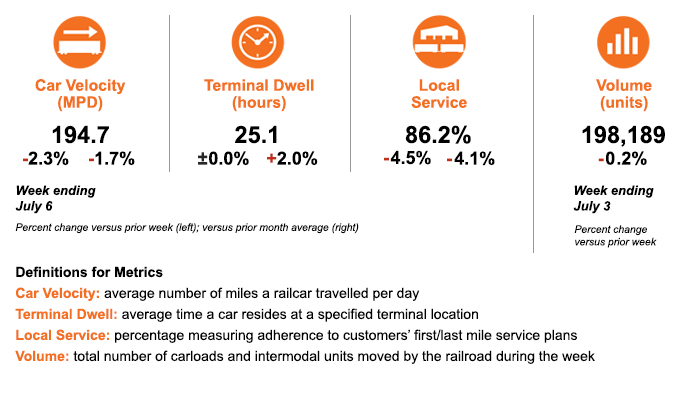 Service Expectations for the Week Ahead
The interior West Coast and Desert Southwest is currently experiencing another heat wave that will continue through the next few days. High temperatures are expected to exceed a record-breaking 110 degrees in central California this weekend while locations in southeastern California will likely approach 125 degrees. BNSF teams are monitoring conditions closely, conducting additional track inspections and are prepared to respond to any heat-related service interruptions.
Temperatures across much of the West will gradually return to normal levels during the upcoming week. As a more typical July weather pattern returns, much of the BNSF network should experience favorable operating conditions for this time of year.