Coal Network Update for Friday, March 5, 2021
Operational Performance
Recovery efforts are ongoing in California following a derailment that occurred Wednesday afternoon on our Southern Transcon route, approximately 60 miles east of Barstow. Both main lines on this heavily-trafficked portion of the Transcon were out of service while crews worked at the scene. The first main track reopened in approximately 24 hours, and service was restored on the second track early this morning.
Customers with shipments designated to move through this corridor should expect some lingering delays until train flows have fully normalized. If you have questions about your shipment and need assistance, we encourage you to utilize the Message Us feature on the BNSF Customer Portal (must be registered/logged in to access).
As we move into March, BNSF is making progress in generating improved service performance following February's extreme winter weather. Average car velocity was significantly higher, along with a substantial reduction in terminal dwell, versus both the prior week and last month. With volumes for some business groups remaining strong, operating teams continue to focus on balancing resources with freight demands and adjusting operating plans at hub facilities to improve efficiency.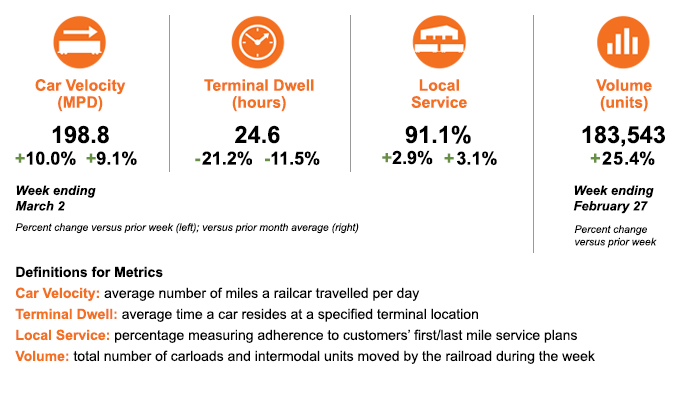 Service Expectations for the Week Ahead
Much of the network will continue to experience favorable operating conditions to begin the week. An active weather pattern, however, will generate high winds periodically across the desert Southwest and into the Plains by midweek which may cause some delays. BNSF teams are also monitoring an elevated risk for wildfires in some areas, particularly across eastern New Mexico and the Texas Panhandle.
As always, we thank you for your business and appreciate the opportunity to serve as your transportation service provider. We welcome your feedback and questions.