Industrial Products Network Update for Friday, September 3, 2021
Operational Performance
BNSF operating teams have generated improved performance this week while confronting significant service challenges from Hurricane Ida as well as the ongoing wildfires in California. While many areas in Louisiana remain impacted by power outages and flooding, our main line running between Houston and New Orleans returned to full operation on Wednesday. In New Orleans, interchange operations with Norfolk Southern and New Orleans Public Belt Railroad have resumed during daytime hours, while traffic designated for interchange with either CSX or Canadian National remains under embargo.
The Dixie Fire, which has now burned more than 865,000 acres and is 55% contained, continues to threaten portions of our main line north of Keddie, California. Rail service through northern California remains extremely limited, with a small number of trains permitted to run on an alternate route west of the fire zone. Most affected traffic is being re-routed on longer routes further east. Customers with shipments between the Pacific Northwest and California will continue to experience longer transit times by several days until repairs to damaged infrastructure are completed and service can safely resume through the area.
Our continued focus throughout the network remains on alleviating congestion at some facilities as well as maximizing resource productivity. Regarding key service metrics, overall car velocity increased slightly versus the prior week as well as the average level for July. Average terminal dwell was reduced by more than two percent from last week, and our local service compliance measure remains above 90 percent.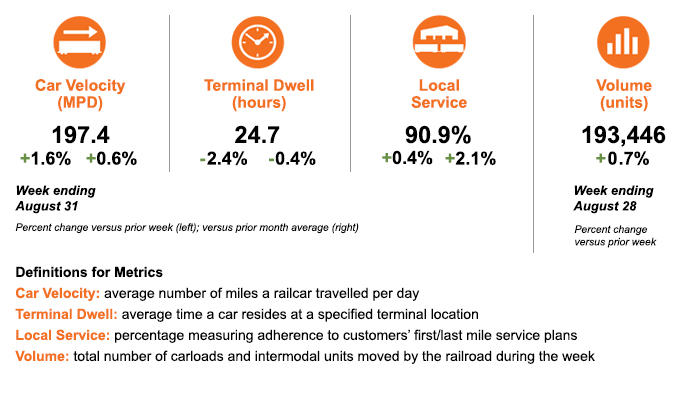 Carload Labor Day Operating Plan
BNSF's Carload Labor Day holiday operating plan will remain focused on meeting customers' expectations while matching operations to rail volumes. Trains will operate normally on Labor Day, September 6, however, BNSF plans to minimize the number of yard, local and road-switch assignments at terminals if specifically advised by customers that service will not be needed. Connecting carriers who have reduced operations for the holiday may cause delays on interline traffic.
Service Expectations for the Week Ahead
Most of the BNSF network will experience favorable operating conditions for much of the holiday week, with no major outbreaks of severe weather currently anticipated. While still very active, fire conditions in the West are expected to moderate with light winds across affected areas into early next week.
Maintenance activity remains in full swing across our network. Major projects, involving rail/tie replacement and track surfacing, are ongoing in several areas, particularly portions of our Northern Transcon route in Montana, Idaho and Washington. Along this busy corridor, daily work windows will continue to be scheduled and timed to minimize disruption to traffic flows as much as possible.