Intermodal Storage (Dwell) Policy Update
Effective September 10, 2018, BNSF will be make the following adjustments to the Intermodal Storage Policy.

Notification Day
The event used to determine the day of notification will continue to be either the Patron Notification (PN) or Estimated Time of Notification (ETN), whichever occurs at the later date and time. The Day of Notification will now be the day in which this later event occurs, regardless of the time of day that it occurs.

New ISP Domestic Shipment Notification
For Domestic shipments where the shipper has provided BNSF with an ISP (Integrated Service Planning) planned out gate date, the event used to determine the day of notification will be the ISP date. If shipment availability is prior to ISP, then the ISP date will be the day of notification regardless of ETN. If shipment availability is after the ISP date, then standard BNSF storage rules will apply.

Holidays Observed
BNSF observed holidays will be Labor Day, Thanksgiving Day, Christmas Eve Day, Christmas Day, New Year's Day, Easter, Memorial Day and Independence Day.

Storage Charges
Storage charges will increase starting on the fourth (4th) chargeable day.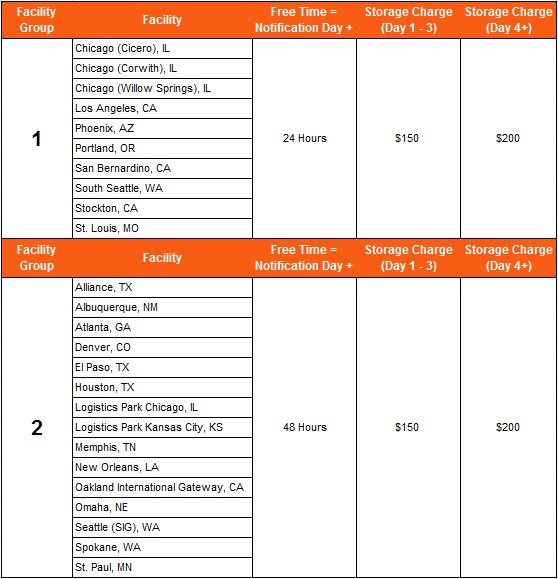 These updates are reflected in Item 37 and Appendix F: of the BNSF Intermodal Rules and Policies Guide (R&PG). For additional information, please contact your BNSF marketing representative.

Your business is important to us. Thank you for choosing BNSF as your transportation provider.