BE
DIRECT.
The fastest route from coast to coast,
the West is the best for a reason.
With us, you can
be direct.
Learn more about the shortest routes, the largest ports with the most infrastructure and the reliability of a well-connected supply chain.
The West Coast Advantage
Capacity
The West Coast is the largest gateway between Asia and North America—and we deliver faster turn times and more frequent sailings so you can be connected to the markets you need to reach.
Flexibility
BNSF connects West Coast ports to all major inland markets via our extensive rail network—and we're committed to delivering cost-efficient and dependable services that meet your needs.
Speed
West Coast ports offer the fastest routes, and with BNSF's Southern Transcon line, you can be sure that you'll get the fastest intermodal route between Southern California and the Midwest.
Trusted Reliability
Our capital investments in infrastructure and leveraging of advanced technology initiatives ensure that your cargo is transported as safely, reliably and efficiently as possible.
Sustainability
No other form of land-freight transportation is more fuel- and resource-efficient than rail. Carbon emissions can be reduced up to 75 percent by using rail intermodal service as compared to trucks.
Advanced Technology
BNSF is innovating new ways to improve efficiency, safety and customer service with technologies like image analytics and machine learning to provide real-time visibility to thousands of containers.
Play Video
"We have a seamless pick-up when we are
going in for our containers."
Abby Guzauskas, Senior Transportation Analyst, Abercrombie & Fitch Co.
Connecting your shipments to their final destination through BNSF's expansive rail network.
Intermodal network
Our intermodal network is designed to transport 20- and 40-foot import boxes as well as transloaded domestic containers to and from West Coast ports and major inland markets. It cuts transit time by as much as 3½ days, making it the most efficient option for direct vessel-to-rail transport.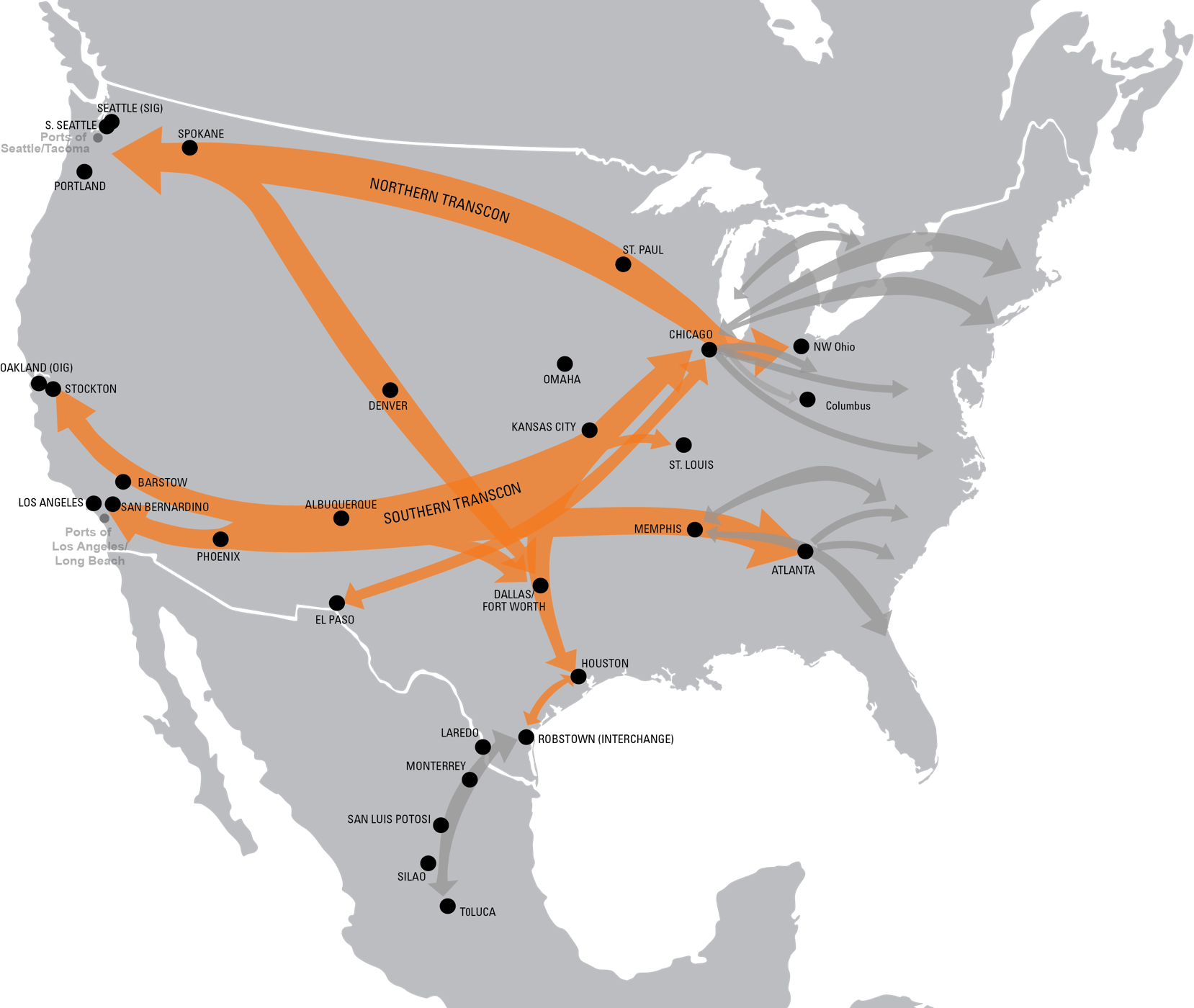 Ready to learn more?
Let us know and one of our intermodal specialists will reach out and check out our
2022 Intermodal Guide.