Agricultural Products Network Update for Friday, June 25, 2021
Operational Performance
BNSF operating teams have been responding to ongoing challenges in several key areas of our network. Extreme weather and other service disruptions during the past two weeks have negatively impacted overall operational performance. On our Southern Transcon route between Southern California and the Midwest, rail operations are normalizing following a June 14 derailment in New Mexico as well as from high winds and record high temperatures of around 120 degrees in some locations during the past week across the Desert Southwest, which combined to create significant resource imbalances with traffic flows. Further east on the Transcon, severe storms in the Kansas City area last night, which included high winds of up to 70 miles per hour, caused some train delays.
This latest round of severe weather in the Plains also caused flooding in parts of southwest Iowa and northwest Missouri overnight. Between six to 10 inches of rainfall has fallen in this area during the past 24 hours. As a result, portions of our main lines running between Lincoln/Omaha, Neb. and Kansas City are currently out of service due to multiple track washouts. Engineering crews and equipment have been deployed to the affected locations to make track repairs and conduct inspections. Some trains have been re-routed while others are currently holding due to the outages. While we expect to have service fully restored by this evening, flood warnings remain in effect and additional heavy rainfall is possible over the next 48 hours.
Despite this challenging environment, we have remained focused on maximizing network productivity, including the re-deployment of additional locomotives to in-need locations, and driving greater resource efficiencies to improve service consistency. Average car velocity improved slightly versus the prior week while down nearly three percent from the level for May. Terminal dwell remains slightly above the average level for the prior month while local service compliance is currently exceeding 90 percent.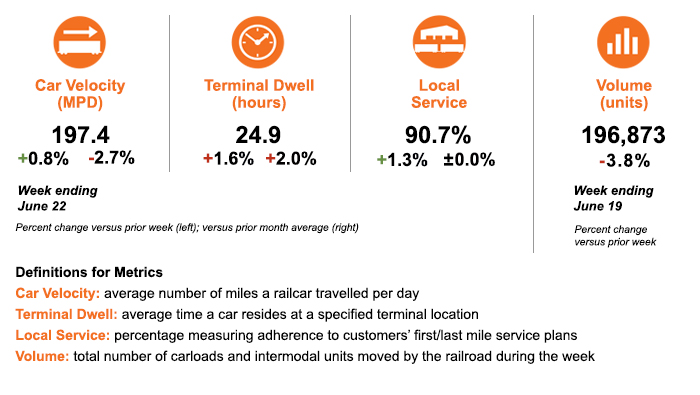 Independence Day Operating Plan
BNSF will continue to operate agricultural trains according to normal schedules throughout the Independence Day holiday weekend, however, connecting carriers who have reduced operations for the holiday may cause delays on interline traffic. Customer Support and Grain Operations will provide full coverage over the holiday.

Service Expectations for the Week Ahead
During the last days of June, a historic heat wave is expected across the Pacific Northwest, with all-time record high temperatures of around 110 degrees likely in some locations. BNSF teams will conduct additional track inspections during the period and are prepared to respond to any heat-related service interruptions. We also continue to monitor the high risk for wildfires in the region.
As always, we thank you for your business and appreciate the opportunity to serve as your transportation service provider. We welcome your feedback and questions.