Agricultural Products Network Update for Friday, November 19, 2021
With the upcoming Thanksgiving and Day after Thanksgiving holidays, we are delivering this Network Update one week earlier than scheduled. We will resume our normal biweekly schedule on Friday, December 3.
Operational Performance
Rail operations in the Pacific Northwest have improved following significant service disruptions early this week due to flooding. As we reported, heavy rainfall produced track washouts, landslides and high water locations in multiple locations across northwestern Washington and British Columbia. Some affected BNSF track reopened and returned to service by Wednesday, however, our main line between Burlington and Sumas, Washington remains out of service.
Ongoing track outages in British Columbia continue to restrict interchange with Canadian carriers. Water levels in affected locations are expected to recede into the weekend, and we expect service in the region to gradually improve during the next several days.
We are currently experiencing some train delays on our primary coal route in Wyoming and Nebraska following track repair work conducted yesterday. Train flows are normalizing as all main line segments in this region have returned to service.
Regarding our key service metrics, overall car velocity decreased this week by more than 2% compared to the previous week as well as the average for October. Terminal dwell remains elevated, while our local service compliance measure improved slightly from the prior week. Going into the holiday season, BNSF operating teams remain focused on generating greater resource productivity and alignment with volumes.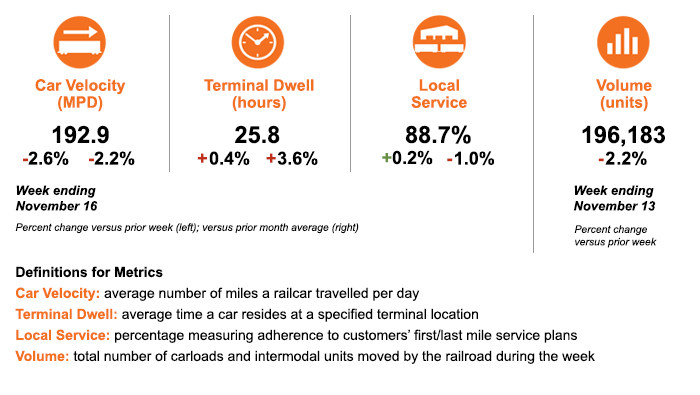 Thanksgiving Holiday Operating Plan
This year, BNSF will observe the Thanksgiving holiday on Thursday, November 25 and Friday, November 26.
Empty Shuttles
Customers with empty trains arriving at the loading facility after 12 p.m. Wednesday, November 24, may elect to move their official spot time to 6 a.m. Friday, November 26. During this time frame, trains may be loaded if desired.
Loaded Shuttles
Customers with loaded trains arriving at an unload facility after 6 p.m. Wednesday, November 24, may elect to move their official spot time to 6 a.m. Friday, November 26. During this time frame, trains may be unloaded if desired.
In either case, customers who elect to move their spot time must contact BNSF Grain Operations at least eight hours in advance and advise of their intentions for train, power and crew planning purposes.
There is no allowance for the Friday after Thanksgiving. Origination Efficiency Payment (OEP) or Destination Efficiency Payment (DEP) will be lost if customer(s) elect to operate outside of these allowances.
Throughout the holiday weekend, BNSF will remain focused on keeping the Grain Network performing to meet demand.
Carload Train Service
BNSF's Carload Thanksgiving operating plan will remain focused on meeting customers' expectations while matching operations to rail volumes.
Train service will not be curtailed due to the holiday; however, BNSF plans to minimize the number of yard, local and road-switch assignments at terminals during the holiday consistent with customer activity and volume demand. Connecting carriers who have reduced operations for the holiday may cause delays on interline traffic.
Customer Support
For interactive tracking 365 days a year, please use BNSF's Tracking tool by logging in with your user name and password and selecting Track Your Shipment. If you have questions regarding a shipment(s), please utilize the Message Us feature on the BNSF Customer Portal (must be registered/logged in to access) or contact BNSF Customer Support at 1-888-428-2673.
Service Expectations for the Week Ahead
BNSF crews are monitoring chances for more wet weather in the Pacific Northwest during the upcoming week. As always, our teams are prepared and ready to respond to weather-related service challenges. Elsewhere across the BNSF network, no major disruptions due to severe weather are anticipated at this time.