Coal Network Update for Friday, August 20, 2021
Operational Performance
BNSF continues to confront significant challenges associated with congestion at key intermodal facilities, primarily Memphis and Logistics Park Chicago (LPC). With elevated volumes and backlogs at these facilities resulting from the slow pick-up of shipments, we remain focused on evaluating and implementing additional measures that will drive greater efficiency and productivity. We remind our intermodal customers that prompt pick-up of shipments will help improve traffic flows, reduce lot congestion and provide the space needed for processing inbound freight as expeditiously as possible.
Rail service through northern California remains extremely limited due to wildfire activity. The Dixie Fire, which started in mid-July, has now burned more than 700,000 acres with only 35% containment. We continue to re-route some Pacific Northwest-California rail traffic on longer routes further east, while a few trains per day are permitted to run on an alternate route outside the affected fire zone.
The current movement of the Dixie Fire has allowed crews to safely inspect and repair affected BNSF track and structures. The fire burned across our right-of-way in several locations, which caused a tunnel to collapse and damaged several bridges.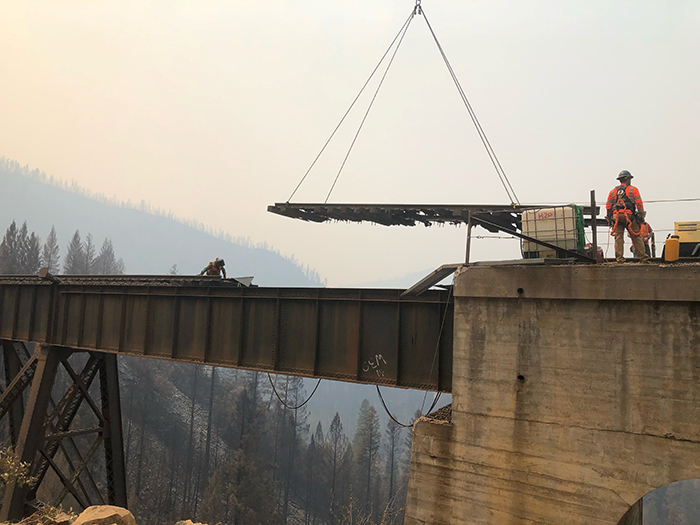 Removing track panels from fire-damaged bridge near Moccasin, Calif. – August 18, 2021
Our fire train crews remain active and are working closely with the California Department of Forestry and Fire Protection. As coordinated through our Command Center, the tireless work by various BNSF response teams in the area, profiled here, has been focused on protecting infrastructure and restoring service safely, as soon as possible.

Some trains moving through Nebraska experienced delays this week as we responded to resource-related challenges in the corridor. With aggressive efforts by our operating teams, fluidity and efficiency has improved during the past few days.
The ongoing challenges as well as weather-related events continue to negatively impact overall operational performance. Average car velocity decreased versus the prior week and remains below the level from last month. Terminal dwell increased from the average level reported for both last week and July, while our local service compliance measure is holding at 90 percent.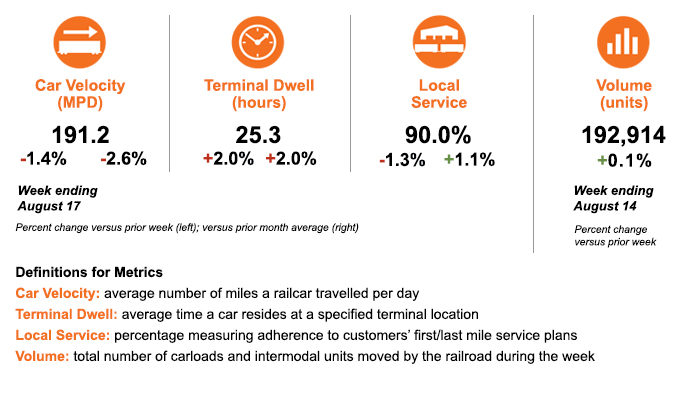 Service Expectations for the Week Ahead
For much of the BNSF network, no significant service interruptions due to weather are anticipated during the upcoming week. Most locations should experience seasonable conditions for this time of year. With the prolonged drought across interior West, we continue to monitor the high risk for additional wildfire activity.
As always, we thank you for your business and appreciate the opportunity to serve as your transportation service provider. We welcome your feedback and questions.