Coal Network Update for Friday, July 17, 2020
Operational Performance
BNSF operating teams are generating improved performance coming out of the Independence Day holiday. While frequent severe weather has caused some negative impacts on service during the past couple weeks, car velocity is up significantly versus the prior week but down from the average level for June. As the economic environment continues to shift due to COVID-19, we remain focused on re-aligning resources with changing traffic flows on the network.
BNSF has adjusted how we calculate terminal dwell, or the average time a rail car resides at a specified terminal location on our network. The changes include an expanded data set to better capture and reflect the experience of all our customers utilizing our network. Prior periods used for comparison with the current week's average also reflect this new methodology. We believe the changes will provide greater accuracy and insight into BNSF's service performance.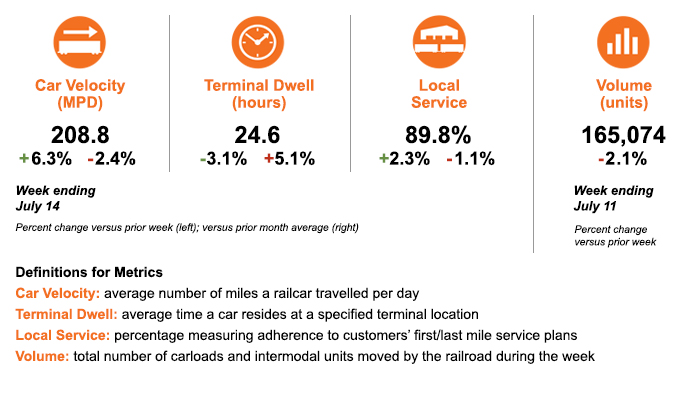 Capital Maintenance – Heavy Bridge Program
BNSF recently placed into service a new bridge spanning the Cuivre River at Old Monroe, Missouri, approximately 45 miles northwest of St. Louis. The Engineering team began the project in February 2019. Shortly after, floods halted the project for more than five months. Once the team resumed work and began drilling the foundations, a subsurface mix of layered rock and sand posed additional construction challenges that the team had to engineer around. This was in addition to having to build around three former bridge foundations.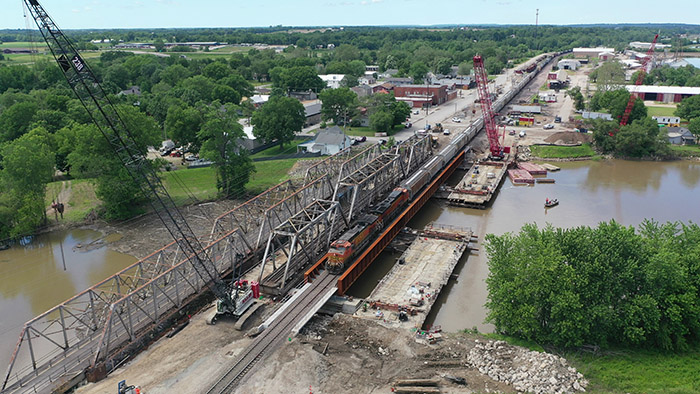 First BNSF train travels over the new Cuivre River bridge – June 4, 2020
The original timber bridge at this location was built in the 1870s, then replaced by a swing-span bridge in the 1890s that opened in the center so boats could move goods up and down river. In the early 1900s, a third, steel span bridge was constructed, which could bear the weight of heavier rail traffic. That bridge stood almost 120 years until this new concrete and steel combination bridge was completed.
In addition to its expanded length and height to help withstand frequent floods in the area, the new bridge will support greater velocity for some trains on this key route. With 13,000 bridges on our network, BNSF conducts comprehensive inspections and significant maintenance work throughout each year to ensure that each bridge remains safe, secure and structurally sound.
Service Expectations for the Week Ahead
BNSF operating teams are monitoring severe weather expected across portions of the northern Plains and upper Midwest tonight and into the weekend. As always, for traffic designated to move through the region, the appropriate safety procedures and actions will be implemented as necessary in response to any major storms. Scattered storms are likely each day across the central Plains and parts of desert Southwest during the upcoming week while much of the network should experience favorable operating conditions.