Industrial Products Network Update for Friday, August 14, 2020
Operational Performance
The state of the BNSF network is solid with operating teams focused on aligning resources with freight volumes. Average car velocity was steady with the prior week and higher than the level reported for July. Total volume moved by the railroad was up by nearly five percent versus the prior reporting week.
We experienced some service challenges earlier this week due to severe weather that impacted traffic on the Southern Transcon. In Oklahoma, high winds caused the derailment of an intermodal train Monday night near Gage on our Panhandle Subdivision, approximately 150 miles east of Amarillo. Both main tracks in this location were affected.
BNSF teams and contractors were immediately deployed to the scene and worked throughout the night to restore service. The first main track reopened midday Tuesday, and trains were operating again on both tracks by Tuesday night. Traffic flows have normalized, and we are generating improved velocity and greater efficiency on the Transcon going into the weekend.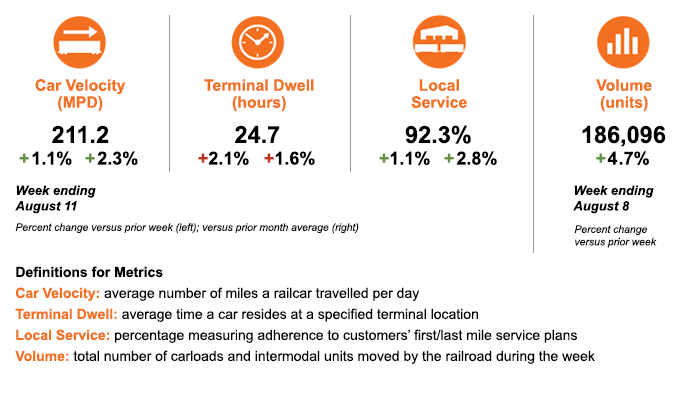 Capital Expansion Update
Construction is progressing in Sandpoint, Idaho on a second rail bridge over Lake Pend Oreille. As we reported, work on the Sandpoint Junction Connector Project, which includes building a three-quarter-mile-long span adjacent to the existing bridge, began earlier this year.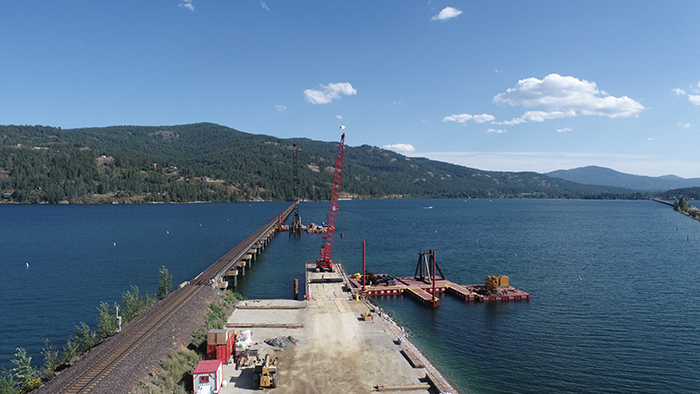 The project has moved into the next phase as the work trestle at the north end is completed and engineering teams are now primarily focused on permanent pile construction for the new bridge. Additional pile installations will take place this month as well as site grade work throughout the project limits.
This important multi-year project remains on schedule. For more information, including the key benefits that this second bridge will provide once completed, please visit KeepSandpointRolling.com.

Service Expectations for the Week Ahead
No major disruptions due to weather are expected during the next several days. Hot and dry conditions will remain in place across much of the BNSF network, with some locations across the West likely to experience record high temperatures. BNSF teams will continue to closely monitor track and infrastructure for any heat-related impacts and take the appropriate precautions to operate safely.