Industrial Products Network Update for Friday, July 31, 2020
Operational Performance
BNSF operating teams remain focused on aligning resources with traffic flows as we are positioned to build on positive momentum going into August. Average car velocity held steady with the prior week. Terminal dwell was reduced but remains higher than the average level for June. Our local service compliance measure is nearly 92 percent, which reflects improved efficiencies in the handling of carload freight from the previous week as well as versus the prior month.
Earlier this week, operating teams responded to service challenges associated with several incidents on our network, including a derailment that occurred last Saturday in Arizona, on our main line northwest of Phoenix. Some trains to/from the Phoenix area experienced delays as crews completed track repairs during an approximately 48-hour outage.
As the COVID-19 pandemic significantly impacts daily life in many states and localities, the safety of our employees, contractors, customers and the communities we serve remains the highest priority. In this difficult environment, the hard work and dedication of BNSF personnel have kept trains moving and our facilities open. We will continue to take additional actions as necessary to protect the health of our employees and ensure we operate as safely as possible.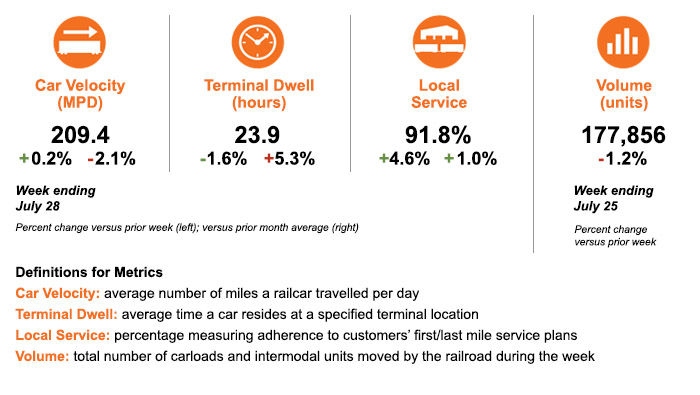 Service Expectations for the Week Ahead
Favorable operating conditions are expected across much of the BNSF network during the upcoming week. With Hurricane Isaias likely to track up the East Coast early next week, some delays are possible for interchange traffic designated to move to eastern destinations.