Industrial Products Network Update for Friday, July 8, 2022
Operational Performance
BNSF remains focused on implementing our aggressive service recovery plan to improve fluidity across the network. We continue to operate 24-hour command centers to coordinate decision-making for our restoration efforts and maximize productivity by effectively managing resources, including power and train crew personnel.
In our South Region, we experienced significant service challenges on our Southern Transcon earlier this week due to storm-related high wind events, further exacerbating the ongoing congestion. The resulting impacts and equipment imbalances have affected our ability to efficiently utilize train crews, particularly in Southern California.
Last week, our temporary permit embargo went into effect for some westbound traffic moving to destinations in California. This limited embargo impacts automotive shipments as well as specific agricultural and industrial commodities. Intermodal shipments, which are being managed through alternate means, are not covered by this embargo. Customers can submit permit requests, view the current list of commodities excluded from the embargo, and obtain more information through our online form. While this embargo action will lead to some additional disruption to our affected customers in the short term, we are confident that this aggressive measure will provide the extra capacity needed to recover velocity and improve cycle times more quickly, as well as assist with resource availability. We want to thank everyone for the collaborative efforts with the embargo and reducing inventory to restore service across our network.
Regarding overall service performance, average car velocity, which was impacted by the Independence Day holiday, was down versus the prior week as well as the average for June. Our local service compliance measure, which reflects our efficiency in handling carload freight, held above 88%. Terminal dwell increased and remains elevated, above last month.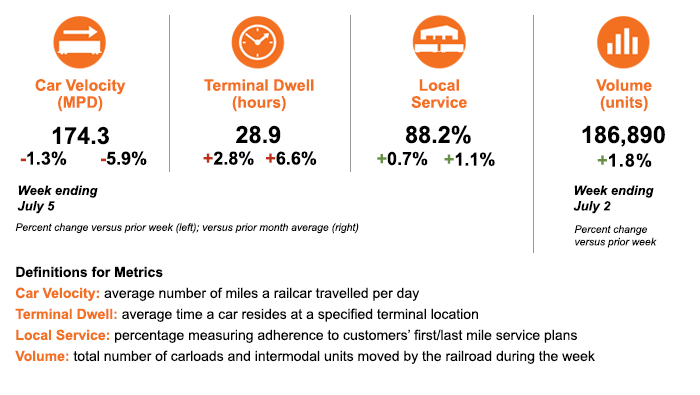 Service Expectations for the Week Ahead
Operating conditions across much of the BNSF network should remain favorable during the upcoming week. A summer heat wave is moving across much of the South, where excessive heat warnings and advisories remain in effect. BNSF teams are monitoring conditions closely, conducting additional track inspections and are prepared to respond to any heat-related service interruptions.
As always, we thank you for your business and appreciate the opportunity to serve as your transportation service provider. We welcome your feedback and questions.