Intermodal Network Update for Friday, December 18, 2020
With the upcoming Christmas and New Year's holidays, this is our last Network Update in 2020. Our next bi-weekly Network Update will be delivered on January 8, 2021. We wish all our customers a very safe and happy holiday season.
Operational Performance
BNSF teams are focused on maintaining good fluidity through our busy Transcon corridors. Total volume on the network remains strong, exceeding 210,000 units for the second week in a row; the previous week was our highest weekly level recorded since December 2018. While overall car velocity, terminal dwell and our local service compliance measure declined from the prior week, all three performance measures improved versus last month's average levels.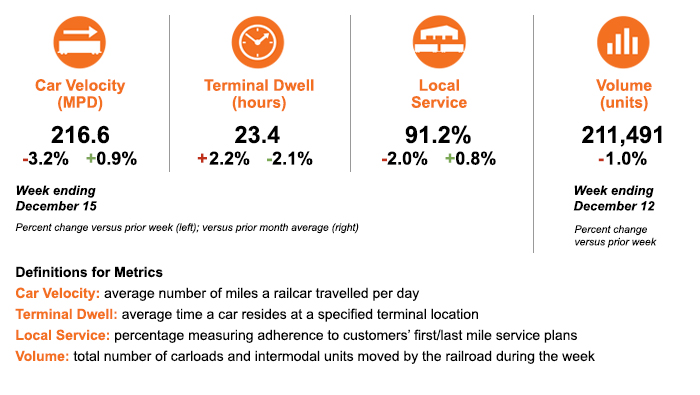 Christmas and New Year's Operating Plan
BNSF's Intermodal Christmas and New Year's operating plan will remain focused on meeting customers' expectations while matching operations to rail volumes. This year, BNSF will observe the Christmas holiday on Thursday, December 24, and Friday, December 25, and the New Year's holiday on Thursday, December 31, and Friday, January 1, 2021.
The number of trains operating on BNSF track is typically lower over the Christmas and New Year's holidays due to reduced freight volume. BNSF's Intermodal holiday operating plan will adjust operations to account for this potential reduction in traffic. As a result, shipments from Thursday, December 24, through Sunday, January 3, 2021, may experience delays of approximately 24 to 48 hours. Connecting carriers who have reduced operations for the holidays may cause delays on interline traffic.
Facility Operations
Most of our intermodal hubs will observe normal working hours throughout the upcoming Christmas and New Year's holidays (see schedule here).
Customer Support will maintain a limited staff on Christmas Eve and New Year's Eve until 6 p.m. CT. Normal coverage will resume on the Saturday following each holiday.
Service Expectations for the Week Ahead
An active weather pattern in the Pacific Northwest will continue to bring periods of rain and significant mountain snowfall in some locations during the next several days. As always, BNSF teams are monitoring conditions and are ready to quickly respond to any service disruptions.
For much of the BNSF network, favorable operating conditions are expected during the upcoming Christmas week with no major winter storms currently in the forecast.