Intermodal Network Update for Friday, December 4, 2020
Operational Performance
BNSF operating teams remain focused on aligning resources with traffic flows as efficiently as possible during this peak shipping season. Following the Thanksgiving holiday, we are building on positive momentum going into the first weekend of December. Key performance metrics, including car velocity and terminal dwell, were down compared to the previous reporting periods but are returning to their strong pre-holiday levels. While freight movements were reduced due to the holiday, total volume has rebounded to peak season levels during the past several days.
We also responded to a significant winter storm earlier this week in northwestern Oklahoma, along a portion of our Southern Transcon route. More than a foot of snow fell in some locations on Wednesday. Winter action plans were implemented by BNSF teams, which enabled rail operations and train flows to continue relatively uninterrupted through this busy corridor.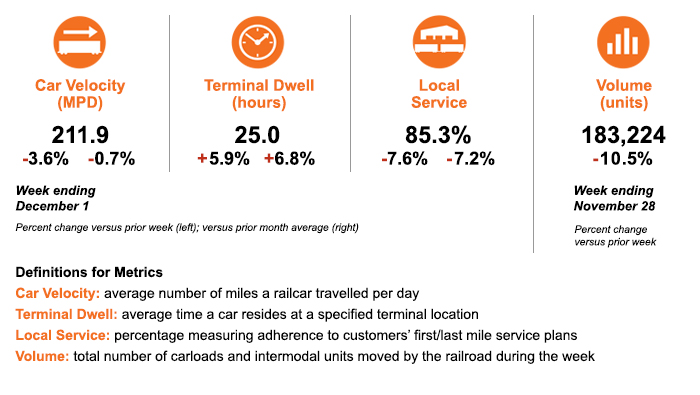 Service Expectations for the Week Ahead
No significant winter storms are expected with a quiet weather pattern in place across the western U.S. Much of the BNSF network will experience very favorable operating conditions for this time of year during the upcoming week.