Intermodal Network Update for Friday, May 28, 2021
Operational Performance
BNSF teams have been responding to multiple service challenges across the central core of our network this week. Several rounds of severe weather in Kansas, Missouri, Oklahoma and Texas caused some service interruptions, as well as a current outage on our primary route between Tulsa, Oklahoma and Springfield, Missouri (Cherokee Subdivision).
Crews are addressing multiple track washouts in southwest Missouri following heavy rainfall yesterday afternoon. Some traffic is being held while track work and inspections are ongoing. We currently estimate that service through the affected area will be restored this evening.
We also experienced a derailment Tuesday night in the Texas Panhandle, on our Southern Transcon route approximately 75 miles west of Amarillo. The incident impacted both main lines at this location. Service was restored on one main track within 12 hours, and both lines were back in service by Wednesday evening. Rail operations through this portion of the Transcon have since normalized.
Key service metrics for the week were negatively impacted by these disruptions. While down slightly, total volume on the railroad remains at a strong level. BNSF has moved 200,000+ units in 10 of the 20 reporting weeks thus far in 2021. Operating teams continue to focus on aligning resources with freight volumes as well as engage in collaboration with customers to drive greater network productivity and efficiency.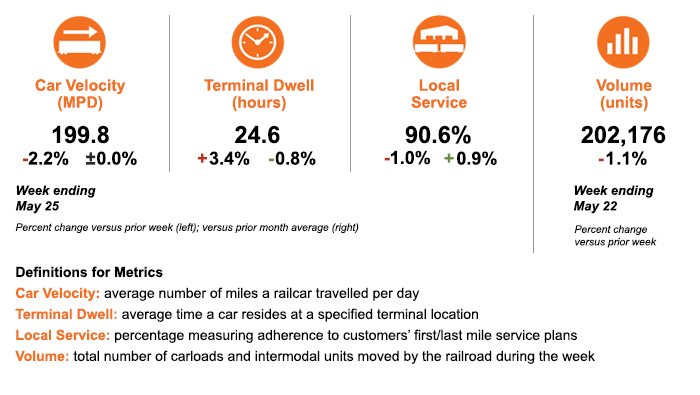 Memorial Day Holiday Operating Plan
BNSF's Intermodal Memorial Day operating plan will remain focused on meeting customers' expectations while matching operations to rail volumes.
BNSF will continue to operate Intermodal trains over the Memorial Day holiday. However, due to lighter volumes of traffic and possible train consolidations, we anticipate that shipments from Saturday, May 29 through noon on Tuesday, June 1 may experience delays of up to 24 hours. Connecting carriers who have reduced operations for the holiday may cause delays on interline traffic.
Most intermodal facilities will maintain regular hours of operation through the holiday weekend; a complete list of hub schedules can be found here.
Customer Support will maintain a limited staff on Memorial Day. Normal coverage will resume on Tuesday, June 1.
Service Expectations for the Week Ahead
An active weather pattern will remain in place for the Central and Southern Plains as we move into June. Some locations may experience daily chances for strong thunderstorms, with locally heavy rainfall possible during the upcoming week.
BNSF teams are closely monitoring conditions in the region, particularly flood-prone areas of the network. As always, we will update customers regarding significant service disruptions.
As always, we thank you for your business and appreciate the opportunity to serve as your transportation service provider. We welcome your feedback and questions.