Intermodal Network Update for Friday, October 1, 2021
Operational Performance
BNSF operating teams generated improved performance this week while responding to significant service challenges, including the ongoing wildfire-related outage in California. As we reported, a westbound Amtrak train derailment occurred last Saturday on our primary Northern Transcon route near Joplin, Mont. The incident resulted in a multi-day service outage, with delays to multiple trains as well as some traffic re-routed onto other lines. Our Montana Division teams worked quickly to restore service through this busy location. Operations through the area have since normalized.
We also responded to a derailment that occurred early Thursday morning on the main line, operated via trackage rights, between Bakersfield and Mojave, Calif. Several trains experienced delays during the resulting track outage. Service was quickly restored Thursday afternoon and traffic flows through the affected location have returned to normal.
In Northern California, the Dixie Fire is now 94% contained. Cooler temperatures and lighter winds helped firefighters in their efforts to contain the wildfire, which began in mid-July and has burned more than 963,000 acres. BNSF engineering teams are completing a major project to repair a damaged tunnel just north of Keddie, Calif. The tunnel is expected to re-open as soon as mid-month, with a re-opening of the full affected main line shortly thereafter, if conditions allow.
Our continued focus remains on alleviating congestion at some facilities as well as maximizing resource productivity. Overall car velocity was slightly up versus the prior week and more than 2% higher than the average for August. Terminal dwell was reduced versus the previous week and 4% better than the prior month. Our local service compliance measure is running at nearly 92%.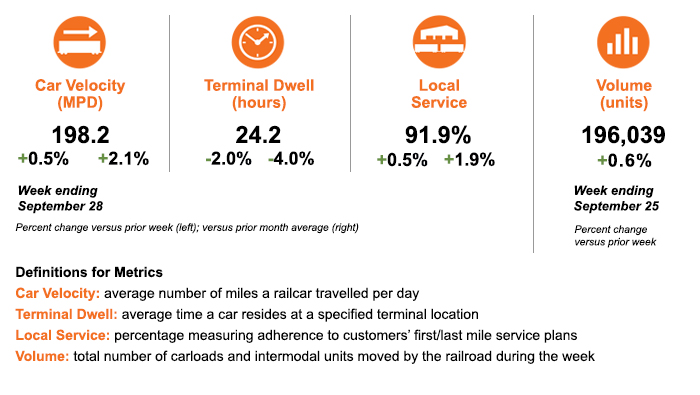 Service Expectations for the Week Ahead
Going into the first week of October, favorable operating conditions are expected across much of the BNSF network. Some heavier rain and storms are possible across portions of the Desert Southwest on Tuesday and Wednesday. The region may also experience strong winds later in the week. As always, BNSF crews are prepared and ready to respond to any weather-related service challenges.
As always, we thank you for your business and appreciate the opportunity to serve as your transportation service provider. We welcome your feedback and questions.