Intermodal Network Update for Friday, September 11, 2020
OPERATIONAL PERFORMANCE
BNSF teams responded to a challenging operating environment this week while maintaining relatively steady overall service performance. Both average car velocity and terminal dwell improved slightly while our local service compliance decreased but remains over 90 percent. Total volume moved by the railroad increased for third straight week to our highest weekly level since the end of January.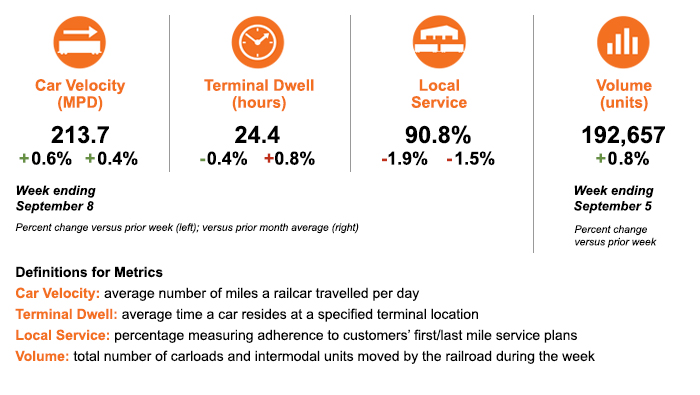 Earlier this week, a powerful storm system as well as ongoing wildfire activity caused some significant disruptions on the network. We experienced a derailment late Tuesday night in central New Mexico, on our Southern Transcon route, due to high winds. Both main tracks were out of service for approximately 12 hours. Limited service was restored by Wednesday afternoon but continued high winds restricted recovery efforts. Traffic flows on the Transcon have since returned to normal with improving productivity.
The continued dry weather in the West, coupled with strong winds this week, has increased the wildfire activity in multiple locations across portions of Washington, Oregon and California. In Washington, crews responded to a fire that flared up Monday afternoon on our busy Fallbridge Subdivision, approximately 50 miles west of Pasco. Rail traffic was suspended through this location until Tuesday morning when the fire was under control and conditions were safe to resume. BNSF also deployed a fire suppression train and crews to other affected locations in central Washington during the past week.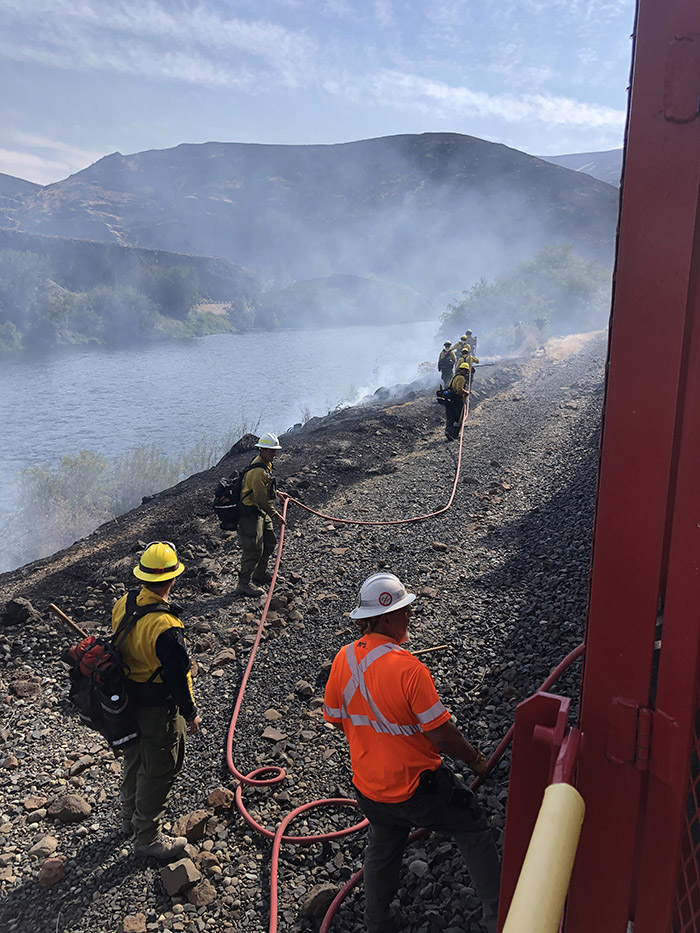 BNSF fire crews responding to activity near Yakima, Wash. – September 5, 2020
Wildfires in northern California have impacted some north-south traffic with several trains experiencing delays and others rerouted. With the ongoing fires, we are in close communication with local and state officials, and BNSF operations teams are working with other carriers to minimize disruptions to freight traffic as much as possible.

SERVICE EXPECTATIONS FOR THE WEEK AHEAD
Much of the network will experience favorable operating conditions during the upcoming week as a weather pattern change may bring some relief to the wildfire activity across the West. While we are monitoring a pair of tropical disturbances around the Gulf of Mexico, no major storm systems are currently anticipated to cause significant disruptions to train operations over the next several days.