BNSF Announces Three New Certified Sites
FORT WORTH, Texas, August 23, 2018 – Three new industrial locations have been awarded BNSF Railway Company's (BNSF) Certified Sites designation. These new Certified Sites are located in Enid, Oklahoma; Libby, Montana; and Northgate, Saskatchewan. The Ceres Northgate Terminal is BNSF's first Certified Site in Canada. In order to be considered for the designation, sites must undergo a thorough analysis which includes an evaluation of environmental and geotechnical standards, available utilities, site availability and existing and projected infrastructure.
The newly-designated Certified Sites feature hundreds of acres ready for industrial development:
• Easterly Industrial Park, Enid, Okla. – Served by three major U.S. highways, the Easterly Industrial Park features more than 300 acres and is zoned for heavy industrial use.
• Kootenai Business Park, Libby, Mont. – A new 5,000-foot lead track from the Kootenai Business Park connects directly to BNSF's Northern Corridor. Of the 400 acre development, 120 acres of the park – located on U.S. Highway 2 – are ready for development.
• Ceres Northgate Terminal, Northgate, Saskatchewan – Situated along Saskatchewan Highway 9 and with a BNSF line leading south from the facility to the Northern Corridor, the Ceres Northgate Terminal features two high-efficiency loop tracks and 1,300 acres ready for immediate development.
Certified Sites are a part of BNSF's Premier Parks, Sites and Transload program. The program is a strategic approach that addresses the increasing demand for customer site locations by developing various types of facilities across BNSF's network. Businesses looking to locate at any of these properties could save six to nine months of construction time as a result of this analysis. BNSF Certified Sites have been reviewed by an industry expert in order to ensure accurate, reliable data. The goal of the program is to provide an inventory of rail-served sites that are available for immediate development.
Details for all 16 BNSF Certified Sites are available at bnsf.com/rail-development.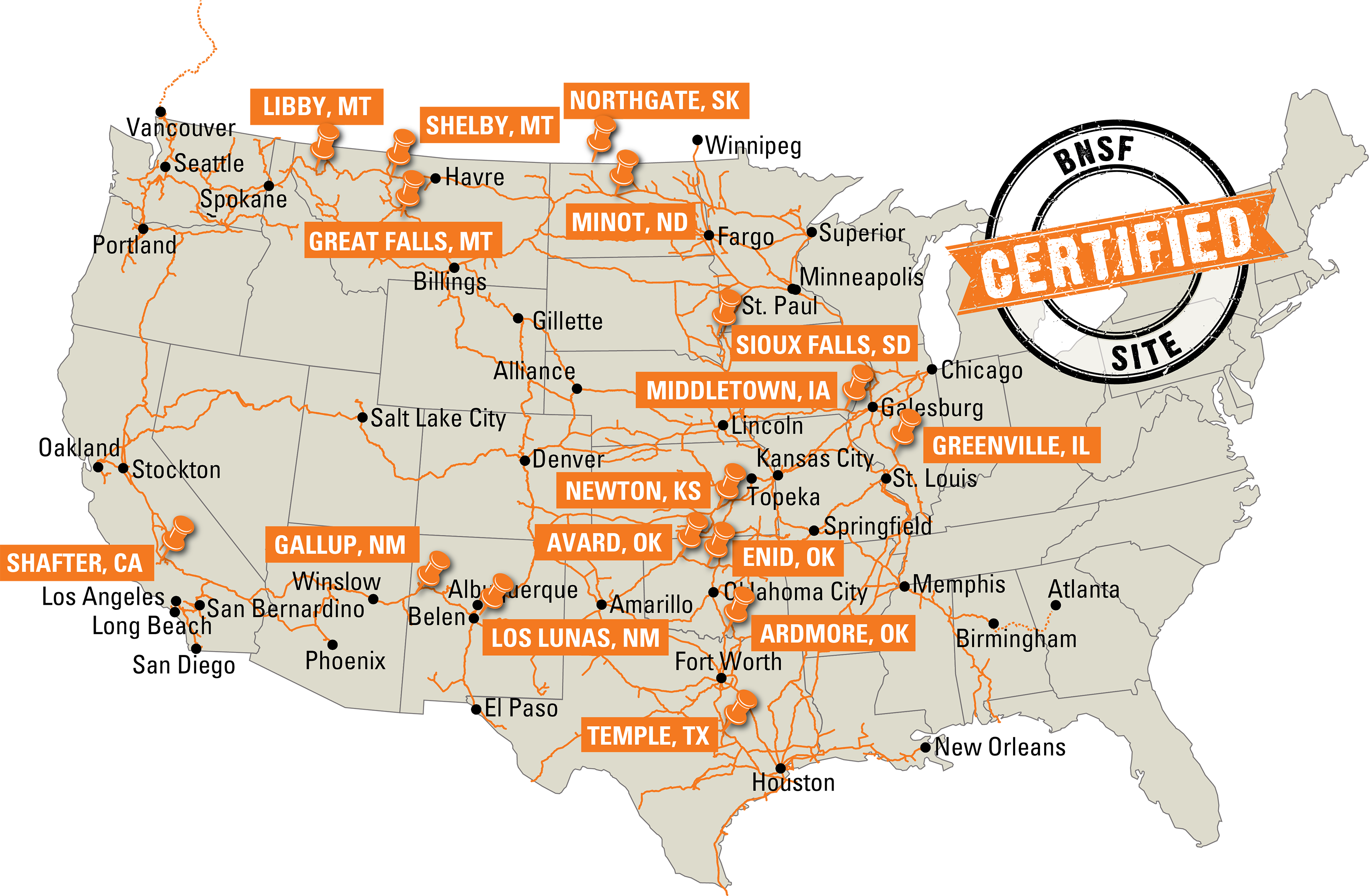 About BNSF
BNSF Railway is one of North America's leading freight transportation companies. BNSF operates approximately 32,500 route miles of track in 28 states and also operates in three Canadian provinces. BNSF is one of the top transporters of consumer goods, grain and agricultural products, low-sulfur coal, and industrial goods such as petroleum, chemicals, housing materials, food and beverages. BNSF's shipments help feed, clothe, supply, and power American homes and businesses every day. BNSF and its employees have developed one of the most technologically advanced, and efficient railroads in the industry. We work continuously to improve the value of the safety, service, energy, and environmental benefits we provide to our customers and the communities we serve.