BNSF Sustainability Awards: Six companies that make it look easy being green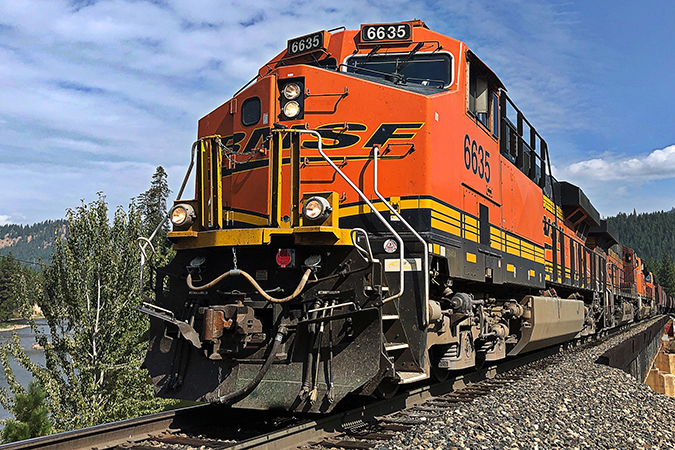 We at BNSF believe it's important to minimize our impact on the planet, and we help our customers achieve the same. Many companies have realized moving freight via rail with BNSF is a great choice for sustainability.
Everyone has a role in protecting Earth's land, air and water. Some companies are going above and beyond, challenging the status quo when it comes to implementing sustainable practices in their industries. That's why we're launching an annual BNSF Sustainability Awards program.
"We continue to partner with forward-thinking companies and organizations who recognize that sustainable supply chain solutions benefit all stakeholders involved," John Lovenburg, vice president, Environment and Sustainability, said. "The winners of the BNSF Sustainability Award are helping us build green supply chains that increase efficiencies and reduce emissions, positively impacting the environment and the communities we serve."
Award recipients are recognized for significant achievement in one of several categories, including: Investments in Circular Economy Infrastructure, Supply Chain Efficiencies, and Sustainable Technology Implementation. For 2022, we honor six customers for success in making their operations more sustainable. They are: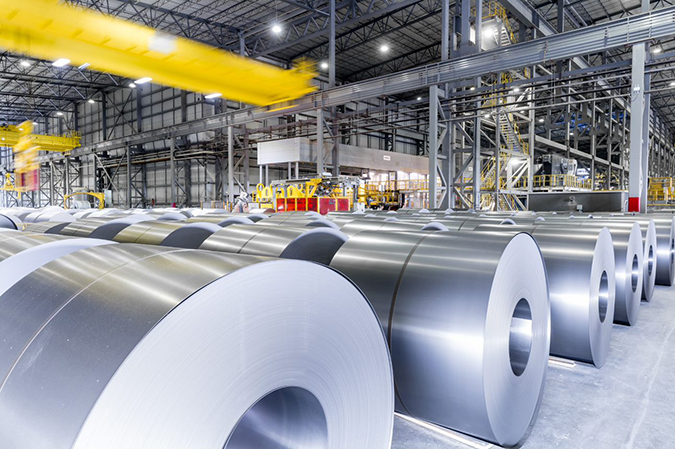 Big River Steel
Big River Steel, a U. S. Steel company, is leading the way on sustainable steel manufacturing. The facility in Osceola, Arkansas, is the first steel mill in North America to receive ResponsibleSteel™ site certification. The ResponsibleSteel™ Standard is based on 12 principles with a wide range of criteria covering topics such as health and safety, greenhouse gas emissions, water stewardship and biodiversity, human rights, labor rights and community relations. It sets a global benchmark for leading practices in environmental, social and governance (ESG) responsibility for steel production.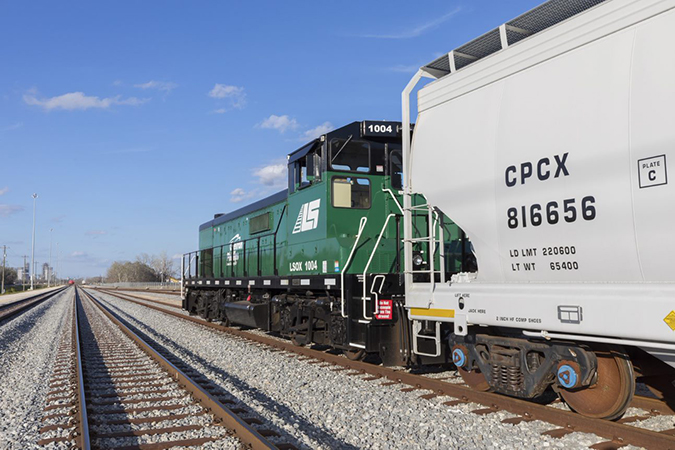 Chevron Phillips Chemical
Chevron Phillips Chemical (CPChem), one of the world's top producers of ethylene and polyethylene, has been advancing the circular economy through investments and rail movements of recycled plastics. In 2020, CPChem announced the first commercial-scale production of circular polyethylene, under the name Marlex® Anew™, which utilizes advanced recycling technology to process pyrolysis oil, a feedstock made from difficult-to-recycle waste plastics. CPChem has also been working with BNSF on the Empty Hopper Car Optimization Initiative, which has led to reduced overall carbon emissions and an increase in fuel efficiency. Since the program was initiated in 2020, there have been 700,000 miles and 17,500 transit days saved.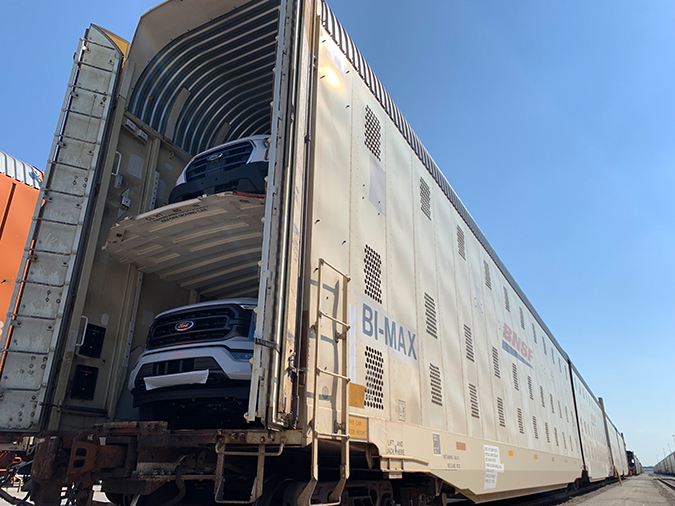 Ford Motor Co.
To meet increasing demand for the company's all-electric version of its popular Transit cargo van, Ford invested $100 million in its Kansas City plant and added approximately 150 full-time jobs. Knowing transit production was going to quickly outpace shipping capacity, Ford's Kansas City team collaborated with BNSF and other suppliers to design, test and produce a rail car capable of carrying more than twice the load of its predecessor. The ultimate design – requiring very precise engineering due to the tight tolerance required for the Transit to fit on the new railcar – provided a cost-effective, sustainable solution, while increasing the transit carline's conveyance density from six vans per railcar to more than 12, a density shift of more than 200%.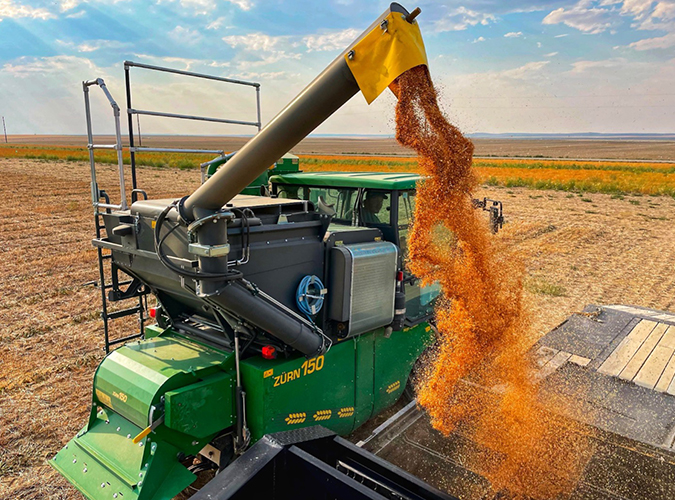 Global Clean Energy
Global Clean Energy is a vertically integrated renewable fuels innovator, producing ultra-low carbon renewable fuels from patented nonfood camelina varieties. Focused on producing the least carbon intense, lowest cost renewable fuel possible without impacting food security, Global Clean Energy has become the largest nonfood-based energy crop (camelina) producer worldwide. Their renewable fuels platform aims to address the industry-wide renewable fuels feedstock transition away from food-based sources. Working with BNSF, Global Clean Energy will ultimately move their feedstock in North America via unit trains to their former petroleum refinery in Bakersfield, California, which is being converted to produce renewable fuels. With their vertically integrated supply chain, Global Clean Energy streamlines efficiencies at every step to lower carbon intensity and create sustainable fuel solutions that advance our clean energy future.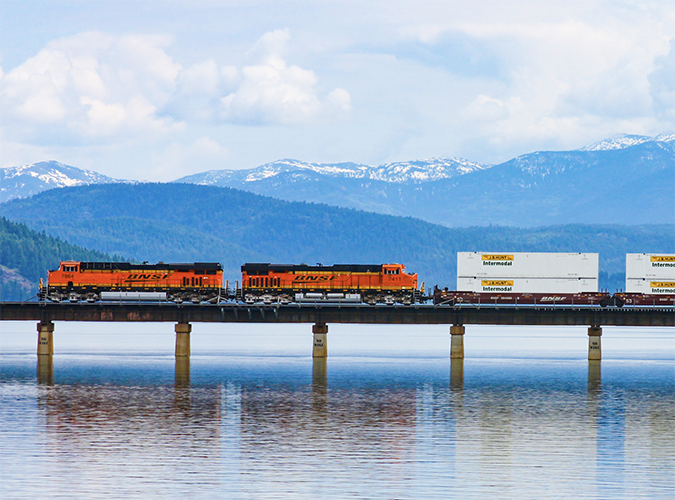 J.B. Hunt
J.B. Hunt Transport Services leads the industry in converting over-the-road shipments to intermodal, which on average reduces a shipment's carbon footprint by 60%. In 2021, it helped avoid 3.6 million metric tons of CO2e through intermodal conversion. J.B. Hunt has the largest company-owned fleet of 53-foot containers and drayage in North America and plans to expand to as many as 150,000 containers in the next three to five years as part of a joint initiative with BNSF. In April, the company launched the CLEAN Transport™ program that connects intermodal customers with carbon offset credits equivalent to the emissions created by shipments. Beyond intermodal initiatives, J.B. Hunt provides sustainable solutions to address capacity and efficiency such as eliminating empty miles through the J.B. Hunt 360°® digital freight matching platform, testing alternative fuel sources, developing strategies that reduce emissions for customers using proprietary tools, and maintaining a modern fleet with the latest fuel-efficient features.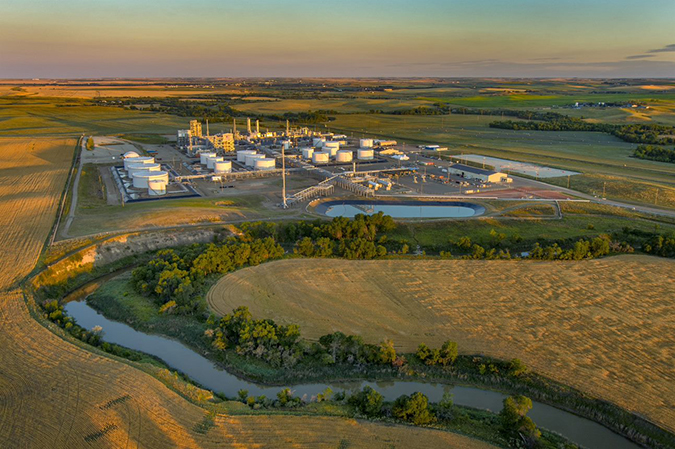 Marathon Petroleum Corporation
Marathon Petroleum Corporation (MPC) has been focused on increasing the renewable fuels they produce and bring to market. In 2021, MPC completed the conversion of their petroleum refinery in Dickinson, North Dakota, to a fully operational renewable diesel facility. MPC also made significant investments to repurpose facilities in Nebraska and Ohio to supply the agricultural feedstocks, with BNSF handling transportation to their Dickinson facility. Once produced, MPC and BNSF worked together to develop the first-ever unit-train solution to transport renewable diesel to the West Coast.
When it comes to sustainability, the advantages of rail are clear. At BNSF, we're doing more than just helping to reduce our customers' carbon emissions. We are also leading the way when it comes to sustainability. Find out more by visiting our sustainability web page, Orange is the New Green.