BNSF's Employee Appreciation Special: a rail-y fun way to say thanks!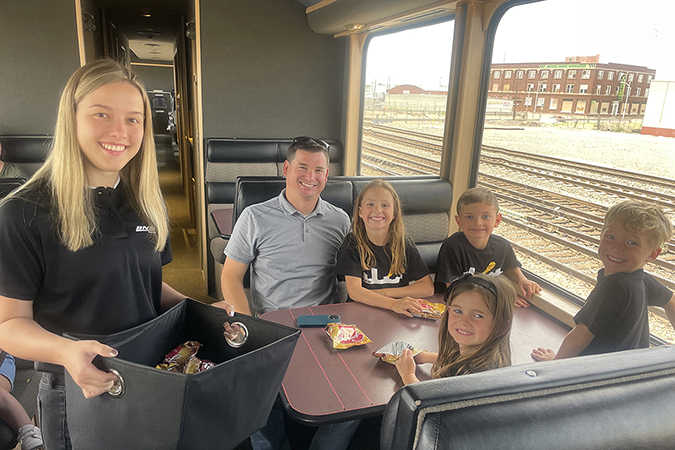 BNSF's Employee Appreciation Special is back! For the first time since the COVID-19 pandemic started, BNSF was delighted to bring back the Employee Special this summer. It's a great way to say thanks to team members who have been working tirelessly to keep the supply chain moving during unpredictable times, and their families for supporting them.
The Employee Special is a train tour which visits different areas of BNSF's 32,500-mile rail network each year. The unique train ride gave employees and families the opportunity to experience the countryside from the rail network.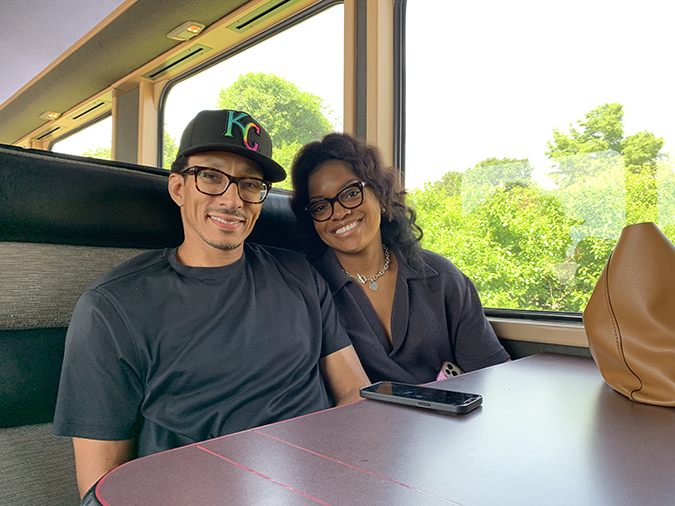 Like many things, the Special went on a two-year hiatus during the pandemic. This year's Special came back ready to welcome passengers from June 13-29. The route ran through seven locations in four states: La Junta, Colorado; Amarillo, Texas; Clovis, New Mexico; Belen, New Mexico; Wellington, Kansas; Newton, Kansas; and Topeka, Kansas.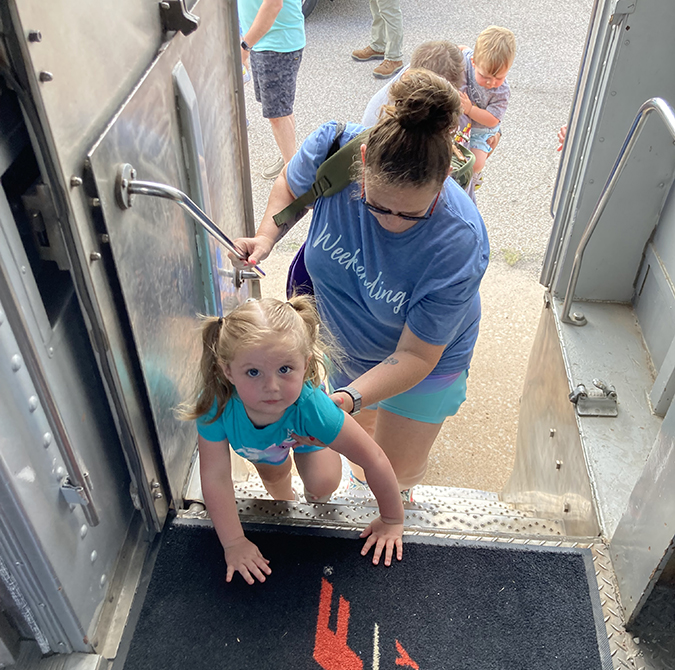 Passengers can immerse themselves in nostalgia upon boarding BNSF's vintage stainless steel passenger cars. These cars originated from BNSF's major predecessor lines and were constructed during the mid-20th Century. This year's Special featured passenger cars from several BNSF predecessor lines such as the Atchison, Topeka, and Santa Fe, Great Northern, Northern Pacific, and Southern Pacific Railways. Each train excursion lasted around two hours, with families enjoying refreshments and the passing scenery.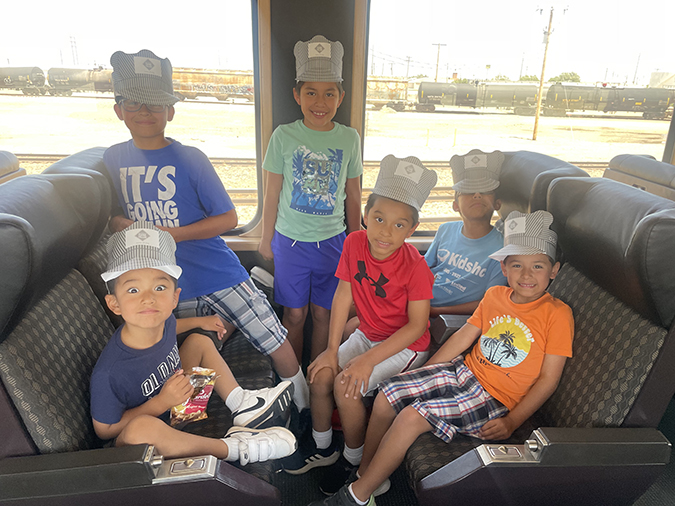 Amber White – Accounts Receivable
Some of the participating employees don't have regular opportunities to ride a train. Amber White, in Accounts Receivable, hopped aboard the EAS for the first time during its trip through Topeka, Kansas. Amber and her family were all smiles during the ride.
"I didn't know what to expect! I have never been on one of the trains before. I do a lot of research on the train cars and their movements, but I have never been able to ride one."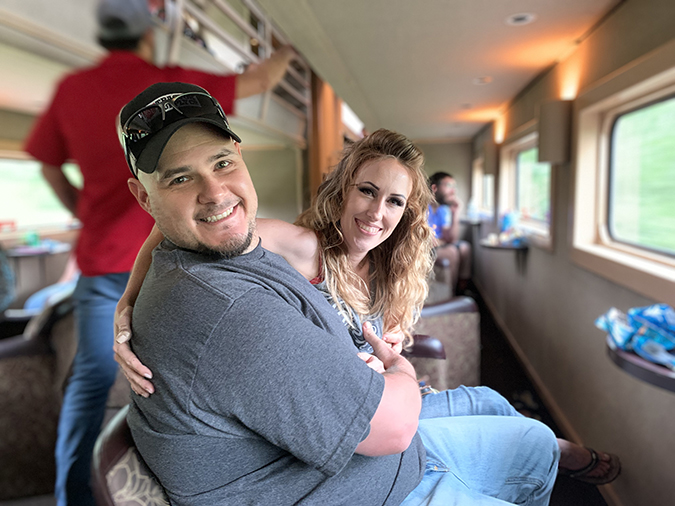 Byron Watson – Mechanical Foreman
Byron Watson from BNSF's Mechanical team spends his workdays ensuring cars are safe for travel. He brought his wife and son along for the EAS to show them what he sees while on the job.
"Safety always comes first," Byron said when talking about his work experience. "Making sure that everyone goes home the same way we came. BNSF has been a great way to provide for my family. It's real family oriented."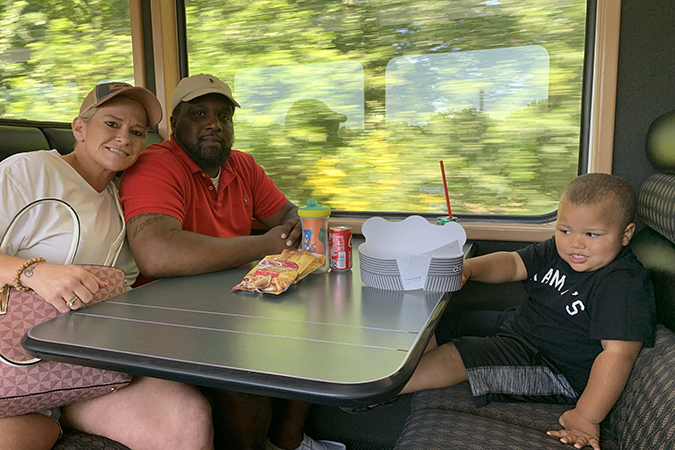 Gigi Robles – Porter
Gigi Robles, who works as a porter on the Business Car team, invited her daughter and grandchildren to enjoy the train trip with her.
"I love BNSF. I really do. It's like one huge family with BNSF—and that's the truth. You see that within the comradery. It's long hours and you're away from your family, so that's when your coworkers become like a second family," said Gigi.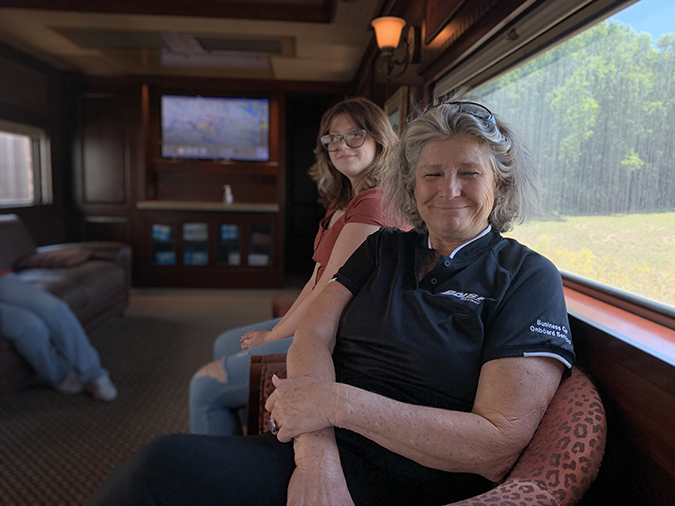 BNSF missed having the Special and it's great to have it back. Thank you to our hardworking employees and their supportive families! We appreciate all you do for our company, the community, and the nation's supply chain.