Holiday helpers deliver cheer when communities need it most
Giving back to the communities in which we live and work is not new at BNSF, and the need is greater now more than ever. But being a good neighbor during a pandemic means doing things a little differently. Events that used to be in person have gone online. Getting together to wrap and distribute holiday gifts is now done socially distanced or in drive-by, drop-off style.
BNSF people are willing to find a way to help; the tougher the circumstance, the more likely we are to take on the challenge. Here's how some of our employee-heroes, with a little help from their coworkers, family and friends, are making a difference this holiday season.
Locomotive engineer and friend team up for food bank delivery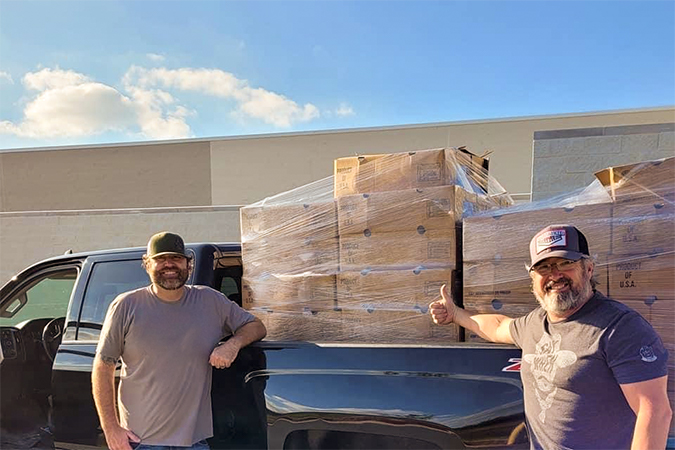 Talk about your turkey hotline.
Chris Bond, BNSF locomotive engineer, Alliance, Texas, started calling the Tarrant Area Food Bank like you would a radio station for free tickets. Over and over, he got a busy signal or no answer until – finally – someone answered.
Bond and his buddy Kip Richard had decided the week before Thanksgiving that they wanted to donate turkeys and fixings to this North Texas food bank. Within hours of posting a plea to Facebook, friends had donated nearly $1,800. Bond and Richard were ready to shop. They just needed to know what the food bank needed.
"When I finally got someone to answer the phone, they told me what was going on that day," Bond said.
It turned out that the Tarrant Area Food Bank was in the midst of a huge food drive. The mass distribution at AT&T Stadium on Nov. 20 served more than 9,000 by the end of the day, nearly triple the number anticipated.
A food bank representative told Bond frozen turkeys would be needed THAT day. "We didn't factor in the time needed to thaw a turkey," Bond recounted of the day's urgency.
Wanting to get the most bang out of their buck, they started calling local grocery stores. One manager was willing to work with them, dropping the turkey price enough that they were able to purchase 184 – two pallets' worth. They also loaded up four grocery carts with canned goods and sides. About $300 was left over to donate to the food bank.
And they got it all delivered – masks on and socially distanced – with minutes to spare.
"The real heroes are our network of friends who donated money, from $5 to $100, and Walmart," Bond said.
Taking care of more than locomotives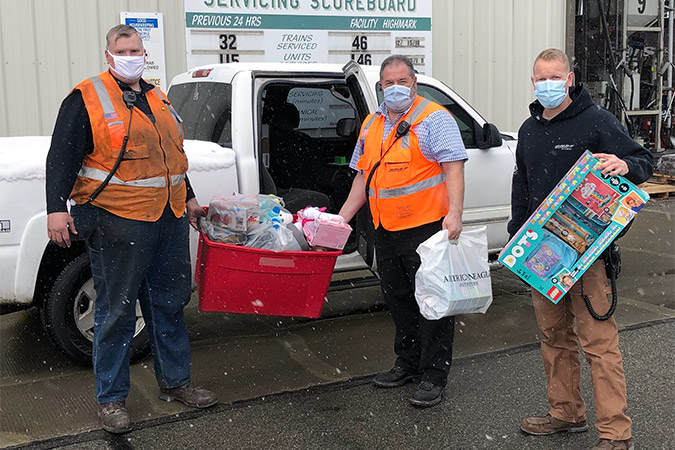 At Hauser, Idaho, fueling locomotives to keep BNSF trains moving is the priority 24/7. Lately, there has been another (ful)filling activity: ensuring that children living at Children's Village, a safe haven for those who have been abused or neglected or are in family crisis, have holiday wishes answered.
"My wife and I have assisted the organization in the past during the holidays, and we really wanted to do more this year," said Darius LaPierre, a laborer-foreman at the locomotive servicing facility. "Growing up, she was in the foster care system and understands what it means to bring joy to these kids."
So LaPierre shared his gift-collection idea with local leadership, who wholeheartedly supported it. After contacting the children's home for a list of wishes and needs, he spread the word. Soon, toiletries, clothing, toys, games and crafts began to appear.
By the end of the two-week drive, the approximately 60 Mechanical employees at Hauser and a few from Spokane, Washington, delivered. Shelves in a storage room overflowed with donations.
With his wife and two daughters, LaPierre delivered the items on his coworkers' behalf to the Dec. 14 "Christmas for the Village" collection in downtown Coeur d'Alene, Idaho. The holiday present drop was socially distanced and with limited contact.
Of the experience, which he shared with his wife and two daughters, he said: "Sometimes it is good to pause and think about others less fortunate during the holidays. We were all happy to have been able to help children in need this year."
A time to 'attack the attack'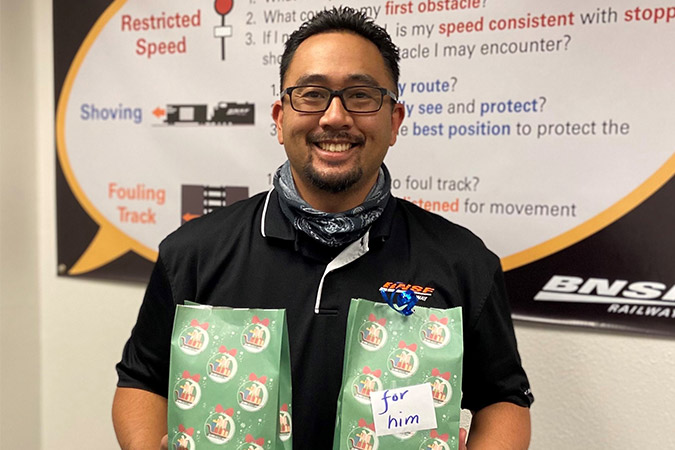 For years, Eden Omura, trainmaster at San Bernardino, California, has had it in his heart to do for others, whether it's organizing fundraisers or making sure railroad families have their needs met. He calls his acts "attacking the attack."
"If we attack what's attacking us – the negativity – we can work together for the positive," he said. "And right now with COVID, there are a lot of people who need help."
During the pandemic, it's been hard to bring people physically together, but through a friend who is a chaplain with Heart to Heart Ministries, Omura learned about a program to provide care packets -for nearby nursing home residents. The collection was something those working at our San Bernardino terminal could do without physical contact.
Omura set a goal for 75 bags with suggestions for items: warm socks, puzzle books, lip balm and other personal care items. Employees' children were also encouraged to pen notes or draw pictures.
Team San Bernardino delivered, with the goal met and the bags delivered to the residents by Heart to Heart volunteers. Omura hopes to make this an annual event.
"Not only are we helping seniors, many with no one to love on them, but this helped us come together. Our schedules can be crazy," said Omura. "But when there are people in need, we come together – even if from a distance."
Granting wishes, earning wings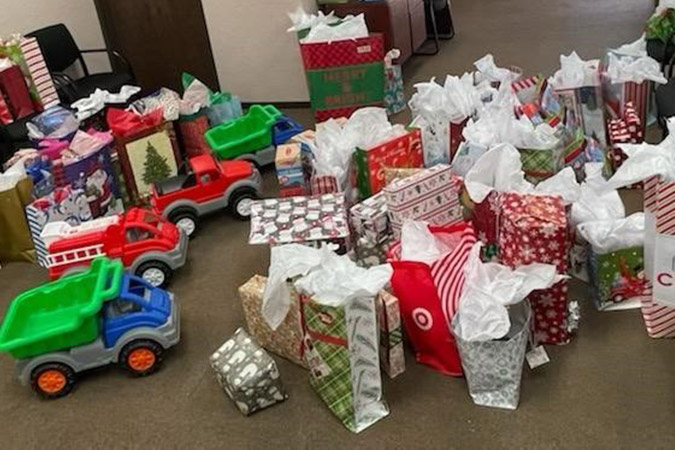 There's no question angels are among us. One is Ferlin Smith, a locomotive engineer who operates BNSF trains in Southern California.
Smith decided last year he wanted to do something special for local children in foster care, so he connected with a friend who operates a foster home. He and coworkers helped fulfill the wishes of that home, and it went over so well that Smith decided it should become a tradition.
This year, Smith worked with three different homes fostering a total of 50 children, from babies to teens. Despite having newborn twins at home, Smith and his wife took 10 of the children's wish lists.
That left another 40 for coworkers to adopt from the angel tree that Smith set up in the crew lobby. He put up flyers and spread the word, including to employees who join him in Operation Stop, a program that promotes a drug- and alcohol-free workplace.
"I have been sober for 19 years. Part of my recovery is to be of service and give back in all areas of my life," said Smith. "As local OpStop representative, I have opportunities to be in conversations and meetings with others who are similarly committed." Smith also credits Terminal Superintendent Cara Weidling for supporting and promoting the project.
It didn't take long for the list of 40 wishes to disappear from the tree, with some employees giving Smith money to cover expenses. The kids' wishes ranged from dolls to video games. One asked simply for a coat.
"Even with COVID, we're committed to getting the gifts delivered," said Smith, who himself was recovering from the virus. Post-quarantine, he and a friend dropped off the presents in time for Christmas. "I'm representing a good group of people," he said. "They know I'll get it done."
And with those wishes granted, Smith is sure to earn his wings.
Connecting the dots to aid the hungry in her state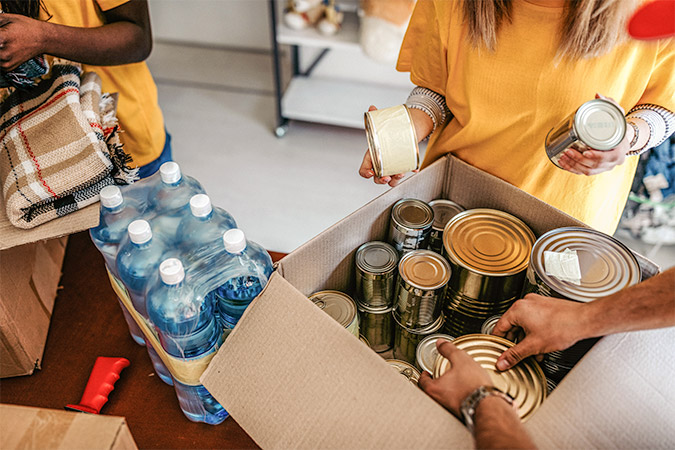 Most 18-year-olds are weighing where to go for senior spring break, but future BNSF employee Lydia Bjorge was trying to decide how she could improve the plight of the hungry. She wrote an essay on the topic, winning a $25,000 award, with the money going to Community Action Partnership of Ramsey and Washington counties in Minnesota.
The award helped pay for Bjorge's stipend as she worked to eradicate hunger and poverty throughout the Twin Cities. That experience set her on a path to provide solutions for the food-insecure in her home state.
Today, as an executive director of public affairs for BNSF, Bjorge organizes an annual "Stock the Shelves" fundraiser during the holidays to assist food pantries, specifically those in the Iron Range. This ore-mining district in northeast Minnesota supports the steel industry. When that business is down, the region suffers.
"Years ago, I read an article that Iron Range food shelves were empty around Thanksgiving, so I called the state senator for the area and asked if he would be willing to show up to a food shelf fundraiser," she recalled of the first campaign. "He said yes and we raised $60,000 in seven days. It's grown every year."
That was 14 years ago, and today, working with that same State Sen. Tom Bakk, more than $1.25 million has been raised through the event's sponsorships of a fundraising-reception. "Lydia has been integral to making this event happen year after year," said Bakk. "The impact in Northern Minnesota has been beyond measure."
The need has been even greater in 2020. Knowing it wouldn't be possible to have an in-person event, Bjorge made it virtual, with sponsors able to visit with Bakk and others from the region.
"This year's funds will help Arrowhead Region (northeast Minnesota) food shelves serve clients at a time when there is greater need as communities navigate COVID protocols and standards," said Bjorge, who also serves as vice chair on Hunger Solutions Minnesota Board of Directors.
"There are so many dots that need connecting between community needs and existing resources," she said. "I will forever look for opportunities to connect those dots and help create partnerships to strengthen our communities and our fight against hunger."
Did You Know?
Although BNSF had to make the tough decision to cancel this year's Holiday Express due to the ongoing pandemic, that didn't stop us from delivering holiday cheer to a few very special community partners. The annual Holiday Express honors military members and their families with a special train trip, holiday treats and a visit from Santa.
On behalf of all BNSF employees, the BNSF Railway Foundation delivered $10,000 checks to each of four nonprofits that support military men and women and their families:
The Governor's Challenge of Alabama, which provides funds to the Veteran Suicide Prevention Task Force
Camp Alliance in Arkansas, with funds directed to the Silver Star Program, which supports military families across the state by providing them with a unique and tailored holiday experience
The Mississippi Emergency Family Relief Fund to provide financial assistance to military families while their soldier is called to active duty
Tennessee's Soldier and Airman Relief Fund, which offers one-time emergency grants to current Tennessee National Guard members.
This year's train trips were initially scheduled for the southeast portion of the BNSF network. Michael Garriga, executive director of public affairs, helped identify the organizations and delivered the checks, safely handing them over to representatives.
"We were disappointed that we couldn't take the military members and their families on board our train," Garriga said. "But it still feels really good to know that even without the train, BNSF can honor these families and their sacrifices, especially during this difficult time."