Extending a helping hand during COVID-19 crisis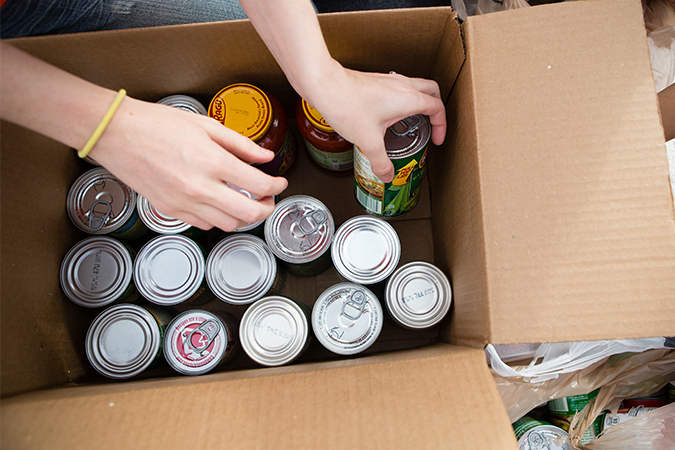 The men and women of BNSF are proud of our role in bringing urgently needed goods and materials to our nation during this time of crisis. In addition to doing the important work of keeping supply chains moving, we're also supporting our communities during the COVID-19 pandemic.
Here are some examples of how our teammates are extending a helping hand to those most in need. Their actions embody BNSF's value of supporting the communities in which we operate -- and going above and beyond to help.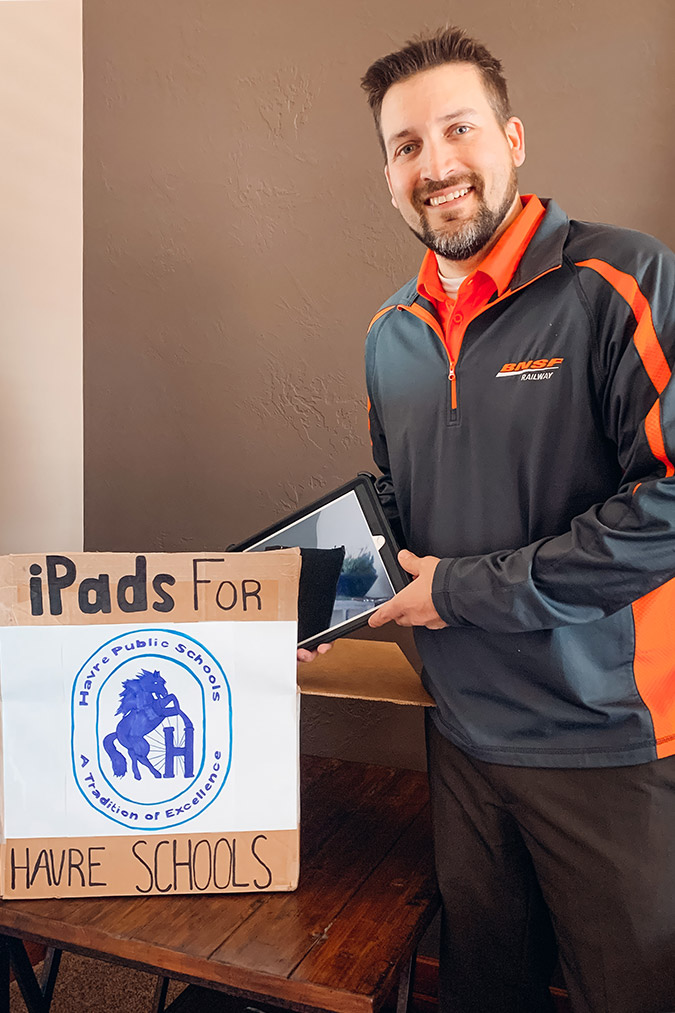 Donating technology equipment
Thanks to a donation of 19 used iPads by the Havre, Mont., Diesel Shop, special education students who need access to applications only available through these devices are able to continue their learning from home.
The iPads are a first-generation Wi-Fi model that is no longer usable by the employees. BNSF Superintendent Field Operations Shawn Ball had the idea to donate the iPads.
"While schools are closed due to COVID-19, I knew kids would need access to online apps, so this would be a good way to put the iPads to use," Ball said. "The local internet providers are doing their part by getting Internet access to those same kids."
Added Andy Carlson, superintendent of Havre Public Schools: "We have students K-12 whose education is supported and enhanced through specific apps available only on iPads. We are grateful to receive this generous donation."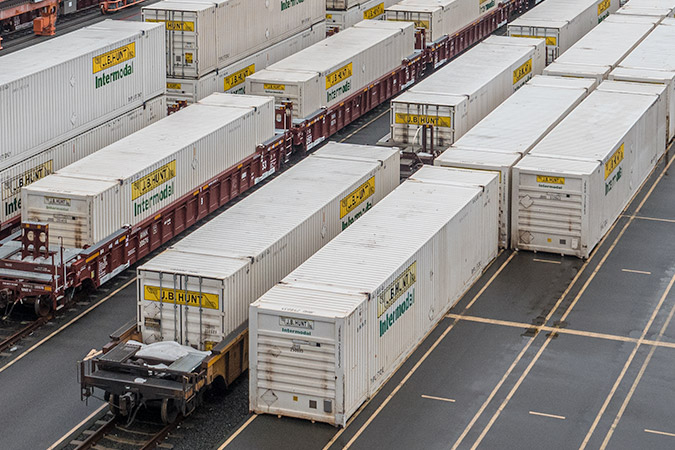 Connecting the dots for an urgent request
With so much going on right now, it would be easy to let email requests slide, especially for something outside of your area of expertise. But when BNSF Executive Director State Government Affairs Pete Skosey was copied on one such email, he recognized the need to act – and quickly.
The Chicago-area Cook County Sheriff's office needed two shipping containers that could be converted to temporary storage for equipment and supplies housed in its Mental Health Transition Center. That facility is now being used to isolate and quarantine inmates who test positive for COVID-19.
The urgent request came from Pat Horne, who manages the sheriff's supply chain. The sheriff's office needed the containers to be located, moved and in position within days.
"Railroads don't get a lot of credit for the incredible work we do every day to keep the economy running, which is especially crucial during this pandemic," said Skosey. "Connecting the sheriff's office with these containers seemed like a clear, concrete way to show up when our community is in need."
BNSF doesn't own containers, so Skosey reached out to BNSF's John Clarke, assistant superintendent, Chicago Division, who contacted J.B. Hunt, one of our largest transportation colleagues.
Within a day, J.B. Hunt approved the request and the wheels were put in motion – literally. Three days later, the containers were at the county's site. The county plans to return them in September.
Horne followed up with another email to Skosey: "The provision of two rail containers that we requested was rapid and professional, not to mention generous. BNSF and J.B. Hunt responded at a time when we who have a mission to serve others needed help. Simply returning the emails was kind, but acting on them despite the daily demands on two very busy corporations meant so much not only because of the equipment but because of the care behind it."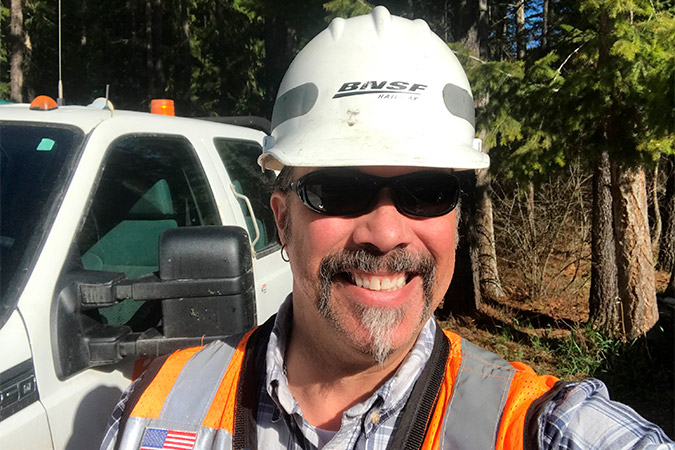 Warm hearts prevail during times of uncertainty
Several BNSF employees were ready to take the plunge – as in jump into freezing cold water at Bonners Ferry, Idaho, for the annual Penguins in Paradise Plunge challenge, a fundraiser for Special Olympics Idaho. But with concerns about COVID-19, the event was cancelled, delaying fundraising efforts for the Special Olympics athletes.
"We were glad the Plunge was postponed, given the circumstances," said BNSF Signals Supervisor David Grant, who acted as liaison between the railroad and nonprofit. "But we wanted to be sure the Special Olympics would still receive support."
Not wanting to wait for the rescheduled plunge, Grant took up a collection among local employees. To date, more than $4,000 has been raised and directed to the nonprofit.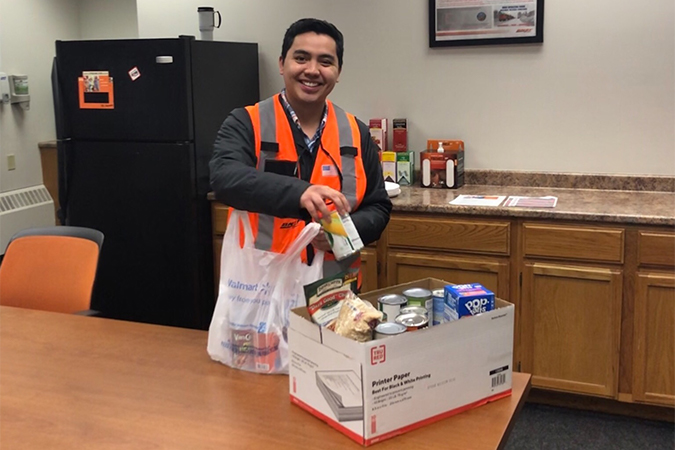 Filling food shelves in more than one way
Around the country, vehicles line up daily at food pantries as Americans displaced from jobs struggle to meet basic needs. While BNSF is helping deliver perishables and non-perishables to help feed the nation, our Twin Cities and Chicago employees wanted to do more locally. So they are holding canned food drives.
"We wanted to find a food bank that was near our facility, one where we felt we could best serve those where we live and work," said Terminal Trainmaster Eddie Mendoza, who is leading the Twin Cities drive. "Many pantries have been temporarily closed, and there are limits on how much food can be purchased at grocery stores. But we're excited to do something we know can really help."
Mendoza found Community Emergency Service (CES), one of the state's oldest crisis relief ministries that operates neighborhood food programs. Like other pantries, CES has been hit hard during COVID-19.
"We've seen an uptick in the numbers we are serving," said Chris Nelson, CES director of development. "Normally we see 30-35 people a day. Now it's up to 100." Among their clients are elderly people, families and single adults. "The need is so great and we don't know what to expect in the coming months. We're going through quite a bit of food and every bit helps, so we're very appreciative of BNSF," he added.
The drive will continue through April, with employees between St. Paul and Minneapolis collecting points for each can collected. The winning team will get a pizza lunch. "During this serious time, we need a little fun, while remembering that the goal is to help children and families in need," said Mendoza.
At Chicago, the food drive will benefit a yet-to-be-determined food pantry. During the 10-day drive for food and cash donations organizers have asked employees to nominate and later vote on the beneficiary.
"We want to give our employees more of a say on helping our community," said Manager Operations Safety & Training Cindy Donnelly. "We're doing this together because we realize how fortunate we are and want to do something to help others less fortunate than ourselves."
Foundation giving makes local impact during crisis
The BNSF Railway Foundation, our major channel of philanthropy, helps improve the quality of life for thousands of people every year. During COVID-19, the needs are many. The Foundation provides grants to qualifying nonprofits. Our employees are also using the Foundation's Matching Gift Program to double their donations of $100 or more.
Here's a sample of some recent giving by the Foundation.
One organization we've long supported is the Boys & Girls Clubs. During the pandemic, many clubs are open with extended hours to provide full-day childcare. Many families can't keep kids home during the day — and the clubs are proud to keep their doors open.
The COVID-19 Response Fund is deploying resources to community-based organizations on the frontlines in the greater Puget Sound region. Its grants will help the region's most vulnerable communities with emergency assistance, such as financial support, healthcare and childcare.
Another community foundation – Innovia – has created COVID-19 Response and Recovery Funds that will help organizations at the forefront of the pandemic in Northern Idaho and Eastern Washington.
The Providence Regional Medical Center (Everett, Wash.) Helping Hands Fund will use a Foundation grant to assist staff experiencing undue hardship resulting from COVID-19. The fund provides emergency support such as transportation, childcare, food, and rent assistance during a crisis.
We contributed to the Peace Arch Hospital Fund (White Rock, B.C.) COVID-19 Emergency Fund to help provide healthcare workers with critical equipment, medical devices and additional necessities.
During social distancing, victims of domestic abuse are put in a very hard position as they are in closer quarters with their abuser. The Safe Haven of Tarrant County (North Texas), which our Foundation supports, has seen an increase in hotline calls and requests for shelter from victims of domestic abuse. With help from our Foundation and others they are able to provide their clients with housing and care during these difficult times.
"During the COVID-19 pandemic we are particularly focused on supporting local nonprofits across our network that are doing incredible things to support their communities," said BNSF Railway Foundation President and Vice President Corporate Relations Zak Andersen. "Our mission as a Foundation is to support and improve the general welfare and quality of life in communities served by our company. I can't think of a better way to do that right now than to work with those assisting on the frontlines."