It's a bird, it's a plane...it's BNSF: How we lead the way in advanced drone operations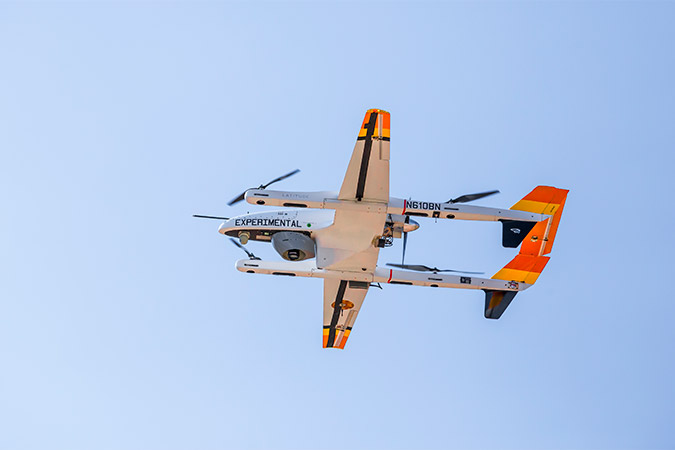 What companies come to mind when you think of drones? Perhaps it's one of the many online retailers exploring drone delivery to transport purchases to your doorstep. What may not come to mind is the railroad. Believe it or not, BNSF has been a leader in employing drones for a variety of uses.
BNSF started using drones – technically called unmanned aircraft systems (UAS) – to assist in addressing disruptions to our rail traffic, called service interruptions, in 2015, when heavy rains impacted our tracks around Valley View, Texas. Since then, our capabilities for harnessing drone technology to better serve our customers have only advanced, in large part due to a partnership with the Federal Aviation Administration (FAA).
"BNSF has been a valued partner for several years, bringing a wide array of technical expertise and resources to find solutions in the rapidly-evolving unmanned aircraft ecosystem," said Jay Merkle, executive director of the FAA's Unmanned Aircraft Systems Integration Office. "Our partnership with them represents far more than two organizations seeking a means to an end."
Recently, BNSF received a national exemption from the FAA. This exemption allows us to expand our drone operations, building upon capabilities in which we are already a well-known leader, such as within beyond visual line of sight (BVLOS) flights. During BVLOS flights, the aircraft is flown out of the view of the pilot, who monitors its status from a remote location.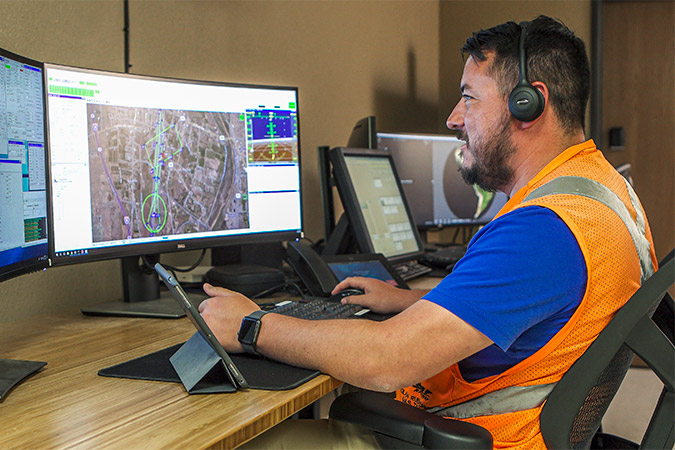 In addition to our technological bent, here at BNSF, safety is paramount. Implementing new technologies and promising innovations allows us to not only build upon our deep-rooted safety culture, but also, to increase efficiency in railroad operations and further enhance our ability to meet customers' needs. Following recent flooding in major areas of our network, drones assisted BNSF in doing all three.

Traditionally, when flooding results in service interruptions, employees have to first assess the damage to develop a recovery plan. Oftentimes, that involves our employees physically walking the impacted track. However, this year's historic flooding in the Midwest brought particularly high waters and widespread washouts, making assessments especially difficult.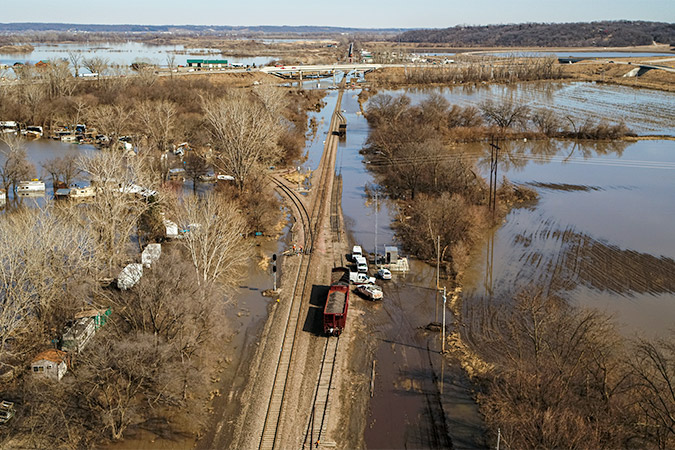 "In some areas, the flooding was so severe that the tracks could not be accessed other than by boat," said Nick Dryer, Field Operations Manager for BNSF's UAS program. "Instead of the typical way of doing our assessment, we used drones to fly line of sight up to two miles depending on the aircraft, which enabled us to get a great amount of data while keeping our employees safe."
The UAS team also trained other BNSF employees to fly drones in the flooded areas. These employees are trained to operate smaller, shorter-range drones, similar to those available for mass commercial purchase. "We now have employees in these areas that are able to provide very similar value to that of [the UAS] team," Dryer said. "While they may not have the full equipment or the best sensors that are available, they have something that can provide immediate value."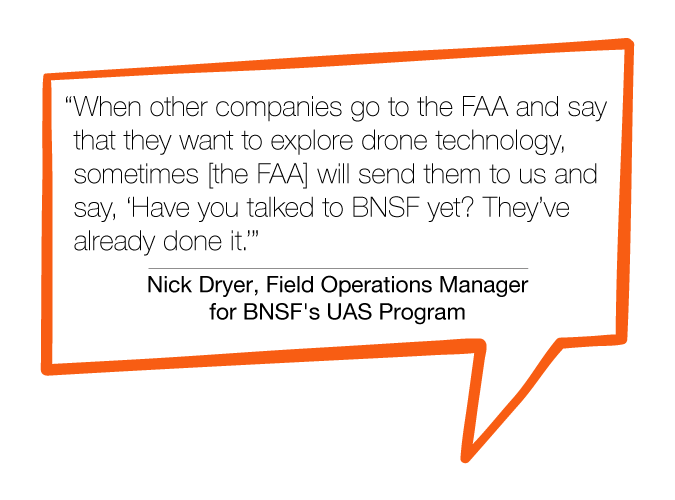 The UAS team has used drones to enhance BNSF's safety and efficiency elsewhere. "We've supported mudslides, we've supported avalanches," said UAS Operations Manager Catherine Bramlett. Drones have also been employed to assist BNSF's Mechanical Department. "When locomotives come out of storage, typically a crew climbs on top of the engine to determine if any parts need to be replaced, which can take about an hour per locomotive," Bramlett explained. "We can do a 15- to 30-minute flight, assess all of the locomotives in the area, and only send crews to those that need to have work done," she continued.
These advanced drone operations make BNSF a leader, not just among other freight railroads, but among commercial companies. "When other companies go to the FAA and say that they want to explore drone technology, sometimes [the FAA] will send them to us and say, 'Have you talked to BNSF yet? They've already done it,'" said Dryer.
Did you know?
When it comes to beyond visual line of sight (BVLOS) drone technology, BNSF is considered the industry leader. In fact, back in 2015, we were the only company in the nation selected by the Federal Aviation Administration (FAA) to pilot test flying BVLOS drones as part of its Pathfinder Program. Since then, we still remain the only commercial entity in the U.S. to which the FAA has granted flight authority to perform regular long-range BVLOS flights. BNSF continues to evaluate best-use cases for this BVLOS technology.
Check out the video below for a closer look at one of BNSF's BVLOS aircrafts, the HQ-60.