A lifetime of service: From defending the nation to driving the economy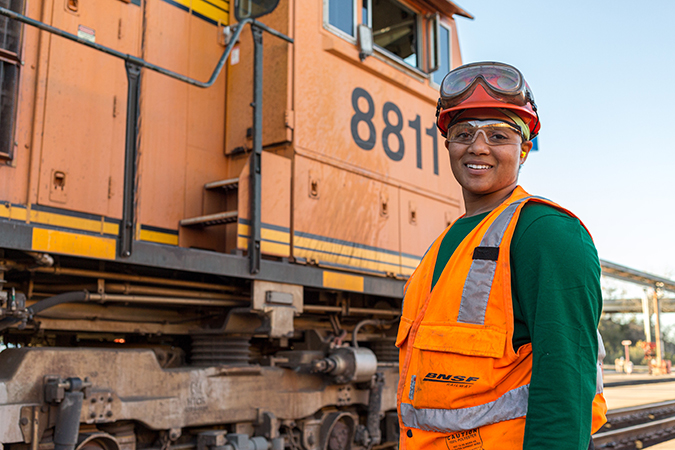 At BNSF, we value and honor the commitment of the men and women of our armed forces, and we prioritize hiring military veterans as well as those who serve in the National Guard or the Reserves. On Veterans Day, we thank all who have served, and we share stories of some who continue to serve our country, in addition to their duties as railroaders.
Jeremy Nabors, Locomotive Engineer/Texas Air National Guard
Jeremy Nabors is used to being on call -- and not only to operate trains. For nearly 20 years he's been on stand-by for our country as a member of the Texas Air National Guard. When natural disasters like floods and hurricanes strike, he helps those in need by delivering supplies or evacuating residents.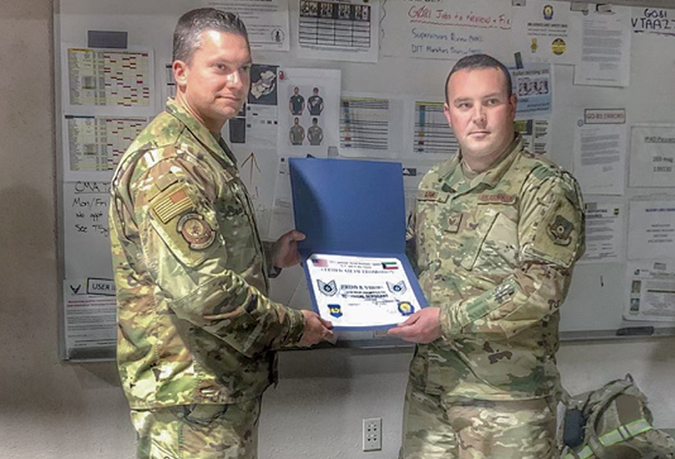 Like many who serve, Nabors sees parallels between the military and the railroad. One is safety.
"Safety briefings are something we do in both. When I attended a BNSF orientation, I was impressed by the commitment to safety and professionalism of the employees. I like the mindset we have to approach others about safety as well as the company's commitment to its employees."
Satisfaction of serving is another similarity.
"Moving trains to get goods where they need to go, especially during COVID, is a huge point of pride," said Nabors, who is equally proud of his duty to his country, having served two tours in Kuwait and two in Afghanistan.
Nabors enlisted right out of high school and was trained to maintain and repair multi-million-dollar aircraft systems.
When he joined BNSF in 2014, he thought he'd parlay that experience as a machinist to maintain locomotives. But friends convinced him to sign on as a conductor, and today, as an engineer, he's at the throttle of a locomotive.
When it's time to give to the Guard, either during monthly or annual training, he's supported by managers and peers.
"It's of the utmost importance they have my back. The company supports me financially in some instances and extends my benefits when I elect to do so," he said. "And they make my deployments and returns to work easy and painless."
Badger Koepplin, Manager, Track Design/North Dakota Army National Guard
When Badger Koepplin enlisted with the North Dakota Army National Guard, he was looking for a long-term military career. The benefits were excellent, including college tuition assistance. After basic training, he planned to settle in, serving the front lines from his own back yard.
But Army Guard soldiers have a dual role. They can be deployed by their governors and they can also be deployed by the U.S. president. In just a few months following his training, Koepplin's battalion was mobilized to Iraq.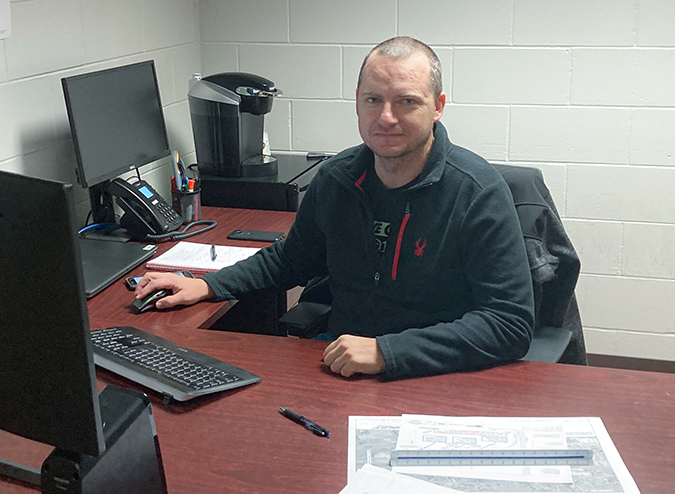 "It wasn't exactly what I'd planned," he said. But the experience taught him front-line leadership skills – and ingrained a desire to continue the course – and become an officer, where he learned project management, frequently for infrastructure work. When he was hired as a management trainee by BNSF 13 years ago, that training served him well.
Today he's in a position that explores if and where new track should be constructed, as well as provides the engineering designs that meet BNSF requirements and our customers' needs.
"Having a work/life balance, in either the railroad or the military, can be tough, but it's rewarding. Military people like to see a purpose for the work they do. I've been able to do that in both careers and I can see the impact that I have," he noted.
"Every day there is something new – a challenge that requires we execute a solution. The decision-making processes that I learned first in the Guard and now at BNSF help me make rapid decisions. It's never boring."
In addition to job satisfaction, Koepplin enjoys the benefits, both from the Guard and BNSF, which has always supported his time off for monthly and annual training.
"While there has been time away from home and other sacrifices, both have taken good care of me and my family," he said. "They've also have been good careers that I continue to enjoy."
Sierra Bibbs, Electrical Worker/U.S. Army Veteran
College wasn't a great fit for Sierra Bibbs, who wanted to be closer to home in Mobile, Alabama. When she left university and signed up with the Army, she found out what it meant to be really far – and discovered she enjoyed the experience.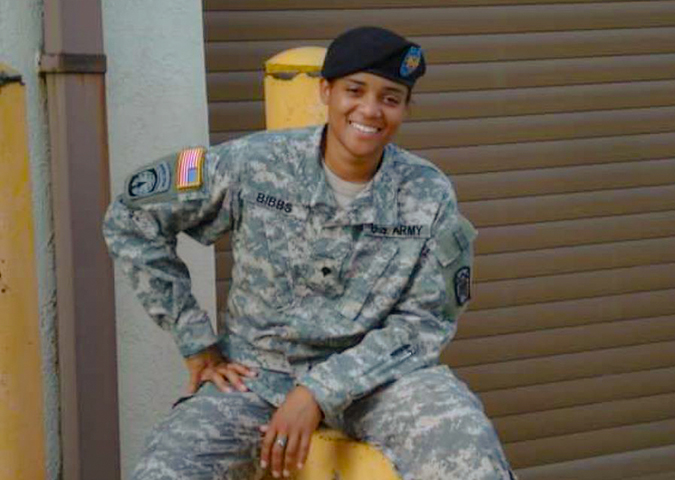 "I was a girl from the South who'd never left the country," recalled Bibbs, who over two four-year enlistments deployed to Iraq, South Korea and Cuba. "I loved meeting people from all over the world and learning new cultures."
Other rewards of military life included building bonds, pushing herself and finding a vocation. Thanks to years of working on cars and trucks with her mechanic-dad, she was assigned to repair and maintain generators.
Her deployments over, Bibbs was next posted to Fort Hood, Texas, the last stop on her military path, but the launching site of her railroad career.
"I had decided I was ready to leave the Army and went to a job fair at the base where there was a BNSF recruiter," she said. "I had no clue about the railroad, but there was an opening nearby."
Bibbs signed on as a laborer at the Temple, Texas, Mechanical Shop, where freight cars and locomotives are serviced. "It was an easy transition because the equipment wasn't much different – just bigger," she laughed. Soon, she was promoted to electrician.
Working outside, having predictable hours and being part of a team are among the reasons she stays. "I thought I might want to pursue an IT career, but I really like being an electrician," she added.
While the military gave Bibbs the tools she needed to set her course, BNSF enabled her to extend her journey. "Working for the railroad has been a great experience, and it was not a hard transition," she said to those who might be considering making a change. "It's a great choice."
Tawny Parker, Program Manager, Technology Services/Kansas Army National Guard
Unlike many of our railroad veterans, Tawny Parker's military experience came after he joined BNSF in 2007.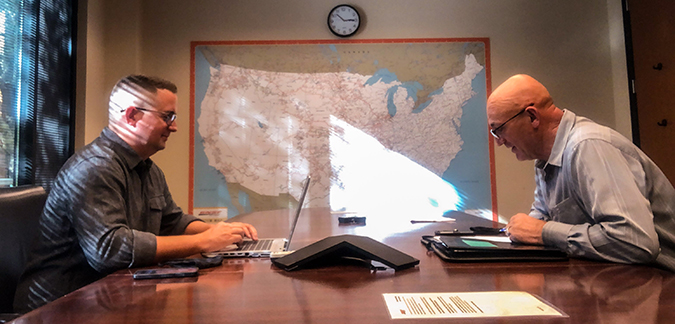 "My dad (Wendell Parker, who also works for BNSF) is retired Army, and so it was always important to me to serve in some capacity. I was working full time for the railroad, but something was missing, and military service was that one big thing that I hadn't done," Parker explained. "Joining the Guard checked all the boxes."
But before signing up, Parker wanted to be sure it would not be a conflict or mean he'd have to quit his job. "I got the green light and was totally supported by the company."
That was in 2010 while he was living in Kansas, and within a year, he'd completed his basic training and his advanced individual training as a paralegal.
Following his deployment in 2017 to Kuwait, where he worked in the equivalent of a public defender's office – clients being soldiers – Parker discovered he had a real knack as a paralegal and found the work engaging and a nice alternative.
"I contemplated law school, but being a program manager is my calling," he said. "Today, I read lots of contracts and am responsible for planning and tracking, skills I learned as a paralegal."
Now a staff sergeant, his Guard duty also provides him coaching skills that he uses at the railroad. "I take care of soldiers in crisis. How I speak to people and help them through tough times serves me well."
And he believes BNSF equally values his and other servicemen's and women's duty.
"As a leader of soldiers, I have seen the struggle of soldiers who don't have the support of their employers," he said. "I have used and appreciate the BNSF military benefits. BNSF support for the military is second to none."
Did You Know?
BRAVE (Business Resource and Veterans Engagement) is a diverse group of BNSF employees and patriots that offers support to veterans and first responders across the BNSF network while serving as a business resource, working to protect and grow the BNSF franchise.
BRAVE members represent all the branches of the armed forces as well as the National Guard and Reserves. They have served our country with honor in some capacity during every U.S. conflict since Vietnam.
BRAVE provides sponsorship and mentorship opportunities for veteran new hires to help translate valuable military skills to the civilian workforce and understand what it takes to be successful in a business environment versus a military one.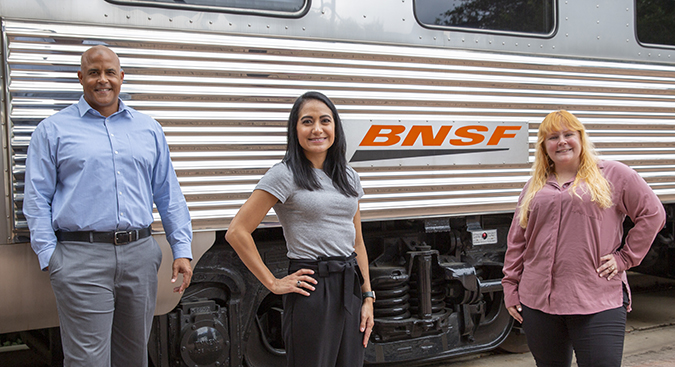 Left to right, some of the BNSF BRAVE board members: Lyle Hayes, director, Industrial Products Marketing. Before joining BNSF 13 years ago as a manager in San Bernardino, California, he served 11 years in the Navy. Taylor Schuff is an Economic Development manager today, having started at BNSF as a demurrage analyst seven years ago. Prior to that she served in the Army for eight years. Sarah McKnight is a manager in Technology Services and has worked at BNSF for 13 years, starting in Telecommunications. Previously she was active in the Air Force for two years then served four years as a member of the Guard.