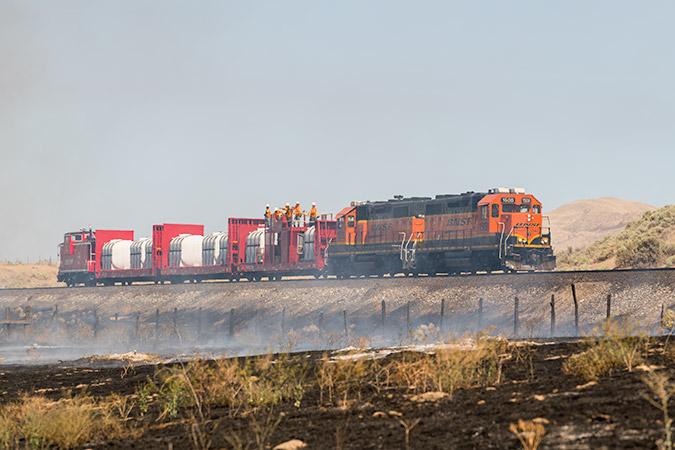 BNSF firefighting trains help stop wildfires in their tracks
Our trains operate across much of the West, where drought conditions and high winds are common, so we can expect – and plan for – wildfires on or near our tracks. Although we take steps to prevent fires, they can and do occur, from lightning strikes, trespassers or other sources. The sooner we put them out, the sooner train service can resume and the damages to property – ours and our neighbors' – can be minimized.
To combat wildfires, we have tank cars full of water staged in areas prone to fire conditions. And in the Pacific Northwest, we have two unique firefighting "weapons" in our arsenal – specially equipped trains that are an effective and innovative approach to fighting fires. Both are based in Washington; while the trains' capabilities vary somewhat, equipment is similar.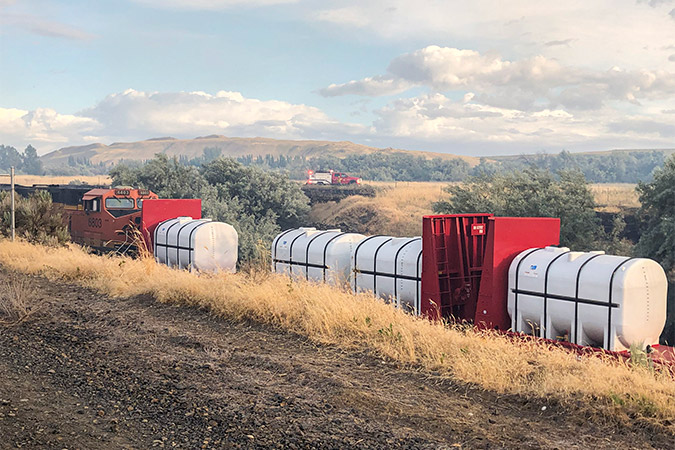 The Pasco train is made up of two tank cars, a "fire" car and a caboose that serves as a command center. The tank cars contain thousands of gallons of water, and the fire car is equipped with aqueous firefighting foam. An onboard generator in the caboose provides power for the cars and can also be used to power work lights, radios and other emergency equipment.
The Wishram train houses its generators, pipes and pump systems under three tank cars. It also has a caboose that is equipped with a spray bar and water cannon, and acts as the command center when called into service. This train was built to protect the south-central portion of the state, including Benton County.
Benton County Fire Chief Lonnie Click describes the region as arid, undeveloped rangeland, with the vegetation mainly brush and grass – in his words, "fuel." The topography is flat in some sections but with steep, rocky bluffs in others, where fighting fires gets complicated. Given the remote and limited road access, the department may call BNSF once a month during wildfire season to ask for an assist.
"It's a coordinated effort," said Click. "Sometimes the railroad will call us, and sometimes we will call them when we need help. It's in both of our interests to work together, and the fire train is an extra tool in our toolbox. We appreciate all the assistance we can get."
When the call is made, there are a couple of access points where firefighters can get on the train, with BNSF train crews moving the train to the fires. The caboose acts as a transport for the firefighters, then once at the site, they use hoses and the cannon to shoot water -- able to reach flames up to 30 feet away.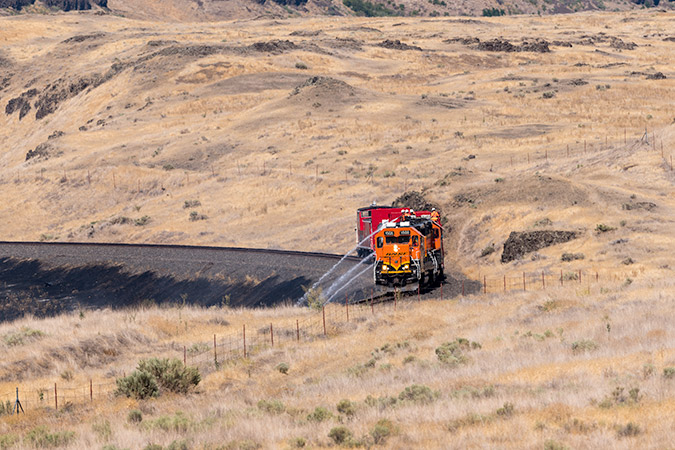 In addition to getting firefighters to places firetrucks can't access and where there are no water sources, the fire trains contain significantly more water; a firetruck averages 500 gallons of water, the train's tanks carry 30,000.
"We work closely with the local fire departments so they know who to call so we can plan and respond quickly," according to Dave Bertholf, general foreman, for BNSF's Seattle Mechanical, the department that built the equipment and maintains it. "With enough notice, the trains can be staged in areas where conditions are primed for fire."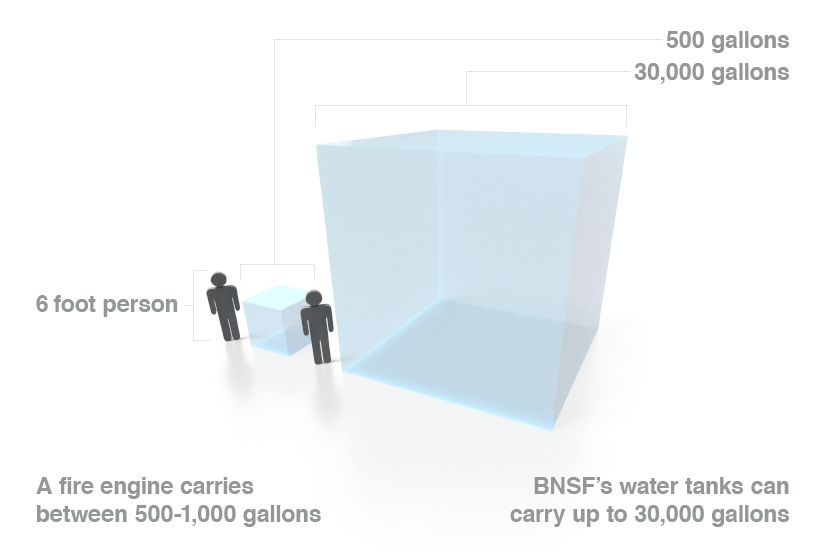 The trains are also for BNSF's own firefighting, should a fire start on the tracks or structure, like a bridge. The Engineering Department, charged with maintenance and protection of the track and structures, uses it as needed. Last year, the team was able to save a wooden bridge. And it's not unusual for them to help save houses and businesses near the track in the course of pumping water or foam.
The equipment is also useful after fires have been put out. Not only can they be used to fight fire directly or to refill the staged tank cars, we also use the trains to spray down the track to prevent flare-ups after the fire has been contained.
"Unfortunately, the Pacific Northwest is experiencing a dry and hot summer, so conditions are prime for fires – and team BNSF is on alert and ready, if and when the call comes," said Bertholf.