We work round the clock to keep holiday tables stocked, wish lists filled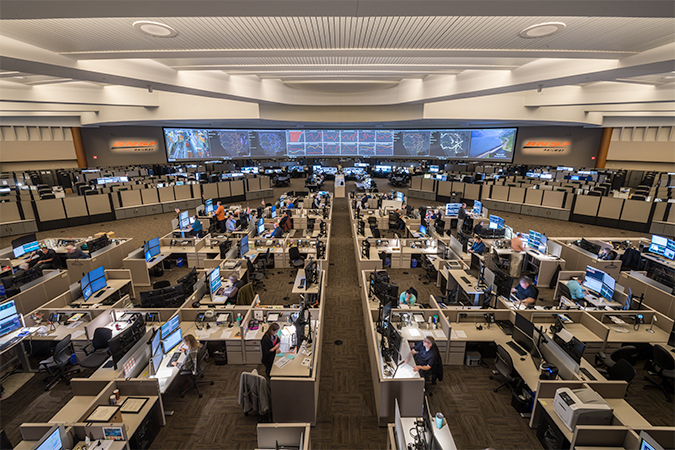 As turkeys are prepped for Thanksgiving Day and shopping lists readied for Black Friday, BNSF doesn't take a break from delivering the goods needed to keep America – and our holidays – running smoothly.
Behind our railroad are the men and women who help move freight trains 24/7. Dispatchers are just one group who have a round-the-clock role in operating about 1,400 trains daily across our expansive 32,500-mile network. Like air traffic controllers work with flight crews, dispatchers use state-of-the-art technologies to communicate with train crews and others to control and direct the safe movement of trains.
Our main dispatching center is at the Fort Worth, Texas, headquarters in the Network Operations Center (NOC). Originally opened in 1995 and renovated in 2017, the NOC boasts an operating floor the size of a football field and the largest single-span projector ever manufactured with displays of weather and trains on the system. This vast area and cutting-edge technology allow the 100-plus dispatchers and support staff during each of the three shifts to efficiently perform their duties.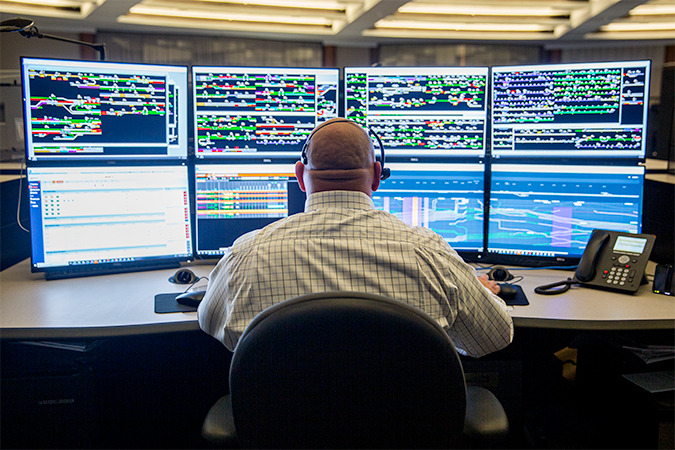 When dispatcher Jessica Stone arrives at her desk at 6:30 a.m., the NOC floor is already bustling with activity and chatter as dispatchers who have worked tirelessly through the night transition with the morning shift. During her 8-hour workday, Stone controls the movement of approximately 20-30 trains within her territory, which spans nearly 200 miles between Alliance and Temple, Texas. She tracks each train on 10 computer monitors that fill her cubicle, each monitor displaying train locations, maintenance work being performed, the vast software programs used, continuous messages and updates.
While these aspects of her day largely remain constant, no two days are ever the same. Stone, who has worked as a dispatcher for 12 years, says her work can vary considerably, depending on train traffic on her territory and weather. But no matter the details of her day, Stone's priority remains the same: the safety of the crews and communities that come in contact with the railroad.
"The most important thing about our job is to do it safely. Everything we do as dispatchers must be approached with safety in mind," said Stone, who was recognized earlier this year by BNSF for her commitment to safety.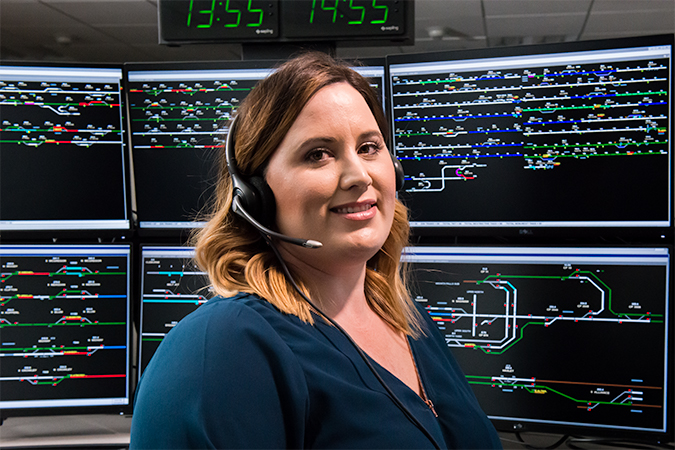 Stone finds that multitasking and prioritizing are key. "The biggest challenge we face is how busy we can be," she explained. "We have so many people wanting to talk to us, trains to move and tasks to complete. It can be overwhelming. But maintaining focus is crucial no matter how busy you are or how many things are thrown your way."
Chief dispatcher Jason Parker works from 3:30 a.m. to 3:30 p.m. on three- or four-day rotations. His job is to oversee and support the dispatchers on his territory, covering the north portion of BNSF's Heartland Division, including Nebraska, where there is a lot of coal train traffic. Like other chief dispatchers, he's looking at his territory from a big picture, ensuring traffic is flowing across the division, coordinating when maintenance crews can access track and lining up extra train crews where needed.
"There's a lot more going on in the early morning hours than you'd think," he said. "The coal mines and utilities that we serve also operate 24/7, so we're sending loaded and empty coal trains back and forth."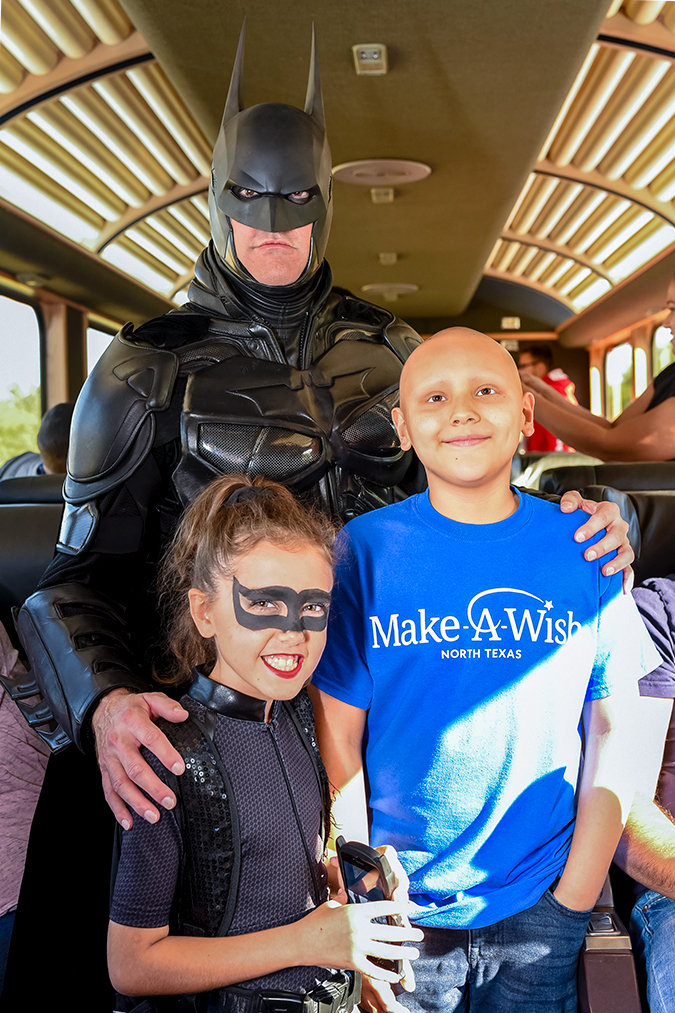 Parker prefers his nightshift and compressed work week over the traditional 9-to-5. "I don't like the idea of being confined to a cubicle, and working in the NOC is great. There is a lot of interaction, everything is open and I like being around people."
His nocturnal leanings may be a bit bat-like for a reason. Parker likes being around people so much that he uses his off-duty time to double as Batman, entertaining young guests at nonprofit events. "I started volunteering because I was looking for something constructive and less self-focused. My daughters love super heroes, and one Halloween I went as Batman and it just morphed after that."
While getting into costume and making sure his Bat-vette is running well takes effort, the time he spends with kids, especially those on the BNSF-sponsored Make a Wish train trip, is worth it. "Sometimes after a long day, I don't have the energy, but if I muster the willpower, I'm always glad to go," he said.
Juggling work, family, volunteer gigs and a side commercial property make for a full plate for Parker. Some holidays he's not home, while others are celebrated on another day. "My family understands, but we make time for each other when we can and it's all my girls know."
So next time you observe a passing train, think about those working behind the scenes to ensure that our trains safely arrive in the right location at the right time. And rest easy knowing it's people like Jessica Stone and Jason Parker, who work weekends, holidays and overnight, to help get the nation's goods when and where they're needed.
Did You Know?
In 2017, BNSF refreshed our Fort Worth Network Operations Center (NOC), the culmination of the largest update for the NOC since it was first constructed in 1995. For 20 years, the NOC had been a leading center for transportation design and function, but in that time, technology had also advanced.
To make way for the demolition and reconstruction work, the NOC had to be completely vacated for several months. A team had to carefully plan the temporary relocation of all Fort Worth dispatching operations to an alternate facility nearby. Here's a time-lapse video of the refresh project.
Today, the NOC supports better communications, increased collaboration and is home for the most sophisticated transportation-planning technology available. It also features the latest designs for dispatcher workstations, acoustics, lighting and ventilation.