Industrial Products Network Update for Friday, November 6, 2020
Operational Performance
Our network operating teams generated improved service performance this week after a challenging end to the month of October. Last week, a major winter storm impacted a large portion of our Southern Transcon route. High winds in New Mexico, with reported gusts of 90 miles per hour, as well as significant ice and snow across the Texas Panhandle eastward into Kansas resulted in some train delays and reduced velocity. The slow-moving storm and widespread power outages also hindered recovery efforts along this busy corridor.
As favorable operating conditions returned, train flows largely normalized along with increased velocity. Car velocity was up by nearly four percent versus the prior week and is essentially unchanged versus the average level for October. Total volume on the railroad is running at peak season levels, driven by strong intermodal and agricultural shipment demands, as we continue to move approximately 200,000 units each week. BNSF teams continue to focus on balancing resources with freight demands and adjusting operating plans at hub facilities to improve efficiency.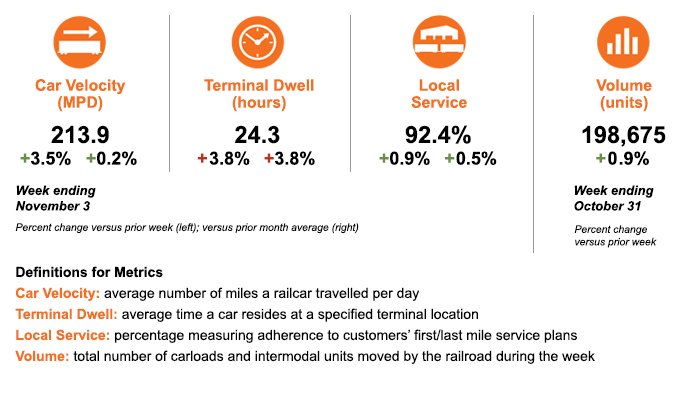 Service Expectations for the Week Ahead
We are monitoring another major winter storm that may create some service challenges this weekend. Winter storm watches are in effect from Saturday afternoon through Monday morning across much of Montana as 1-2 feet of snow along with blizzard conditions are expected.
Our Montana Division has implemented its Winter Action Plan to ensure that our workforce is prepared to work safely, equipment is positioned to keep trains moving and we are able to quickly add resources in response to any service interruptions.