Industrial Products Network Update for Friday, September 1, 2023
OPERATIONAL PERFORMANCE
BNSF operating teams are generating improved performance going into the Labor Day weekend. Car velocity increased and is running more than two percent higher than the average level reported for July. Average terminal dwell was reduced by more than three percent from the previous month. Our local service compliance measure exceeds 92 percent this week, reflecting our timeliness in handling carload freight.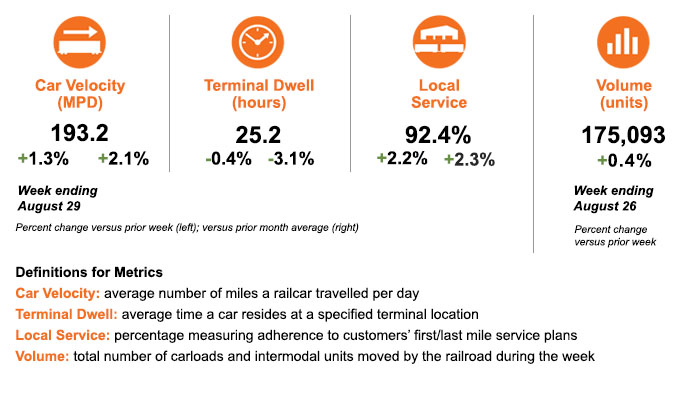 As reported, a derailment occurred on our Lafayette Subdivision near Cade, Louisiana, approximately 13 miles south of Lafayette, last week. Service was restored to the main track by midweek, and traffic flows through the area have normalized.

LABOR DAY OPERATING PLAN
Train service will not be curtailed due to the holiday; however, BNSF plans to minimize the number of yard, local and road-switch assignments at terminals on Monday, September 4, consistent with customer activity and volume demand. Connecting carriers who have reduced operations for the holiday may cause delays on interline traffic.
Customer Support will maintain a limited staff on Labor Day. Regular coverage will resume on Tuesday, September 5.

SERVICE EXPECTATIONS FOR THE WEEK AHEAD
On Wednesday morning, Tropical Storm Idalia made landfall in Florida and traveled north up the East Coast toward Georgia and the Carolinas. Customers with shipments moving to/from the area through interchange with eastern carriers may experience lingering delays as the storm heads west into the Atlantic throughout the weekend.
Much of the Plains and Upper Midwest will experience record-challenging heat through the holiday weekend, with temperatures nearing 100 degrees in many locations. BNSF is monitoring a weather pattern in the Southwest that has caused some delays on the Transcon; periodic chances for thunderstorms and flash flooding in this area will continue today and tomorrow. BNSF teams are monitoring forecasts and are prepared to respond to any weather-related disruptions as quickly as possible. The rest of the BNSF network will experience favorable operating conditions for much of the holiday week.

We thank you for your business and appreciate the opportunity to serve as your transportation service provider. We welcome your feedback and questions.