Industrial Products Network Update for Thursday, July 2, 2020
Operational Performance
The state of the BNSF network remains solid as the overall freight shipping environment improves from the COVID-19 pandemic. Car velocity and terminal dwell are consistent with levels from the prior week while operating teams have been generating positive momentum going into the holiday weekend.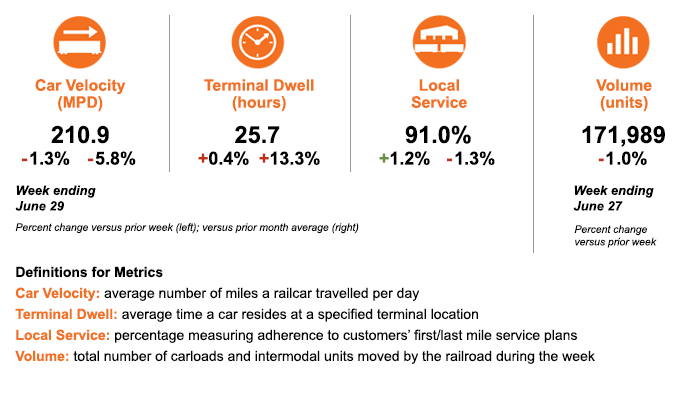 As freight volumes have rebounded in some business sectors, particularly in consumer products, we have been responding to various service challenges as we re-align resources to match changing traffic flows. BNSF has re-deployed operations personnel and added locomotives to our active fleet in the past few weeks. With these additional resources in place, we expect to drive greater efficiencies and maintain the significant performance gains that have been generated year to date.
PTC Update
BNSF marked a significant milestone last month as our Positive Train Control (PTC) system became fully interoperable with the other six U.S. and Canadian Class I railroads. This interoperability means the other carriers' PTC-equipped locomotive power will operate under PTC protection on our network, and vice versa.
Interoperability with other railroads was one of the biggest hurdles in meeting the federal PTC implementation deadline at the end of this year. Progress is also being made to complete interoperability with the shortline railroads hosted on our network. Of the 12 shortlines that connect with BNSF, eight have completed their PTC technology installation and the remaining four are expected to be interoperable with us by the end of September.
In 2017, BNSF completed installation of all the necessary infrastructure to meet federal requirements to implement PTC service. More than 14,000 miles of the BNSF network is now operating under PTC, with another nearly 1,000 miles planned this year. Along with additional implementation on non-mandated portions of our network, BNSF teams continue to focus on enhancing the system to fully realize the potential to further improve both safety and service.
Independence Day Holiday Operating Plan
BNSF's Carload 2020 Independence Day operating plan will remain focused on meeting customers' expectations while matching operations to any reductions in traffic volumes. Train service will not be curtailed due to the holiday; however, we will minimize the number of yard, local and road-switch assignments at terminals on Saturday, July 4 if specifically advised by customers that service will not be needed.
Connecting carriers who have reduced operations for the holiday may cause delays on interline traffic. Customer Support will maintain a limited staff on Friday, July 3 and Saturday, July 4, with normal coverage resuming on Sunday, July 5.
Service Expectations for the Week Ahead
As we move into the first week of July, excessive heat is expected across parts of the desert Southwest, with high temperatures approaching 115 degrees in some locations. BNSF teams are monitoring conditions closely and will take appropriate actions as necessary to ensure safety. Several rounds of storms are possible across the northern Plains next week but no significant service interruptions due to severe weather are anticipated at this time.
Track maintenance activity continues across the network. With daily work windows scheduled in multiple locations, our operating teams are focused on ensuring that train operations remain as efficient as possible between these windows.