Through their own lens: Women railfans capture BNSF trains for posterity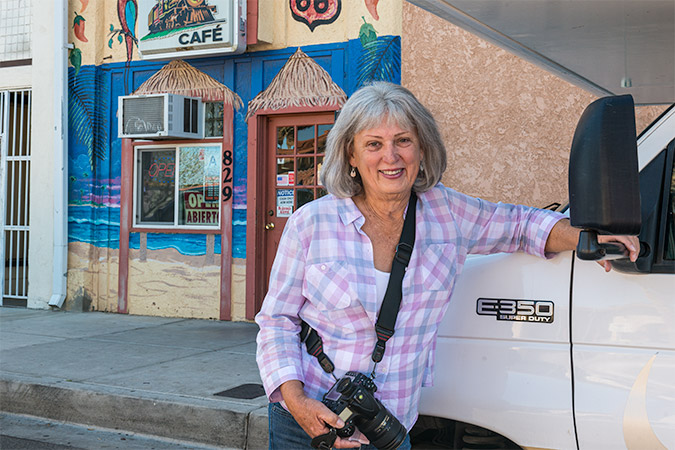 When we first contacted Jodie Buschman, she was on the road, exploring Arizona in her RV, "Honey," with her feline traveling companions, Bebe and Smokey. It's a trip she has made many times, working her way across the Southwest, camera gear in tow.
Buschman is a railfan. She loves hunting trains to capture on film. She's devoted to a pursuit more frequently associated with men, and she's highly skilled at it. Railfans spend hours planning, driving, searching, patiently waiting to preserve a moment in time – sometimes lonely, sometimes dramatic, sometimes uplifting – of a mighty freight train hauling precious cargo to a distant destination.
For Buschman and others, railfanning also means being part of an enthusiastic, accepting community in which friends are made easily and the thrill of chasing spectacular images never fades.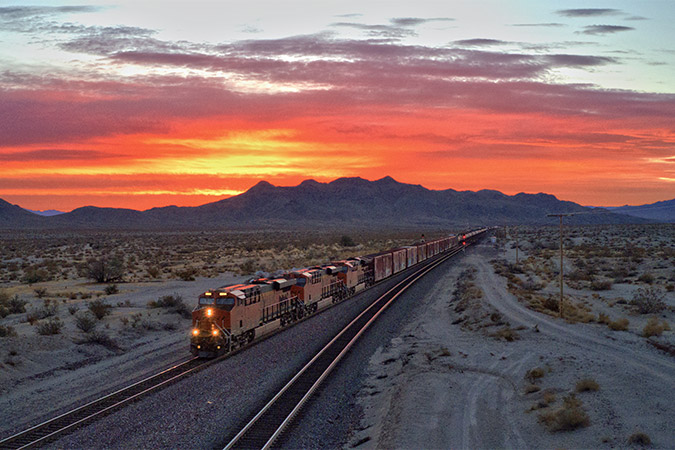 She still remembers the moment she first spotted a train inching up a steep loop in Southern California and thought, "That is so cool! Here's a new frontier for me as a photographer."
Railfanning "inspires me to create something unique, to show things in a maybe not seen before way," Buschman said. "That's at the front of my mind when I'm taking a picture."
She got her start in photography when she enlisted in the Army during the Vietnam era as a medical photographer. "The decision to enlist in 1968 laid the foundation of my career that followed," said Buschman, who continued as a professional photographer with her own studio. One day, "a guy from (BNSF predecessor) Santa Fe called and said, 'We need some photos taken.'" Over the years, she would complete many photo shoots for the railroad.
In May of 2020, she relocated from California to Kingman, Arizona. "My railfanning activities have picked up dramatically," she said. "Living along the Southern Transcon route affords me many opportunities to be out and about at a moment's notice."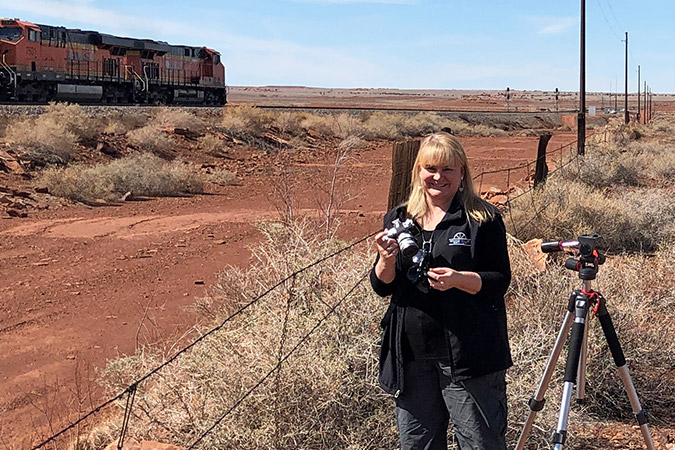 Two hours' drive down the road in Williams, Arizona, is another talented photographer, Liz Kylin.
"Being a railfan is an escape," said Kylin, who'd always been entranced by freight trains, and realized she could chase them while taking long drives to balance the pressures managing a company she cofounded. "I caught the 'chase, capture with my camera, chase again, capture again, repeat' bug, and when I arrived in Flagstaff, with the Transcon right there, I knew I had to move there somehow and that I had found a place and a passion that would balance my work life."
Kylin described how she goes about hunting trains. "I'll drive about 90 minutes and chase a few back and forth, or I'll start somewhere and watch until the right one captures my imagination and chase it in order to get far enough ahead to catch it again, leapfrogging it home. Sometimes I go to a favorite quiet spot and just watch the parade go by and save the chase for another day."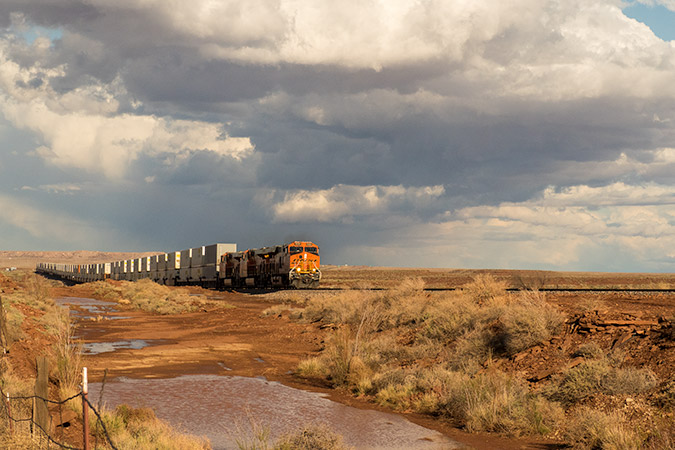 Her "happy place" is being able to see the entire length of a train from far away, watch the distance between close and then meet it at a beautiful location out in the middle of nowhere.
"The sight and experience give me hope and confidence, and parallel my job," Kylin said. "From the outside and at a distance, the train looks so organized, purposeful and unflappable. A great many things had to come together in order to make it happen. And no matter what, it will get where it is going. Sometimes I need that reminder."
Andrea Capiola, an archaeologist in Coupeville, Washington, credits her passion for trains with getting her through a very difficult period in her life. She has loved trains since she was a child watching her brother build his model railroad. Even as she grew older, every time she saw a train she would try to guess the number of cars.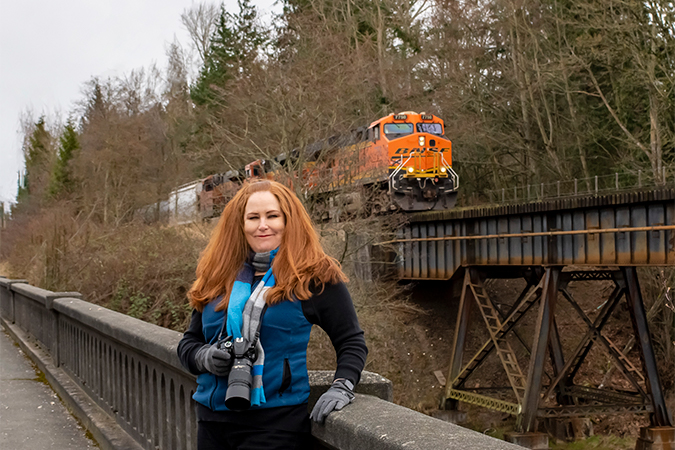 As an adult, Capiola started photographing trains during a trip through western Washington. Then a year later, she suffered a severe back injury. Recovery would take three surgeries. "I spent the next several years in debilitating pain that took a tremendous mental and physical toll. My health spiraled and railroad photography became my only outlet, and then it became my passion. Up until this point I had not realized that photographing trains was feeding my soul."
She started posting her photos to social media. "The response was overwhelming! I would get really great comments. As an artist, it's immensely gratifying when someone views one of my photographs and sees the same beauty, wonder and awe I see. I feel empowered that I'm able to convey my passion and my love through art."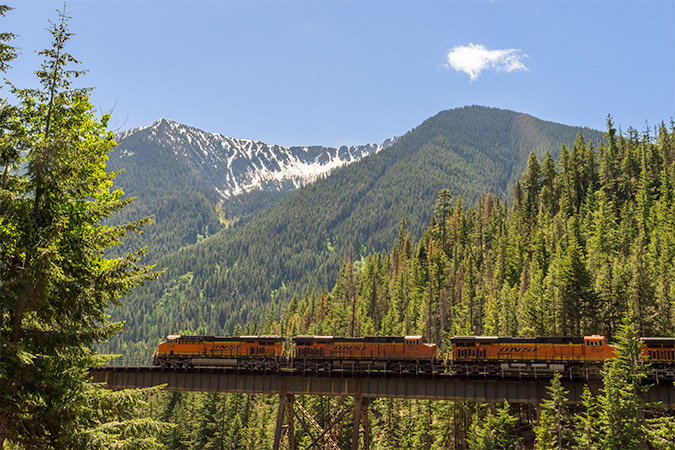 All three photographers said they have been able to continue railfanning to varying degrees while staying safe during the pandemic. And all agreed one of the best things about railfanning is the community.
"I meet people from all walks of life and they share with me their memorable train stories that I love hearing," Capiola said. "It always brings a smile to my face to see someone share their love of the railroad."
Did You Know?
Safety is the priority when photographing trains. BNSF appreciates its railfans and reminds them that trains must be photographed from a safe and prudent location outside a railroad's right-of-way – which in most locations means you must be 50 feet away from the track. When at a station, stay well behind the yellow line. Trespassing on the right-of-way or into railyards is both dangerous and illegal.
Capiola, who used to investigate industrial accidents, is a firm believer in safety practices. "I always wear a safety vest, safety glasses, gloves, ear plugs, steel toe boots and hardhat where appropriate. I stay a safe distance from the tracks whether they are live or not. Whenever possible, I let crews know if I am in the area. I always check in with a foreman if I am photographing work crews."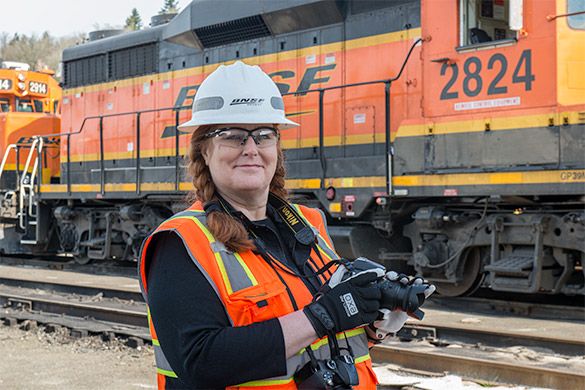 Enjoy More Photos
You can see more of these photographers' amazing work at these sites:
All three photographers are members of the Friends of BNSF group on Facebook, where you can see theirs and other photographers' work.