Orange Is the New Green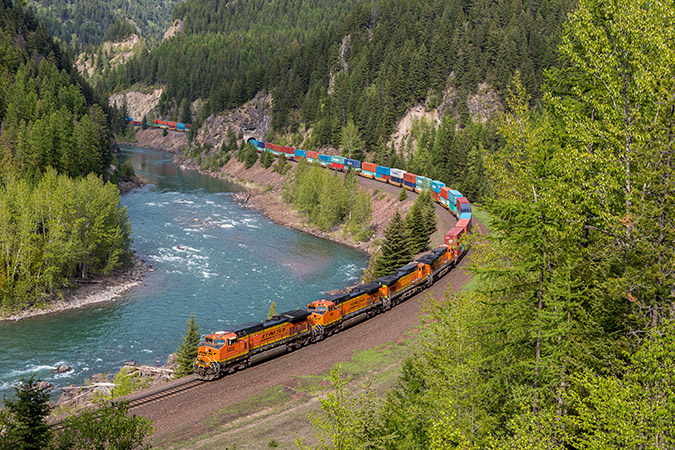 We couldn't find a greeting card big enough to wish the world a happy Earth Day. So we celebrate it the best way we know how, doing what we do every day: running trains. That's right; rail is the most sustainable way to move goods long distances over land, and BNSF is a recognized leader.
Here are eight ways we make sure our railroad is part of the solution for a cleaner, healthier planet, and not just on Earth Day but every day.
Cleaner, Smarter Machines
Trains are very clean when it comes to their impact on the environment. No other form of land freight transportation is more fuel- and resource-efficient than rail, which accounts for more than 40 percent of long-distance freight volumes in the U.S.
Overall, rail is the smarter choice. The inherent efficiencies of rail generate value for our customers and communities because they reduce transportation emissions and carbon footprint, they increase safety for local communities and drive growth and economic value for BNSF and our customers.
When it comes to the environment, one BNSF train can move one ton of freight nearly 500 miles on just one gallon of diesel fuel. And one of our freight trains is an excellent choice for long-haul moves because it will remove hundreds of trucks from the highway. What's that mean? Less congestion on roads, less time stuck in traffic, fewer engines idling, and less air pollution.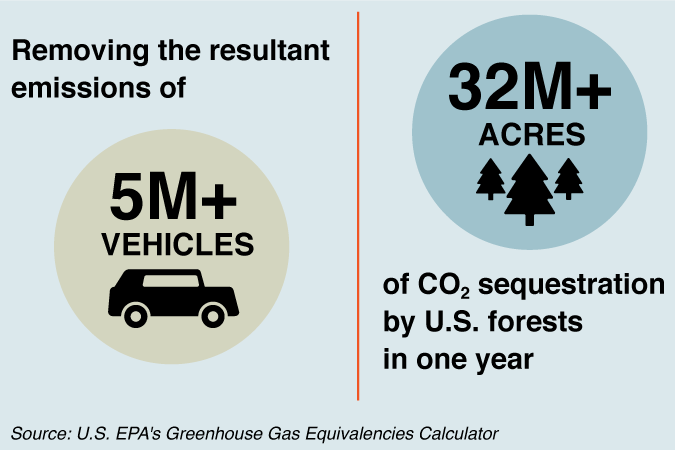 Because Our Customers Care
Our customers know carbon reduction is key when it comes to their transportation choices, and that's why we help them quantify the environmental benefits of rail compared with long-haul trucks.
We have a carbon calculator method that shows customers just how much they can reduce greenhouse gas emissions by putting their shipments on rail instead of the highway. We compare the difference of carbons produced by rail vs. those produced by truck. It's a lot of math and science, but the differences add up. Last year our customers managed to reduce their total carbon emissions by 24.7 million metric tons. That's the equivalent of 5.3 million vehicles off the road annually.
Because We Care Too
At BNSF, we don't stop where our customers' carbon reductions begin. We are keenly aware that more than 90 percent of our emissions come from our locomotives so we look for ways to improve our fuel efficiency, explore renewable fuels and continue to advance hybrid technology.
And we're putting that commitment in writing. Like other businesses around the world, we are committing to set carbon emission-reduction targets as part of the Science Based Target initiative in 2022. Our business will benefit from setting and meeting these targets, and they also show BNSF means business when it comes to doing long-term good for the planet.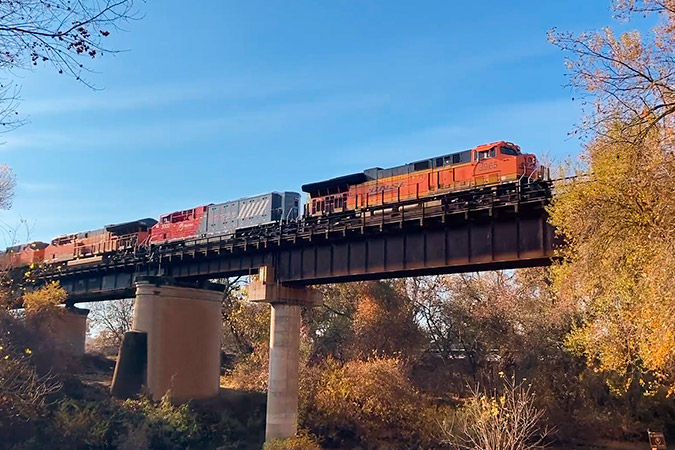 It Keeps on Going…
Since our predecessors began using steel wheels on steel rails to efficiently move large loads more than 170 years ago, we've come up with a lot of ways to do what we do better, including initiatives to lower our emissions.
A great example of these efforts is our testing of a battery-electric locomotive. Thanks to a grant from the California Air Resource Board, we worked with the San Joaquin Valley Air Pollution Control District and Wabtec to develop and test a 100-percent battery-electric locomotive. Paired with conventional diesel-electric locomotives, the prototype was piloted in Southern California and met our expectations for efficiency performance and confirmed that we will continue to explore the potential of this technology.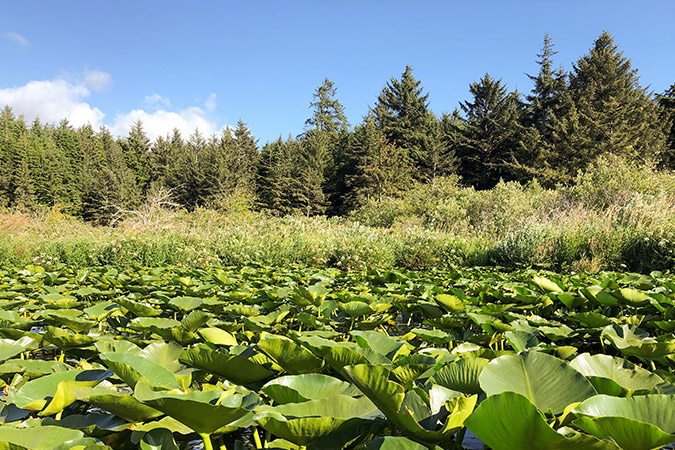 Keeping It Green
We do sustainability by committee to find ways to lighten our footprint. In addition to low- and zero-emission technologies, we look at the processes and procedures we perform day in and day out and how to make them more sustainable.
For example, we make infrastructure investments to reduce chokepoints, places where trains back up and idle waiting for others to pass. That may mean adding more sets of track to allow trains to go on their way. Or we may build a new fueling track to reduce time trains are in queue for refueling. Anything we can do to improve network fluidity can help us reduce emissions.
We also engineer "green" into our projects, using design and vegetation management principles that have the least impact to the environment. Here are some examples:
To power some of our facilities, we use solar and wind energy where they make sense.
To power our locomotives, we look at biodiesel and renewable diesel alternatives.
As part of our permitting process, drones help us analyze plant species and site conditions from hundreds of feet above, a much less invasive and more cost-effective practice.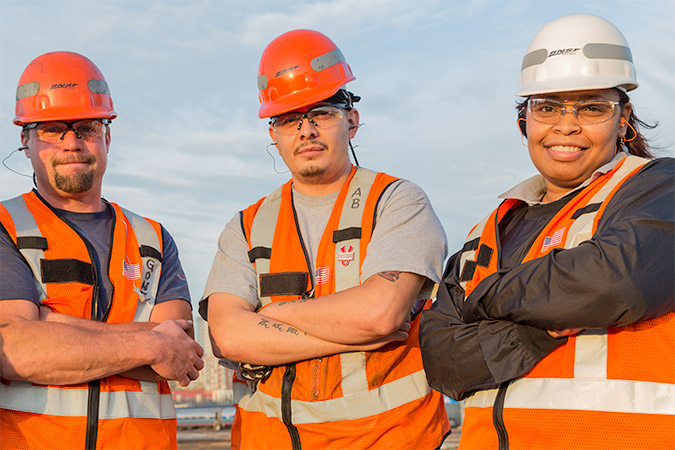 People Power
Our people – machinists who maintain locomotives and railcars to keep them in top condition, track crews that lubricate rails to reduce friction between the wheels and the rails, and locomotive engineers who shut down idling locomotives or adjust acceleration and braking to conserve fuel – all do their part. Those who work in offices follow recommendations to recycle, especially paper, among other best practices.
We have teams of environmental employees who audit facilities and participate in risk-mitigation efforts like spill prevention or storm water and waste management. They also provide hazmat training to first responders in case they need to respond to a rare derailment or potential railcar leak.
Going to the Source
We look at our suppliers and their supply chain as an extension of our sustainability. That means to do business with us – and it takes a lot of materials to run a railroad – our suppliers need to be engaged in sustainable procurement practices that protect people and the environment.
We look for Green Power Suppliers, those who are third-party certified to nationally accepted standards for product quality and content. They may use renewable energy or green technologies, like battery-powered forklifts, or carefully manage and administer their chemical supply chain.
We challenge our suppliers to bring green technologies to us as well. One introduced us to a new and safer way of controlling vegetation along our right of way using a "spray car" as part of a train that helps limit chemical exposure to the environment.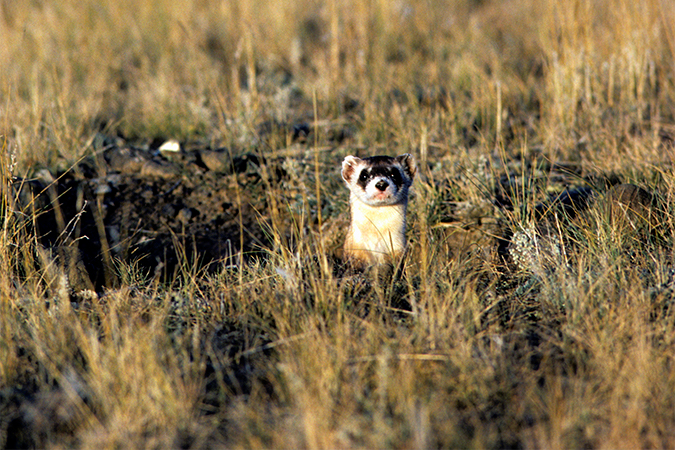 Partnering for a Cause
The BNSF Railway Foundation has long supported nonprofits that promote natural resource stewardship. One that we've worked with for many years is the National Fish and Wildlife Foundation (NFWF). Since 2015, we've contributed to projects that protect and restore wildlife and their habitats, promote job creation, improve water quality, reduce flood risks and more.
Just one of the many projects that our funding helps support is helping to manage and increase reintroduction of black-footed ferrets in Montana. These are an endangered species due to lack of suitable habitat, disease and a dwindling food source. The NFWF program, with BNSF's support, helped increase the ferret population by at least 30 adults.
From our tracks to our trains, from our programs to our people, we believe everything we do should minimize our impact on the planet and contribute to the long-term sustainability of every community we serve.
Did You Know?
We all benefit from trees. They filter clean air, provide fresh drinking water, help curb climate change and serve as homes for thousands of species of plants and animals. It's important that this critical natural resource is preserved.
The Nature Conservancy's Plant a Billion Trees program is a major forest restoration initiative that aims to plant a billion healthy trees across the globe. The Berkshire Hathaway Sustainability Leadership Council—of which BNSF is a member—is supporting this campaign and is encouraging employees and others to get involved.
To learn more about the Plant a Billion Trees program and to plant a tree in honor of Earth Day, visit The Nature Conservancy website. If interested, act soon, as this opportunity is available for a limited time, ending on May 3.