Leaders Count: A conversation with Tom Williams, group VP of Consumer Products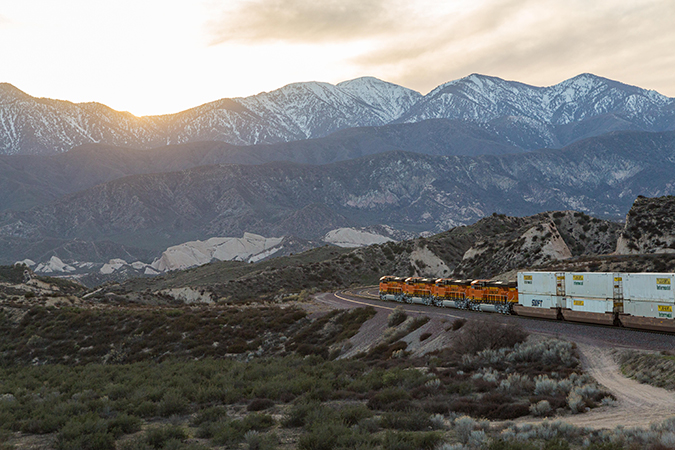 Leaders Count is a Rail Talk series that focuses on the men and women at BNSF who help keep our economy moving. From CEO to conductor, our employees represent the Vision and Values that have helped shape BNSF into the industry leader that it is today. This series provides conversations with some of our employees who model the way in their respective field. In our inaugural entry for the series, we interview Tom Williams, group vice president of Consumer Products, about what elements combine to make BNSF the world leader for intermodal rail.
RAIL TALK: With e-commerce being a new normal and sometimes a preferred means for buying and selling goods and services, how does the rail industry fit into today's consumer environment?
WILLIAMS: The Consumer Products segment of our company is built upon the world's largest and fastest intermodal network. Our primary route for intermodal containers or trailers is our Southern Transcon, which extends from Southern California to Chicago and moves essential goods, such as food and beverages, clothing, automotive products, as well as recreational items or packages people purchase from online retailers. We move more than five million intermodal containers annually, which is over a million more than any other rail carrier.
For our beneficial cargo owners (BCO), the owners of the products being shipped, they understand the value of combining modes of transportation across the country to not only save money, but to also reduce their carbon footprint. Railroads handle 40% of the nation's long-distance freight volume, and yet only account for 0.6% of the total U.S. greenhouse gas emissions and only 2.1% of transportation-related sources. A freight train can move one ton of freight more than 470 miles on just one gallon of diesel fuel, and each intermodal train can carry as much as 280 trucks by comparison.
The efficiencies of rail are not the only aspects of intermodal on which we focus. When we think about the actions we are taking to support the growth of our customers, we also look at how we can drive productivity through digital integration and optimization at our hand-off points, as well as physically driving productivity through co-location at our facilities and expanding our lane offerings and capacity for our network.
RAIL TALK: How is BNSF leveraging technology to help its customers to achieve success?
WILLIAMS: When we as consumers buy something online, we prefer to have up-to-date information about when the product is shipping, when it has shipped, the estimated arrival date, etc. For our customers it's the same, except that information is not just for convenience. We know that providing real-time information about their freight is vital to plan their overall supply chains. For BNSF, we believe supply chain management goes beyond our network and providing our customers with door-to-door visibility of their shipments is key to mutual success for all parties involved.
Our customers have unique supply chains that require multiple segments and handoff points. In order to efficiently and reliably meet our customers' expectations, we offer our customers a suite of Application Programming Interfaces (API) that make it even easier to communicate real-time shipment data. Our APIs allow customers to track their freight from origin to destination, view transit schedules to know when to plan their shipments and get up-to-date information from our intermodal facilities about storage location and truck driver pick-up and delivery directions.
The benefit of using APIs over previous technologies is that they eliminate the need for our customers' technical teams to learn a specialized rail skillset. BNSF's APIs can deliver notifications and information for events relevant to our customers within their internal systems that they use to manage their shipments, ultimately streamlining the communication process between our separate systems by removing manual data entry.
We have also gained greater visibility about our customers' freight when it's not on our network and the expectations for when and where the shipment will ultimately end. Each individual shipment has a specific movement plan that can involve a shipping vessel, a trucking partner, rail operations, crews, various freight equipment and a warehouse space that all has specific timing windows for availability. Having this information allows us to better coordinate the journey of a specific shipment with our customers, allowing them to plan first and last-mile movements more efficiently, and our network, intermodal hubs and rail equipment to move more fluidly.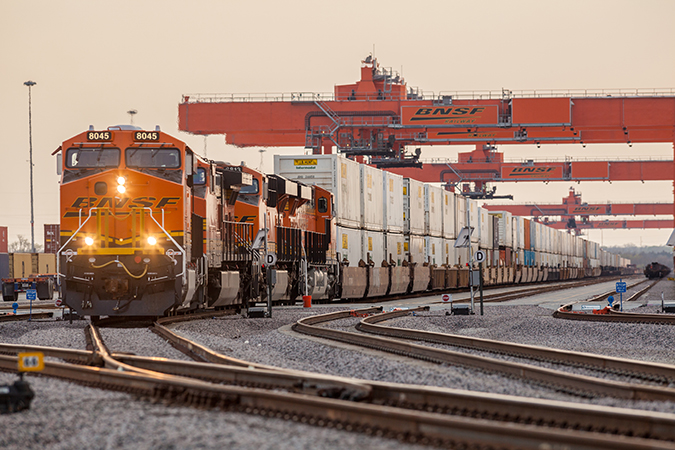 RAIL TALK: What other technologies is BNSF implementing to drive efficiencies for its network and customers?
WILLIAMS: As an industry leader, BNSF Railway is at the forefront of piloting and implementing technologies that allow us to make the shipping process even safer, more reliable and cost effective for our customers.
We continue to advance our RailPASS mobile application and Automated Gate Systems technology through a pilot program of a touchless gate at our South Seattle Intermodal Facility, which was featured in a past Rail Talk article.
At our Alliance Logistics Park facility, we piloted an artificial intelligence (AI) model for optimizing hostler movements to reduce inefficacies. The AI model anticipates current and future movements of the hostlers to identify the shortest path to pick up and drop off containers. This means that freight is interchanged between gate to train more effectively, resulting in more capacity for our customers and quicker delivery of their shipments.
Additionally, we are using our industry-leading unmanned aircraft systems (UAS) program in a pilot at Alliance to perform yard checks using machine vision, GPS and GIS to map the yard's inventory. Similar to the AI model for hostler movements, the UAS-assisted yard checks help confirm that freight is optimally positioned to move when needed, but at a larger scale. With the use of UAS, our goal is to ensure inventory positioning is accurate at near real-time.
Our BNSF Police have also increasingly used UAS to assist in the arrest of criminals attempting to access our customers' freight. Many of our special agents are trained to fly UAS and use their thermal vision and aerial capabilities to stop burglaries. This program has successfully prevented crime on our property, especially at night when criminals attempt to use the cover of darkness.
RAIL TALK: From a physical standpoint, what is BNSF doing to support its customers with growth?
WILLIAMS: Our Logistics Park strategy enables us to partner with ocean carriers and trucking companies to provide streamlined transportation solutions that connect manufacturers and retailers to their markets. Our Logistics Parks located in Alliance, Texas; Kansas City, Kansas; and Chicago offer co-location opportunities to our customers at inland ports that reach major growth markets. Customers who take advantage of co-location at these intermodal hubs, create distribution centers that increase the amount of truck turns, while decreasing the average cost spent per freight container moved and reduce their carbon footprint in the process.
Additionally, we continue to invest billions of dollars each year to ensure the maintenance and reliability our core network and related assets, while expanding our network capacity to handle the increased volumes of our customers. We also offer a variety of service options to reach growing markets in Mexico, the Ohio Valley Region and the Pacific Northwest.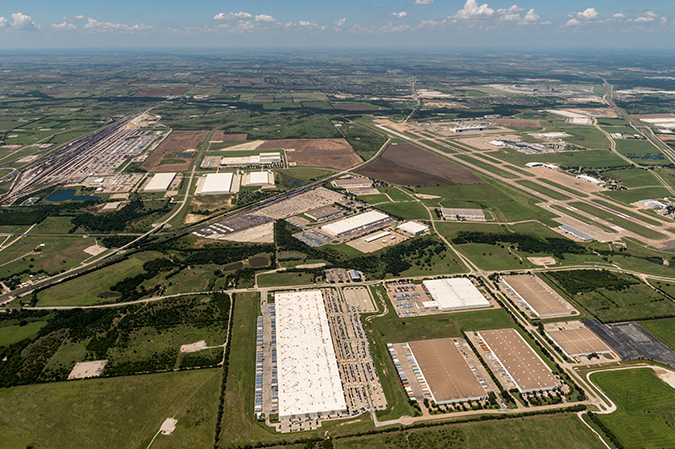 RAIL TALK: With last year's supply chain congestion issues, what actions did BNSF take to meet the increased consumer demand?
WILLIAMS: With our continued investments in our network, we've built a railroad that is resilient and agile. We've addressed risk points to ensure that processes and assets are in place to continue fluid movement of freight during adverse conditions.
For example, in the upper Midwest, we took two track segments out of service from one of our widespan crane modules at Logistics Park Chicago to create an additional stacked container area. This improved our ability to de-ramp inbound trains by allowing for the immediate staging of units and providing trucking partners immediate freight access to help circumvent chassis shortages.
To meet increased demand in the greater Memphis region, we temporarily reopened our Harvard Facility for intermodal service located in Marion, Arkansas. Once demand leveled in that area, we ceased operations at that facility; however, we maintain the ability to flip the switch back on if needed.
Last year we also increased lift equipment at our facilities by 20% and onboarded additional personnel at our intermodal facilities across our network to increase the lift capacity of our hubs. As we entered peak shipping season, we also added intermodal flatcar capacity to help handle additional volumes. Our 53-foot domestic flatcar fleet has seen an increase of 20% since 2018.
The power of our railroad is that we have the resources and capacity to flex up to meet demand when needed. Growth is essential for BNSF and our customers, and we will continue to put our railroad in the best position in terms of capital investment, technology and capacity to meet our customers' intermodal service expectations.