Our Safety Vision
The BNSF safety vision is to operate free of accidents and injuries. We believe that every accident or injury is preventable, and every one of us works every day to realize this vision through our culture, our training, our programs and our technology.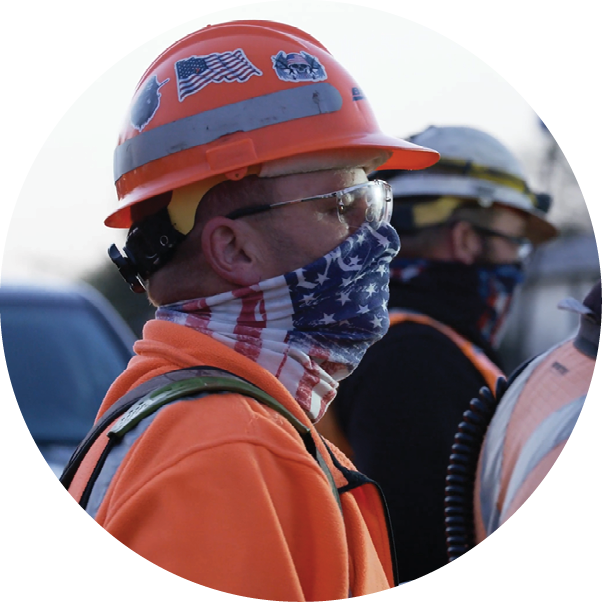 Employee Training
BNSF's approach to safety training is multi-faceted, including formal training programs based on technical rules, rail industry recommendations and federal regulations, as well as BNSF-specific initiatives developed and conducted by BNSF employees. We invest in ongoing safety training for employees with a combination of field, on-the-job, long-distance and technical training.
BNSF and other rail industry employees take courses and simulate the safe operation of equipment, including locomotives, cranes and crossing gates at the BNSF Technical Training Center (TTC) in Overland Park, Kansas.
---
In 2020, BNSF trained: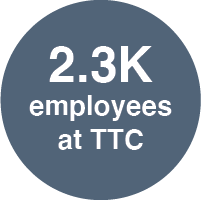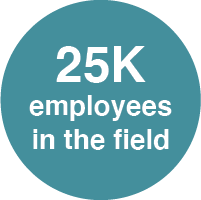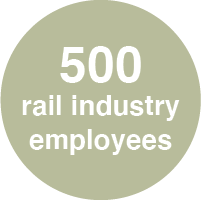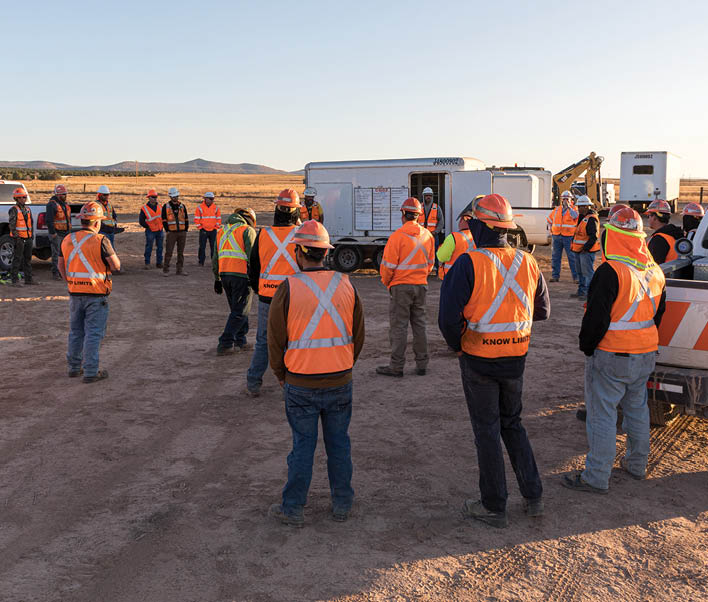 Safety Recognition
At BNSF, two of the most prominent ways we celebrate our culture of safety are the Safety Employees of the Year and Safety Bells awards.
Our Safety Employees of the Year awards recognize team members in multiple departments who embody the BNSF commitment to safety. Honorees demonstrate leadership in safety programs, promote safety through innovative ideas, proactively identify risks and reinforce safe behaviors with positive feedback.
2020 Safety Employees of the Year include:
Engineering – Jonathan "Corey" Engles; Track Supervisor; Jonesboro, Arkansas; Dan Richards; Comm/Signal Foreman; Lincoln, Nebraska
Mechanical – Larry Valentine; Tool Coordinator, Topeka, Kansas, Locomotive Shop
Transportation – Geoff Andersen†; Locomotive Engineer; Grand Forks, North Dakota
The Safety Bell awards recognize BNSF teams that achieve the lowest reportable injury-frequency ratios. This longstanding, distinguished award includes actual brass bells rung by locomotive crews of BNSF predecessor railways, as well as celebrations with BNSF leadership and lapel pins to commemorate the team's commitment to safety.
2020 Safety Bell Recipients
Division Honoree (all crafts combined) – Kansas Division
Transportation Honoree – Red River Division
Engineering Honoree – Heartland Division
Mechanical Shop Honoree – Corwith Shop
Field Mechanical Honoree – Southwest Division

Safeguarding Against COVID-19
The COVID-19 pandemic presented unprecedented challenges for everyone. Our employees responded with tough-minded optimism, ensuring that every day without fail we answered the call to safely keep essential goods moving.
We acted quickly to implement the necessary precautions to protect the health and safety of our employees. We also developed new processes to enhance employee experience and remove unnecessary contact. As an example, we now send electronic General Track Bulletins (GTB) to employee iPads. The electronic GTBs improve the ability to report and receive updated system information in real-time, which ultimately results in greater safety and ease of use for our employees.
The video below depicts some of the measures we took to keep our employees safe during the pandemic.
Hazmat Resources & Training
BNSF is committed to transporting hazardous materials safely. Rail is one of the safest ways to transport these materials – in fact, 99.99% of BNSF hazmat shipments reach their destination without a release caused by a train incident.
As part of that commitment, BNSF has built a network of more than 160 hazardous materials responders and advisors who are trained to deal with all types of hazmat releases. BNSF has also strategically positioned emergency response equipment at more than 60 locations across our network.
Through the Transportation Community Awareness and Emergency Response (TRANSCAER) program, BNSF also provides free training to first responders. Every year, BNSF trains 6,000 to 10,000 first responders in Railroad Emergency Response and Hazardous Material Awareness, typically both in person in communities across our network and online. With the advent of the COVID-19 pandemic in 2020, BNSF transitioned our training for the first time to scheduled live webinars. In 90-minute sessions, first responders learn how to safely and efficiently respond to hazmat incidents.
Developed by the rail industry, the AskRail app is another key resource for first responders, enabling them to quickly access information about a train and the hazardous materials it is carrying. Click here to read our Rail Talk story.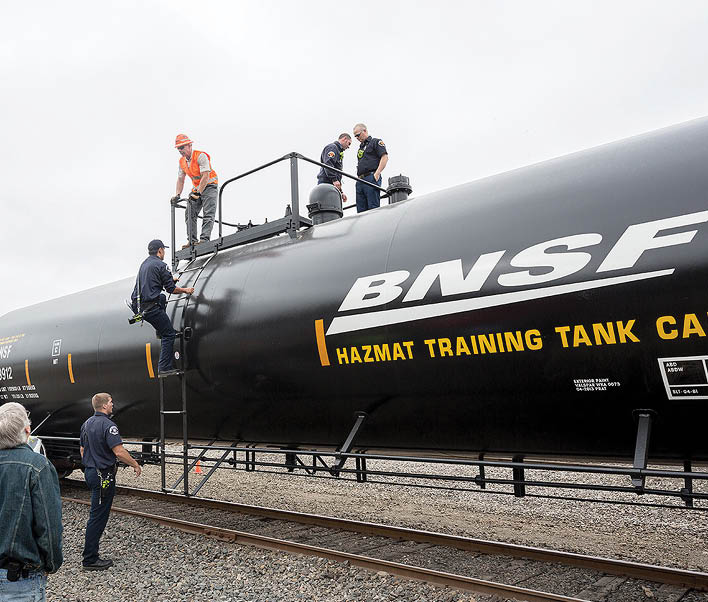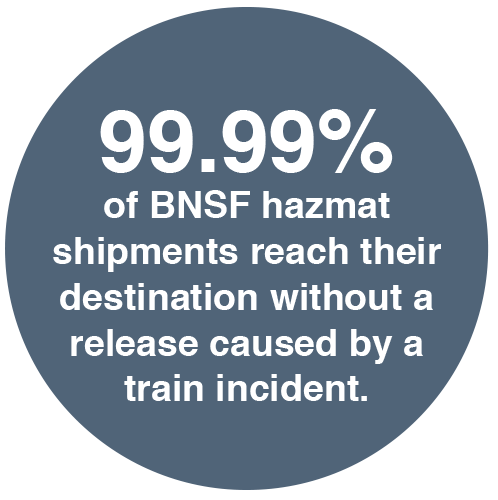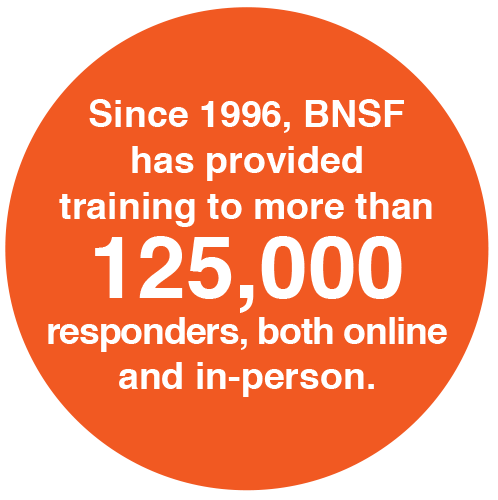 Grade-Crossing Safety
BNSF continues to maintain one of the lowest highway-railroad grade-crossing collision rates in the industry. Our safety-enhancing efforts include community education and awareness, train crew education and testing, new safety technology and crossing closures. Since 2000, BNSF has closed more than 6,200 grade crossings.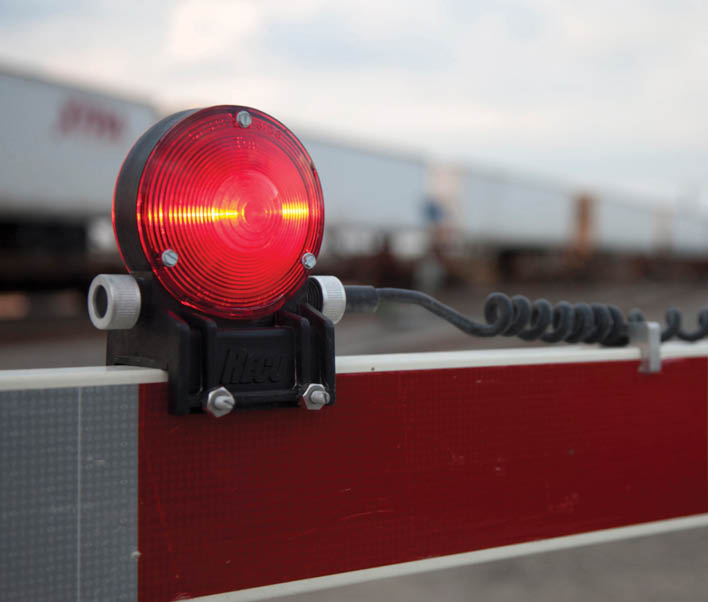 Fire-Fighting Trains
BNSF is the first railroad to deploy a fleet of industrial fire-fighting foam trailers in network areas prone to wildfires. We pre-position responders and specialized fire-fighting equipment and make these resources available to other railroads and communities as needed. Click here to read our Rail Talk story.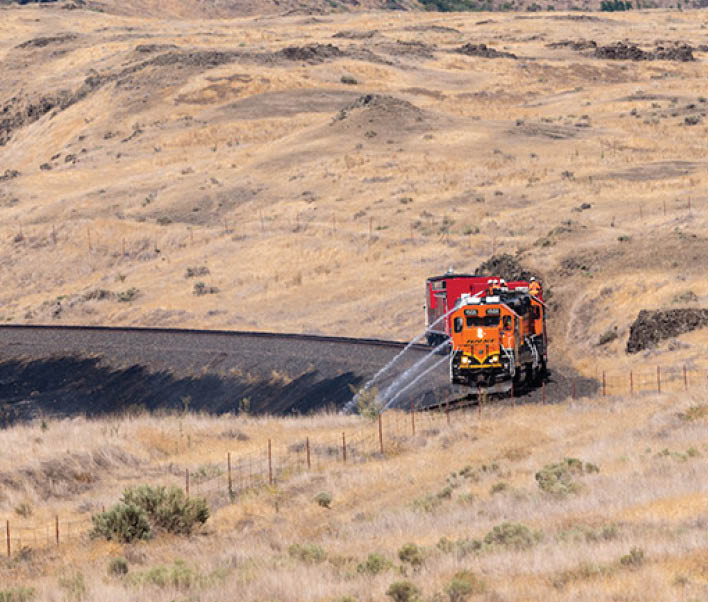 Positive Train Control (PTC) is a federally mandated safety system, and BNSF has been an industry leader in its implementation. PTC uses global-positioning data to monitor train movement, providing warnings to crews, enforcing speed limits and stopping trains when certain conditions arise, such as a switch left in the wrong position.
We have completed the installation of all mandated PTC infrastructure on all 88 required subdivisions of our network, covering more than 11,500 route miles. We are also installing PTC on subdivisions beyond the mandate and are fully interoperable with all railroads that run on BNSF and are required to use PTC.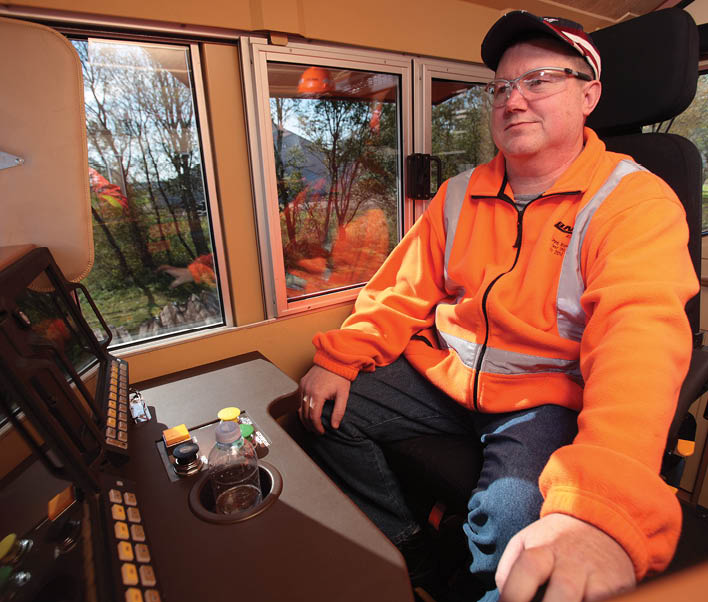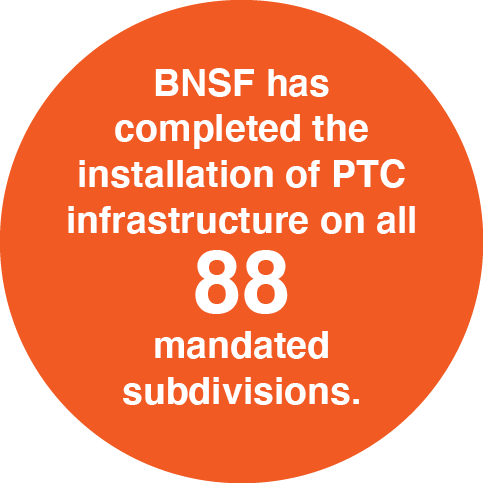 Comprehensive Inspections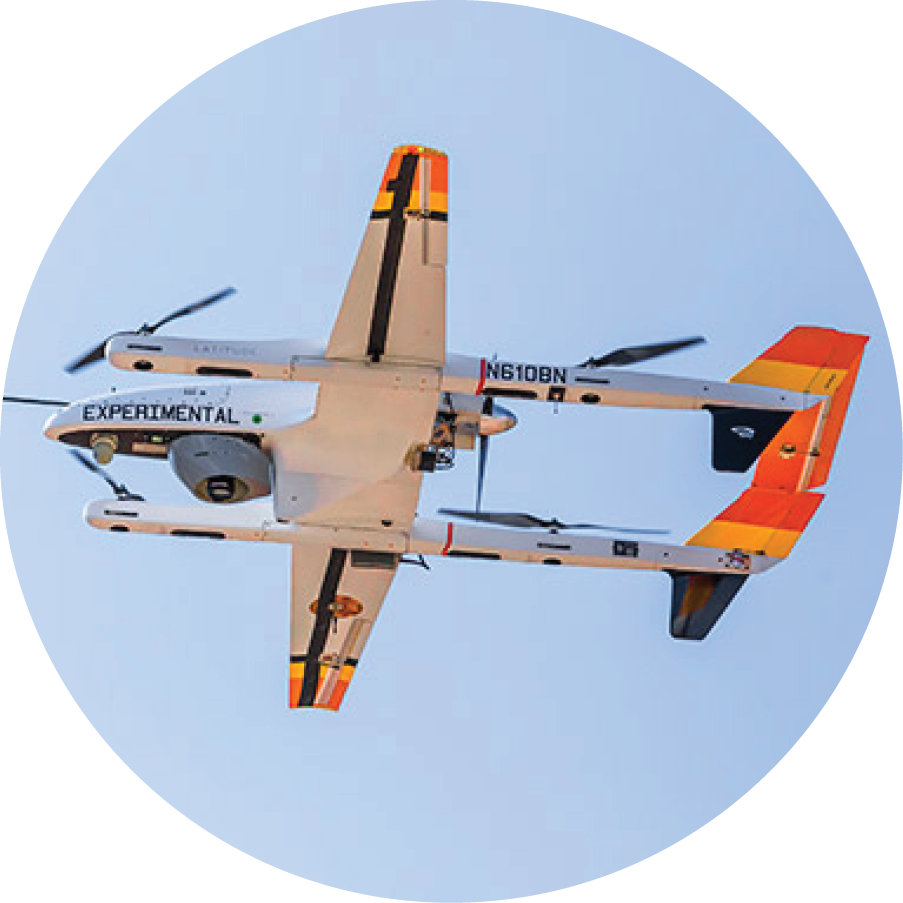 With specially trained inspectors deploying advanced equipment such as instrument-equipped rail cars, bridge inspection vehicles and unmanned aerial vehicles (UAVs), BNSF rigorously and regularly inspects all aspects of our network, including our locomotives, track, rail and bridges. We also conduct weather-event inspections. Our inspections meet all federal requirements, and we are committed to timely maintenance, repair and replacement whenever issues or potential issues are detected.
Safety-enhancing technology includes:

Machine Vision Systems (MVS)
Autonomous track measurement systems
Ultrasound for internal rail inspections
Ground-penetrating radar
High-definition cameras and accelerometers
Every year, BNSF inspects more than 13,000 bridges on our network.