Answering the Call: BNSF Keeps Supplies Moving in Times of Crisis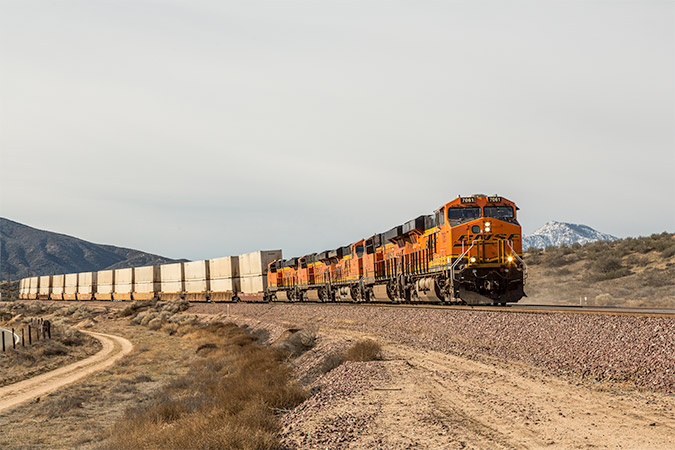 We don't have to wait for the history books to tell us we're living in a public health crisis like we have never seen. While the COVID-19 narrative is still being written, one important chapter is about BNSF's and the nation's freight railroads' role in keeping our country's supply chain secure.
"This is a very serious and somber time," said BNSF President and CEO Carl Ice. "Some of the very things that are necessary and have to be available to help combat the present situation move on our railroad."
From source to shelves, we're working to make sure you and your families get the goods you need. That includes getting raw materials to manufacturers and goods to distribution centers for delivery to retailers. That means delivering energy to utilities and supplies to farmers; because of us, one in every 12 homes in the nation has power, and 900 million people are fed by the wheat we haul in a single year.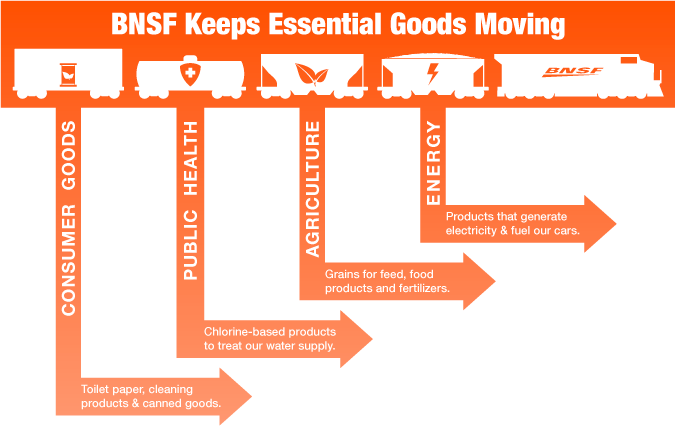 "Railroaders and their customers are working 24/7 to deliver the critical household and industrial goods Americans need during this challenging time," said Association of American Railroads President and CEO Ian Jefferies. "From food and e-commerce shipments to the chlorine to purify our water, railroads are committed to delivering for your community and your family."
As the pandemic was announced, BNSF ensured we had the necessary resources in place and our operations teams – the ones who keep our trains running, our track maintained and our rolling stock in good condition – responded, doing what they always do: deliver.
As we go about our work, we're taking action to mitigate the spread of this virus while still fulfilling our vital role. Along with adhering to the Centers for Disease Control and Prevention guidelines and working with local public health agencies, we are sanitizing equipment and facilities and minimizing the risk of transmission to those who cannot perform their work remotely by encouraging those who can work from home to do so.
Here are some examples of the work our teams – our heroes – are performing, and safely.
Intermodal
Intermodal service, which combines the best of truck and rail, is especially critical now as most products sold at grocery, retail and online stores get there with the help of rail intermodal. BNSF has the largest intermodal network, with 25 intermodal facilities spread across the western two-thirds of the United States.
At all of our intermodal facilities the vast majority of inbound freight is finished goods. As an example, our St. Paul intermodal facility serves people in a five-state region. So when a person in that region heads to a big-box retailer, it's likely what they're buying originated from a container taken from a BNSF train at that facility. Our team of about 120 there – employees and service partners -- are continuing to do their part during this crisis.
"We're social distancing, having safety briefings in smaller groups, rotating lunchroom and locker room time and sanitizing equipment," said Jerry Glasow, terminal manager. "We're keeping safety in the forefront in challenging conditions."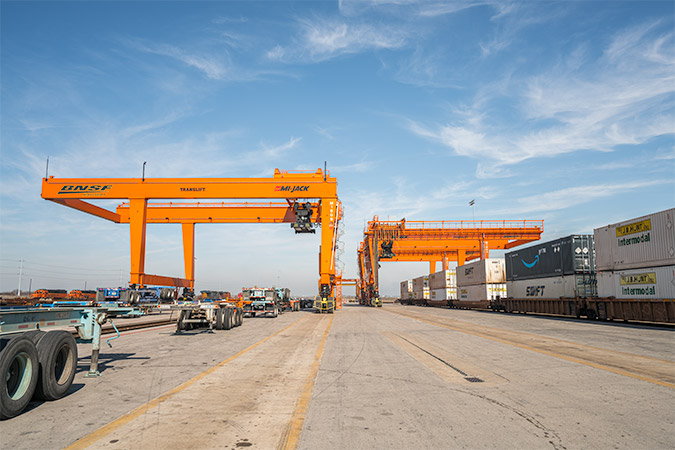 Mechanical
Mechanical employees at the Northtown (Minneapolis) Diesel Shop remain focused, knowing that providing safe and reliable locomotives to run trains is essential, now more than ever. They, along with their counterparts at other system shops, are helping to maintain our active fleet of more than 6,000 locomotives.
In addition to keeping our locomotives well maintained and available, the Mechanical teams are also cleaning and sanitizing the cabs for our train crews. They're doing so by working in small groups, taking the necessary measures to ensure each other's safety.
According to Northtown Shop Superintendent Abid Raza it's in the toughest of times that we come together stronger.
"I've never seen such resilience," he said. "We're already very safety-minded; with the precautions we're taking and our employees' positive attitude, we're making sure we have the power needed for our trains to deliver."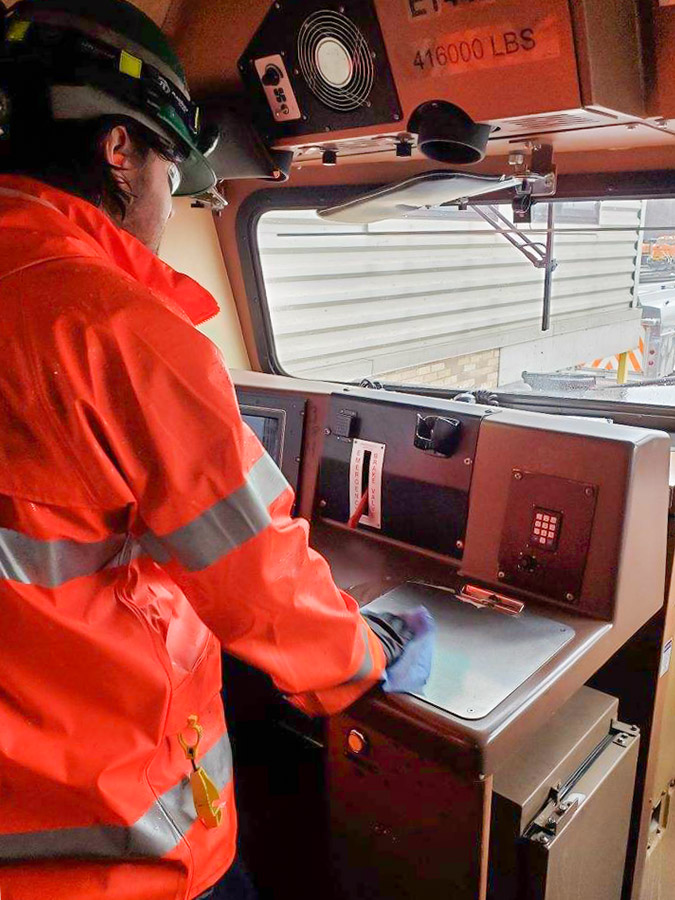 Engineering
Those responsible for maintaining our track and building structures are part of our Engineering organization. In Sandpoint, Idaho, Engineering teams are moving forward on construction of the Sandpoint Junction Connector, including building a second, three-quarter mile-long adjacent bridge over Lake Pend Oreille. This is a critical project for BNSF that will eliminate a major bottleneck for freight and Amtrak trains, which combined average about 60 daily.
Now completing Phase 1 of the project, crews are adjusting protocols to ensure safety: adhering to social distancing, no sharing of equipment unless it's been sanitized and keeping work teams to fewer than 10. Rather than handle paperwork, photos are taken of work documents and texted. Vendors and suppliers are also required to share their mitigation plans before they can come to the site.
"This is not business as usual, but we are managing and mitigating risk for our work groups," said Rich Scott, manager. "We want this very important project to be the gold standard, especially when it comes to the safety of our people and the community."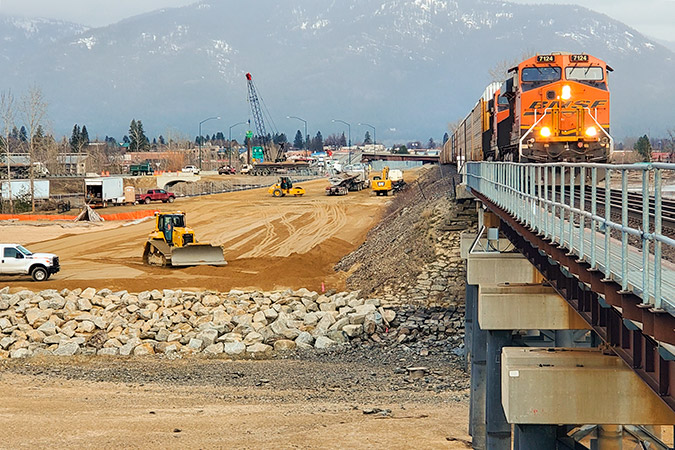 Transportation
Train crews are a critical link in the supply chain, ensuring that loaded trains with critical supplies arrive at destination, often thousands of miles from where they started. It takes many Transportation people, across multiple divisions as well as those in dispatching centers, to ensure final delivery of one loaded train – as well as the return of those empty freight cars to customers so the process can be repeated.
On the California Division (one of 10 operating divisions across our network) our employees recognize that what they do is extremely important and continue to provide essential services required to support our nation and its economy. They're also elevating safety by adjusting routines to the ongoing pandemic -- wiping down surfaces, practicing social distancing and taking the safe course when it comes to their personal safety as well as others.
Technology is also helping to keep people at a distance. Rather than using a computer in our terminals and crew lobbies, we are working to develop technology that allows employees to tie up remotely using BNSF-provided iPads. And should crew members need to meet in the yard office, they spread out and in limited numbers maintaining social distance awareness.
It's some of these small actions that are helping to control and reduce exposure in the work environment and are having a big impact said General Director Transportation Rich Dennison. "We all have to work together against this social issue, because when we go to work, we all understand that we're providing a service to our nation, and our nation is counting on us to deliver."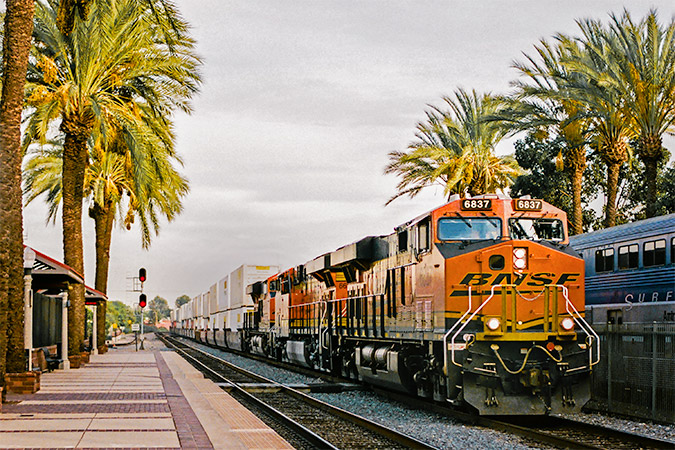 Customer Support
Communication and issue resolution are everyday functions of our business, especially during a crisis. Our Customer Support Center (CSC) provides real-time information, issue resolution and support to both our paying customers and our BNSF marketing and service teams.
Customer Support is also able to escalate time-sensitive shipments whether intermodal, automotive, carload or dimensional. Should there be a service disruption to a shipment the CSC provides updates until service is restored.
Under normal circumstances, a team of about 130 provides this 24/7/365 support from a centralized location in Fort Worth, Texas. But when the coronavirus situation evolved in mid-March requiring certain employees to work from home, all but about 35 were able to transition – for the first time ever.
In about 72 hours, the CSC team made the moves, with no disruption to calls or cases, in part due to advanced planning and rehearsal of the CS business continuity plan plus their exceptional teamwork.
"In North Texas, we can have disabling ice storms, so that's what we thought we were planning for," said John Sprague, assistant director. "We'd been working on our business continuity plan for about 18 months, and with technology, we were ready." That included providing laptops to the teams and ensuring they had home Wifi connectivity.
"We were able to make the transition without missing a beat," said Ed King, assistant director. "From the customers' view, there is no change."
Those whose jobs require they be at the CSC are distancing physically, but keeping in touch with their counterparts through technology, including video chat. "We're so used to seeing each other," said King. "It's important that we still connect."
To all the BNSF people who are delivering on our promise, CEO Ice added, "As we come through this, as always, we'll do it together – and we'll be better for having done it. These are challenging times. Together, we are stronger."
Did You Know?
BNSF, like all Class I interstate freight railroads, is designated as part of the nation's critical infrastructure by law, Presidential Policy Directive and U.S. Department of Transportation. The continued operation of BNSF is necessary for delivery of food, fuel, medicine, and other supplies that are vital to the nation's ability to respond to the current pandemic emergency. As such, BNSF employees should be considered exempt from any local, state and/or federal restrictions on travel or work outside the home imposed in connection with pandemic control measures.