A Message from Merril Lieb Q1 2017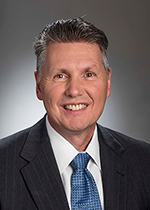 Welcome to the first quarter edition of our Shortline Connection. In our fourth quarter edition, we announced that Dean Wise, BNSF vice president, Network Strategy was retiring effective February 1. Our Shortline Development team now reports to Matt Igoe, BNSF vice president, Service Design Performance & Operations Support. Along with Shortline Development, Matt has responsibility for Service Design, Joint Facilities and Passenger Operations. Matt plans to attend some of the upcoming shortline events and looks forward to meeting all of you.
From a volume perspective, I know the rail industry is glad to have 2016 behind us. For the first 10 weeks of 2017, U.S. rail traffic is up year-over-year by approximately four percent. The new administration has promised a more business friendly regulatory environment for the U.S. economy. Energy, manufacturing and construction industries are poised to benefit in this environment. The administration has also indicated plans to improve the nation's transportation infrastructure with major investments in roads, bridges and rail. As I review BNSF's shortline portfolio, construction products and building products make up 36% of all shortline movements. In the energy business, while crude-by-rail shipments are lower, frac sand shipments are expected to grow in 2017 and beyond. Shortlines who serve the sand producing areas in Illinois, Wisconsin, Minnesota, and Texas, along with shortlines who serve some of the major destination shale markets, are well positioned to grow future volumes. Liquefied petroleum gas (LPG) is also expected to grow with more oil and gas production in the U.S. Aggregates and steel will likely benefit from increased spending on transportation infrastructure. Given the availability of aggregates in local markets across the U.S.,aggregates tend to move short distances by truck. Shortlines are an important part of BNSF's aggregate franchise in OK and TX, and a greater opportunity exists for railroads to grow their aggregates business as demand increases and local supplies are exhausted. In order to compete with trucks, shortlines and Class I's will have to provide truck-like rates and services.
BNSF is currently working with shortline customers on new and expanded facilities in these markets and other markets. Many of the shortlines we work with are focused on local industrial development, which not only benefits them with increased carloads, but also helps with job creation in their local communities. BNSF's Economic Development group, with economic development managers across our system, is available to help shortlines locate new customers and expand existing customers along their lines. Over the past five years, BNSF customers and local economic development organizations have invested more than $1 billion per year on new or expanded facilities across the BNSF system. We currently have 24 new or expanded customer projects on shortlines and completed approximately 20 new or expanded customer projects on shortlines in 2016.
Finally, I would also like to remind our shortlines to provide BNSF with updated storage, transloading and warehouse information. Please send the following information to ShortlineDirectory@bnsf.com:
Storage:
The number of feet each shortline has for car storage
Transloading:
Name and type of the transload facility (business name)
Address and phone number
Website
Commodities handled
This information will be included in our shortline directory, which is available to BNSF customers and internal users on our website.

BNSF Railway
Assistant Vice President, Shortline Development