A Message from Merril Lieb Q2 2017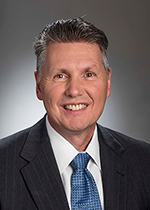 Welcome to the second quarter edition of our Shortline Connection newsletter. On May 3-4, BNSF held our spring Shortline Caucus meeting in Modesto, Calif. The event was hosted by the Modesto & Empire Traction Company (M&ET), a railroad founded in 1911 that is still owned by the original owners, the Baird family. M&ET operates nearly 40 miles of track and serves about 50 customers in the 2,000-acre Baird Industrial District. I was very impressed with the condition of M&ET's track and assets, their use of technology and service to their customers. (For more details on the caucus meeting, see our Caucus Highlights.)
BNSF shortline volumes are up seven percent over 2016 levels (excluding lease takebacks), which is in line with overall BNSF volumes (up seven percent year-to-date and higher than U.S. rail industry volumes, which are up four percent year-to-date). The growth in shortline volumes has been driven by higher shipments of frac sand and coal. While BNSF shortlines ship a small percentage of overall BNSF coal units, shortline coal shipments are 40 percent higher than 2016. The short-to-medium term outlook for frac sand demand is positive, with strong growth expected this year and in 2018. Unit train shipments are a large part of BNSF's frac sand franchise, and they have enabled us to handle significantly higher volumes while also providing a high level of service to our customers.
At our Caucus meeting, Tom Williams, BNSF vice president, Industrial Products, who has helped lead the development of BNSF's unit crude oil and unit sand networks, provided his viewpoints regarding unit train and manifest shipments. While BNSF has unitized some of the industrial products markets given market demand and service requirements, Tom expressed that many of the other markets will continue to move in manifest service. Tom also mentioned the importance that shortlines play in servicing our industrial products customers.
The shortline opportunity pipeline remains strong, which is a good indicator of existing and future business. Since 2016, BNSF has identified 328 shortline opportunities and has won 120 of those opportunities, representing over 43,000 units. In fact, we have opened at least one opportunity on 87 different shortlines. These shortline opportunities represent a good mix of commodities, including lumber, panel, steel, minerals, petroleum, wind and autos. BNSF's sales and marketing teams are out aggressively pursuing new opportunities with our customers.
For help with opportunities or doing business with BNSF, use the following link to BNSF's newly redesigned website. I hope you like the new Shortline Services section of BNSF.com, which include links to contacts, shortline tools & applications and shortline-specifc news content.

BNSF Railway
Assistant Vice President, Shortline Development